Most wine tasting room visits tend to be similar; people lined up at a bar sampling the current releases. Occasionally wineries offer a barrel tasting experience, where a tour guide (or if you're lucky the winemaker) will use an oversized pipette, commonly referred to as a "wine thief," to extract samples of wine from barrels. This allows the taster to observe how the unfinished wine is evolving before it is bottled. While opportunities like this are rare at most wineries, one producer in Boulder, Colorado goes a step further.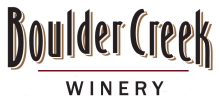 Three years ago, Mike Thompson, owner of Boulder Creek Winery, came up with an idea to get his best customers involved in the winemaking process. Instead of a simple barrel tasting, Mike and his winemaker wife Jackie decided to let their wine club members choose their favorite barrels to go into the winery's top-of-the-line reserve blend.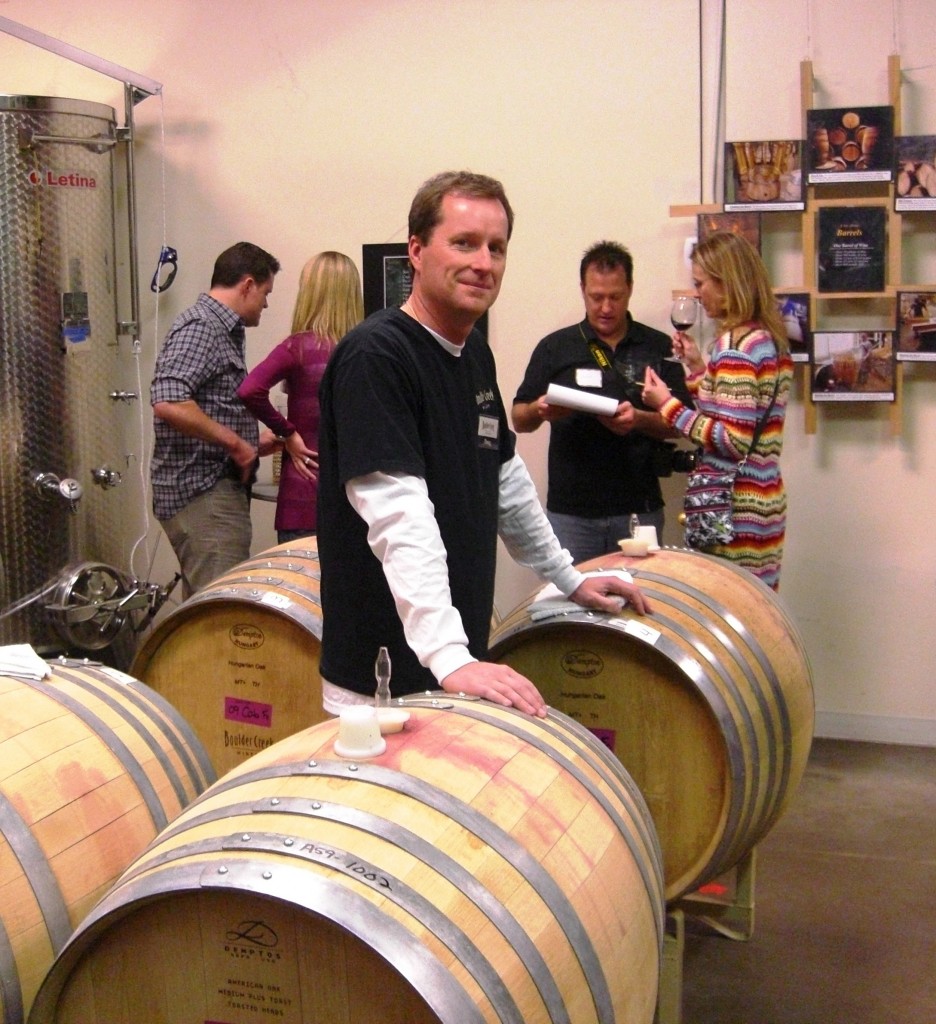 Over several weekends, the VIP wine club members tasted through barrels of Cabernet Sauvignon, Merlot and Syrah and ranked their favorites. Volunteers "stole" a little wine for the guests to assess as Mike and Jackie happily greeted and talked with their valued customers. After the barrel rankings were tabulated, Mike and Jackie then presented a series of different blends of the top scoring barrels. The final blend, chosen by Boulder Creek's VIP members, was 50% Cabernet Sauvignon and 50% Merlot that was aptly named VIP Reserve.
Mike proudly proclaims that, "this wine went on to win Colorado's first ever Jefferson Cup award in November 2009 and we poured it at the U.S. Ambassador's Residence in Paris, France in March of 2010." The Jefferson Cup, run by Doug Frost, MS, MW "honors the best of the best among wineries from all of America's wine regions." Needless to say, they were off to a great start with this unique process. In addition to making award-winning wine, Jackie fondly says that it is fun to invite the people who buy their wines into the process and allow them to be winemaker for a day.
This year, over three weekends, VIP members tasted four barrels each of Cabernet Sauvignon, Cabernet Franc, Merlot, and Syrah. "We try to pick different types of barrels [American, French or Hungarian oak] and different ages of barrels," explains Mike. Each attendee is given a glass and a sheet to record notes about the different wines. Customers have responded so well to this experience that they are allowed to purchase bottles en primeur that are taken out of their favorite barrels.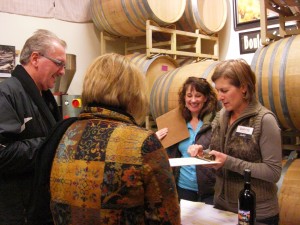 Not only have the consumers responded positively to this process, but so too has Jackie's winemaking philosophy. In the past they made very few blends. Mike informs me that their "Merlot, Cab, and Syrah are 100% straight varietals and we do not add even small amounts of other reds to them." However, this consumer involved process has allowed Mike and Jackie to "recalibrate our minds from what we think to what the consumer thinks." In fact, this year they asked the VIP members to decide if they like the 100% Cabernet Sauvignon better than a Cabernet Sauvignon blended with 10% Merlot. Of course, they did not tell the tasters which sample was which, or even what the difference was, but Mike let me in on the secret. I was quite surprised that the blend was bigger and more tannic than the supple cabernet.  "Based on the results, we may or may not add a bit of Merlot to the Cab," declares Mike.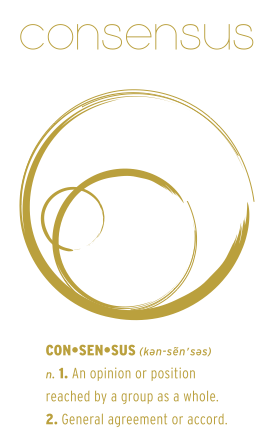 This is a unique process that Mike and Jackie are able to provide due to their small size and very loyal wine club members.  "We have focused on being a small, local Colorado winery that focuses on quality over quantity," states Mike. "We sell most of our wine at our tasting room and our wine club members account for over 25% of our total sales. Without a strong local wine club this process would not be possible."
Currently, the barrel tasting events are held in an open house format, but given the fact that turnout has rapidly exceeded expectations, Mike is considering assigning time slots or a particular day for people to attend. Judging by the VIP members' enthusiasm during my visits to the winery, this process has been and will continue to be a huge success. Finally, I must note that this year's final reserve blend will consist of 50% Merlot, 20% Syrah, 15% Cabernet Sauvignon and 15% Cabernet Franc and will appropriately be named Consensus.
---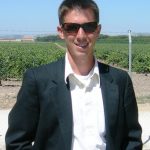 Kyle Schlachter is a Certified Specialist of Wine and is currently pursuing a Ph.D. in geography; focusing on Colorado's wine industry. He currently works for the Colorado Wine Industry Development Board and writes about his personal wine adventures at Colorado Wine Press.