Quiver in fear, wine lovers: Tomorrow is for chocolate-infused wine and wines with names like Flirt or Je T'Aime (Bitch is for Feb. 15 and after).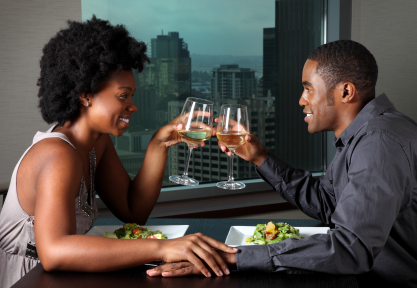 All holidays have wine and food marketing, and some, like the minor regional Mexican holiday on May 5, seem entirely created by marketing.
But Valentine's Day is uniquely associated with gimmicky wines and terrible combinations: Our $150 Cabernet is great with chocolate bon-bons!
I blame romance.
Not real romance, of course. The laugh you share at a table, halfway into a nice bottle, that slowly quiets when you meet each other's eyes. The boom of the waves outside your bungalow playing bass for the clink of your wine glasses.
But romance is in the main storyline, not the details—and the identity of the wine is in the details. Consider those booming waves and those clinking wine glasses: will it spoil the party if you drink Côtes du Rhône instead of Côte-Rôtie? Should you be thinking about indigenous yeast at a time like this?
Unfortunately, many consumers do see wine as a romantic product, and that's holding them back—and hurting the wine world. In almost every instance, the idea of "romance" leads wine to be less than it should be.
Let's start with corks and screwcaps. Cork has its advantages: it's a renewable resource, and appears to be best for longterm aging. But this is not why most Americans still prefer cork, despite its huge disadvantage of spoiling 3 to 5 percent of all bottles. People think screwcaps are not romantic—even for $15 bottles meant to be drunk right away.
That romantic attachment to hearing something pop when the bottle opens has led to plastic corks, the worst closures in all situations: they fail quickly, allowing the wine to oxidize. You start off with the idea that cork is romantic, and end up with your corkscrew stuck in a hunk of green rubber with "woot woot woot" written on it. (Don't you dare say, "That's marriage." Look at the calendar: it's nearly V-Day! Don't you have to go buy something?)

How about romantic labeling? Château Calon-Ségur sells like okonomiyaki (savory hotcakes) in Tokyo during the week leading up to Valentine's Day because it has a heart on the label. Why is the heart there? An 18th century marquis, Nicolas-Alexandre, owned Châteaux Lafite, Latour and Mouton in addition to Calon-Ségur. While Lafite was the big seller in London, Nicolas-Alexandre said his heart was with Calon-Ségur.
Nice. But doesn't that strike you as 18th century marketing of the back catalog? You know, "Sorry, the Lafite is all allocated, but I do have a few hundred barrels of this other stuff. It's really where my heart is." Yet I will give Calon-Ségur's heart the benefit of history.
But please, spare me wines labeled with lips and kisses and hearts and cupids and other decorations I can find in a drugstore candy assortment, for I expect the flavor to be similar.
Indeed, what is it with Valentine's Day and sugar? Is the way to his or her heart really paved with soy lecithin and artificial flavors?
Speaking of which, the wine industry has been able to fight off ingredient labeling in part by saying it would make wine labels less beautiful. The romance would fade from drinking some $9 California appellation red blend if you knew it contained potassium meta-bisulfite and thiamine hydrochloride. Personally I find knowledge sexy, but this is a minority view. (And no, I do not get a hard-on listening to Stephen Hawking.)
One of the fastest-growing categories of wine is chocolate-flavored wine. Chocolate does have aphrodisiac qualities, containing compounds including phenylethylamine (PEA), which releases dopamine in the pleasure centers of the brain and peaks during orgasm. So chocolate may actually stimulate romance.
A more significant thing chocolate stimulates is magazine food editors, who commission scores of stories every year on pairing chocolate and wine.
Chocolate and wine is the most overrated, over-covered, almost fetishized pairing combination. It's not particularly useful to know that vin santo is good with chocolate; not as useful as knowing older red wine goes well with a Chinese feast, for example. If your wine doesn't go with chocolate, wait five minutes and drink it separately. Simple. Ah, but that's not romantic, food editors sigh. Which means the wine section of your food magazine is essentially the same every February. It makes Brides magazine seem timely and essential. ("White wedding dresses: They're in!")
You want more examples of how romance hurts the wine world? How about the idea that sparkling wine is for special occasions? The romance of drinking it with wedding cake and on New Year's Eve makes it seem entirely too much on a weeknight to too many people. Being "more than just wine" limits it.
In fact, wine's main problem with romance is the same: people think it's special.
Too many people think wine is not just part of dinner. Not that meals shouldn't be taken seriously—for me, eating well is about the most important thing in my day (and I wonder why I'm not Mayor). But there's another level of veneration and awe that unsure drinkers have about wine that they just don't have for tacos or lasagna.
If you like steak and cabernet, drink it. But if you have steak one day and lamb the next, mix in a mourvedre that your local shop recommends. It's just food. You don't have to look it up on eBob or cellar tracker. Take a chance, try something new. Maybe you won't give it 90 points. Not every taco gets 90 points, yet you don't stop ordering them.
Look, I like a romantic evening as much as the next guy—well, maybe not, as there's a show tunes karaoke bar on my street.
Still, let's have a happy finish here. Think of the most romantic night with wine you can remember.
The soft light. Words you speak, words you remember. The feel, the touch. The taste of the wine.
I ask you, which of those sensations can you change without losing the romance?
---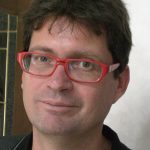 Wine writer W. Blake Gray is Chairman of the Electoral College of the Vintners Hall of Fame. Previously wine writer/editor for the San Francisco Chronicle, he has contributed articles on wine and sake to the Los Angeles Times, Food & Wine, Wine & Spirits, Wine Review Online, and a variety of other publications. He travels frequently to wine regions and enjoys coming home to San Francisco.