For Israeli wines, "kosher" is a blessing and a curse.
Only 30 of Israel's more than 250 wineries are kosher, but the largest 17 are all kosher. While boutique wineries increasingly ignore the kosher market, some large wineries have switched to become kosher in recent years for reasons that have nothing to do with religion; it's all about sales.
But as Israel's wine industry is beginning to find itself, the kosher niche has become a limitation.
Israel right now is one of the most exciting wine countries in the world. The country made almost exclusively bad sweet wine for its first 50 years, but now it's like California of the 1970s, in a period of rapid growth and experimentation and great increases in quality. Big wineries like Golan Heights Winery and Binyamina as well as boutiques like Domaine du Castel and Tulip are making wines that can hold their own on the world stage.
But the kosher marketing conundrum hangs over everything: how to sell Israeli wines, kosher or not, to non-Jews, a necessity if the industry is to sustain its present growth.
Moreover, because Jews keeping kosher—which most do during Passover and the High Holy Days later in the year—are a captive audience, Israeli wineries have unrealistic expectations about how much their wines are worth. The tipping point for good Israeli wine seems to be about $30, not a bad price if you must buy kosher, but a very tough price range for the rest of us.
And kosher simply doesn't have the same quality image for wine that it has for most food products. The very best kosher wines sit on the shelves next to sweet wines made from blackberries or Concord grapes. Moreover, some major French and Spanish wineries produce inferior kosher versions of their flagship wines, promulgating the idea that kosher wines aren't as good as non-kosher.
In fact, kosher wines can be made almost exactly the same way as non-kosher. There are a few banned and easily replaceable ingredients, such as the fish extract isinglass often used in fining. Organic viticulture is problematic because cover crops cannot be seeded; this may be one reason there are almost no organically grown wines from Israel. And there's a requirement that the land be left fallow every seven years, which Israelis have gotten around with a paperwork dodge, technically selling the vineyard every seven years to a non-Jewish person (often an Israeli Arab) and buying it back the following year.
The biggest difference is in the winery, where the winemaking equipment—including barrels—can only be touched by Sabbath-observant orthodox Jews.
That leads to some odd arrangements in Israel, where most of the winemakers are secular. One winemaker complained that he doesn't even have the keys to his winery, and another cannot stray from within yellow lines taped on the floor.
But it's easier for a secular Israeli winery to hire full-time orthodox workers in a country where they make up 10% of the population than it is in France or Spain, where orthodox winemaking crews are in demand and move rapidly from winery to winery. Israeli winemakers are proud to say they make the best kosher wines in the world, and I have to agree.
In many cases, they're simply good wines. Domaine du Castel Grand Vin Judea Hills 2007 ($75) was the best of more than 100 wines I tasted in Israel. It's a Bordeaux-style blend of cabernet sauvignon, merlot, and petit verdot, and combines elegant mouthfeel and black cherry fruit with some interesting exotic spice notes and toasty coconut from expensive French oak. I think it stacks up well against the best Cabs of Napa Valley, and in that league it would be a bargain.
Two more affordable quality Israeli Cabs are the Golan Heights Winery Yarden Galilee Cabernet Sauvignon 2006 ($30) and Teperberg Reserve Ella Valley Cabernet Sauvignon 2007 ($30).
The wines are both quite good. The Golan Heights wine has nice red plum and raspberry flavors with pretty violet notes on the nose; the Teperberg has gentle black cherry fruit with a hint of black olive and good structure than keeps the finish focused.
The wines may be similar, but the contrast in winery styles is immense, and it says something about Israel's wine industry to compare them.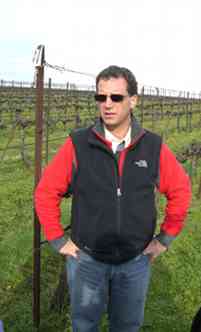 Golan Heights Winery has a technology-first tone set by American winemaker Victor Schoenfeld, who grew up on the Palos Verdes Peninsula and studied enology at UC Davis. It was really the first winery in Israel to pay attention to quality, starting in the mid-1980s, and today remains at the forefront of research. Outside of the men who touch the barrels, the staff is secular, some American-educated, many young and playful.
Teperberg has the highest level of kosher certification, and more than 90% of its wines are pasteurized so they can be "mevushal"—kosher even when opened and served by non-Jews. Flat-tasting mevushal wines were one of the main culprits in giving kosher wines the poor reputation they have today, and most kosher wineries are moving away from them. Carmel, Israel's largest winery, even ran a campaign a few years back announcing "our wines are not boiled."
But Teperberg, which has only a few non-orthodox workers in office jobs, is notably more religion-focused than other wineries. One simple sign is winemaker Shiki Rauchberger's yarmulke; unlike Schoenfeld, he can touch his barrels.
Rauchberger also went to UC Davis for two years, but instead of just learning to make wine in general, he spent his time studying how to make better pasteurized wine. He began winemaking in 1993 at Carmel, in the bad old days. "I'm trying to recall how many educated winemakers we had in Israel in 1993—not many," he says. He moved to Teperberg in 2001, just in time for the quality revolution. I wouldn't buy one of his mevushal wines, but that $30 Cab is well-made and great value.
Israeli wines' biggest boost came when Mark Squires began reviewing them for Robert Parker's The Wine Advocate in 2007, giving 14 wines scores of more than 90 points. But while that caused celebration in Tel Aviv, there was little notice in California. Wine shops that get a lot of Jewish customers carry Israeli wines; others generally do not.
Kyle Meyer, wine buyer for Wine Exchange in Orange, says he doesn't carry any Israeli wines at all.
"It's a category that doesn't exist yet," Meyer says. "With our demographic, we don't get a lot of calls. I know there's a new wave of Israeli wines coming; I've heard about them. But no one's been by the store."
So after facing the challenge of making good wines, and finally mastering it, Israeli wineries now must face the challenge of getting non-Jews interested.
---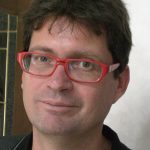 Wine writer W. Blake Gray is Chairman of the Electoral College of the Vintners Hall of Fame. Previously wine writer/editor for the San Francisco Chronicle, he has contributed articles on wine and sake to The Los Angeles Times, Food & Wine, Wine & Spirits, Wine Review Online, and a variety of other publications. He travels frequently to wine regions and enjoys coming home to San Francisco.