This tale isn't yet 1000 years old. But it has kings, crusades, the cult of the Virgin, poverty, drunk clerics, extinct grapes, the Devil and the world's biggest wine bottle. And the irony is, the winery it's about is one of the most forward-thinking in France.
You might think the story of one Champagne house, in a month when most magazines are running "10 great sparkling wines under $15" stories, is limited in focus. But the truth is I can barely squeeze Champagne Drappier's tale into this one story.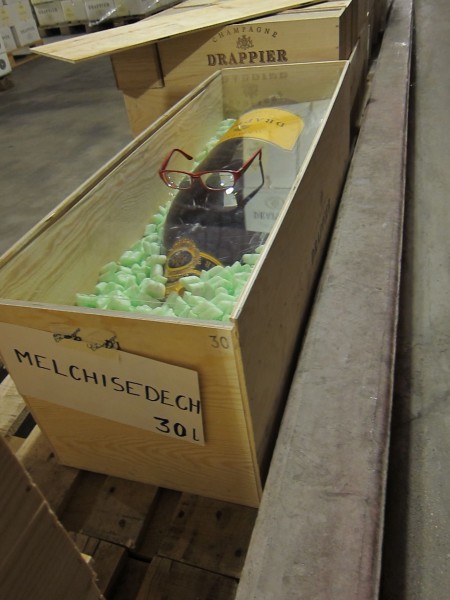 Crusades and pinot noir
It starts in 1152, when an abbot now known as Saint Bernard (not the dog) founded Clairvaux Abbey in a chilly town with lousy, chalky-soil farmland just a few km north of Burgundy.
Bernard is a big deal in world history: he was the preacher who got the second crusade going. He's a big deal in church history for his part in elevating the role of the Virgin Mary, who previously had not been that important.
And he's also a big deal in Champagne history, because he brought a red grape then known as Morillon, now known as Pinot Noir, to the abbey to make wine with.
Bernard wanted to curry favor with the king of France, who didn't drink Burgundy because he was feuding with the powerful duke there. Some of the neighbors were making tart wine with a grape called Arbane, but Bernard thought Pinot Noir would be better. He built 13 wine cellars at the bottom of each small village in the Aube region.
The area is so cold that occasionally fermentation stopped in winter and restarted in spring. Growers used big paddles to stir out the resulting bubbles. There are church records of growers who had bubbles in their wine being excommunicated.
"The church said the devil was in the wine," says Michel Drappier.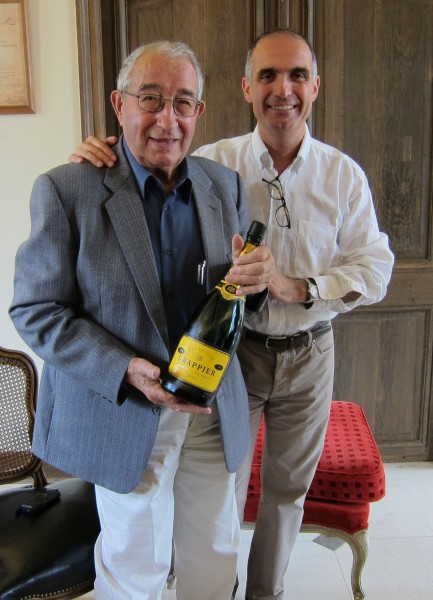 The 2nd crusade didn't go well, but Bernard did well in the wine business. When he died, the abbey was the area's largest producer. It stayed a wine power for more than 200 years until King Louis XI, known as the Prudent by his supporters and the Cunning by others. Louis XI used Swiss mercenaries to defeat the Duke of Burgundy, and paid off the French to get Bordeaux back. He was so proud of himself that he served Bordeaux and Burgundy wines in Paris. The thin red wines from Champagne were off the royal table for another two centuries, and the Champagne region — rarely one of France's richest — suffered for it.
The abbey at Clairvaux fell into poverty. The French Revolution dissolved it in 1792 and even moved Bernard's remains. The abbey fell into ruin and a high-security prison sits on its grounds.
But the largest wine cellar stayed in the church. Over the years it became a residence for a local prefect. Sometime in the 1800s, the Drappier family moved next door.
Many wine cellars in the northern part of Champagne have interesting histories, particularly during World War I, when troops moved into them for months at a time. You can see soldiers' carvings on the walls in French, German and Italian. Down near the Burgundy border, the former abbey's cellar was far enough from the front lines to go through both world wars unscathed. The biggest threat it faced was a very thirsty prefect.
"He didn't want anyone to know how much he was drinking so he left all the empty bottles here," Drappier says. His family bought the 800-year-old cellar in 1958, and "we had to take out all the empty bottles. It took us many days."
Arbane and other great tales
You might think the story ends here with some tasting notes. But the fact is, I could have ignored the cellar's history entirely, and Champagne Drappier would still be fascinating.
What to tell first: the world's largest wine bottle? The first egg-shaped oak tank? The dosage he ages for 20 years?
Let's start here. Remember that grape, Arbane, that people were making tart wine with in the 1100s before Pinot Noir came to town? It was down to less than a hectare in the entire world when Drappier, spurred on by Aubert de Villaine of Domaine Romanée-Conti, replanted 20 hectares of it.
"Arbane's yield is 1/3 of others, it matures slowly, and it has fragile horizontal branches," Drappier says. "Growers like my father and grandfather had given up growing Arbane. But Aubert de Villaine says it's indigenous. It's a unique variety on the planet. I thought it was a pity to let it disappear."
I'd like to tell you what Arbane tastes like, but he hasn't done a varietal bottling yet.
Moreover, severe hail this spring wiped out his entire crop of Arbane, along with 75% of Drappier's other grapes. He has insurance, so he says, "C'est la vie."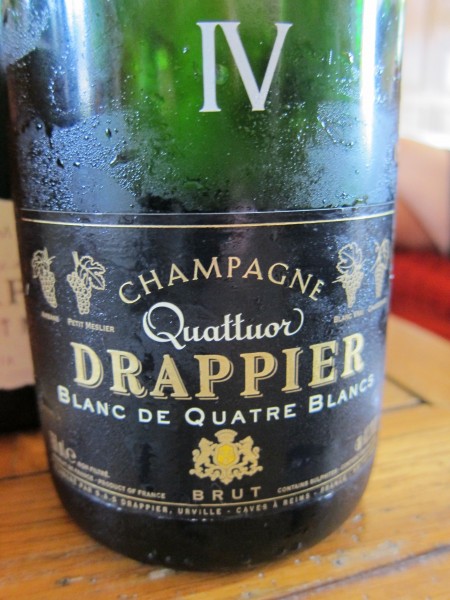 What he has made is something even more rare, a bottling called "Blanc de Quatre Blancs," 25% each of all four permitted white Champagne varieties: Chardonnay, Arbane, Pinot Blanc and Petit Meslier. The last is arguably more rare than Arbane, with just four hectares planted in all of France in 2008.
"For me this is doing something very new with something very old," Drappier says. "It is building a new house with stones from an old chateau."
The wine is fascinating, with constantly evolving flavors of flowers, baked goods, and fresh and dried fruits. Drappier says, "Petit Meslier overpowers the others," and I'll have to take his word on it. He made 3000 bottles of this wine in 2010 but none for the last two years because of harvest problems, so if you can get a bottle — I found it for $75 in New York via Wine Searcher — treasure it.
Big bottles and eggs
I already blogged about the world's biggest wine bottle, the 30-liter Melchisedech, which Drappier created for a doctor named Balthazar. Other companies have made bigger bottles for promotions, but Drappier makes and sells 25 of these a year. The bottle alone costs 1,500 euros, making the price for it filled with Champagne — 4,500 euros — seem not so bad.
The egg-shaped oak tank, now that's pure wine geekdom. Some people believe egg-shaped tanks make fermentation gentler. Drappier heard Taransaud was making one out of oak, and he had to have one of the first three made in the world without even knowing if it will be good for his wine.
For his dosage, Drappier is aging for decades a liqueur made from French sugar and wine in oak tanks that had to be made especially for the task.
"I used to try to mature the liqueur in oak barrels, but they couldn't resist the pressure. They would leak," he says. "We leave it 15 to 25 years in these tanks. It is so thick, it's like honey. We add one drop when we disgorge. Sugar is aggressive. It's like makeup for wine. It hides the wine. By aging it, we transform it to fatness. Suppleness. Roundness. But not sweetness. To get the suppleness, age is the only way. You can try heating. I've tried. It doesn't work."
The lovely, silky mouthfeel is noticeable in his higher end wines, such as the Charles de Gaulle Brut 2006 or the Grande Sendrée 2005. They seem to caress the palate, and you want to spend time with them.
Drappier says none of his experiments bothered his father until he switched to organic farming, ploughing with horses.
"He spent his life bringing in pesticides and tractors," Drappier says. "To him, this is going backwards to his father."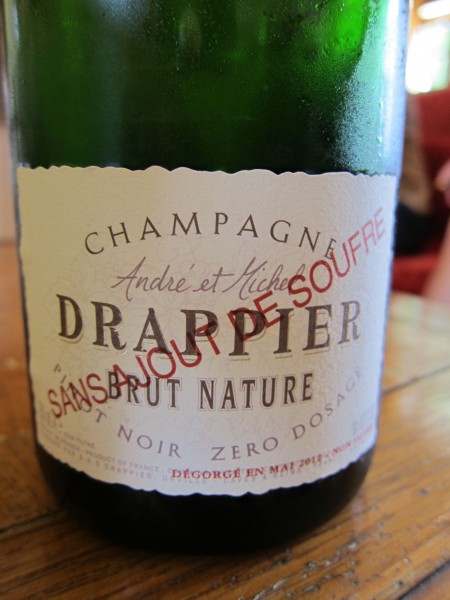 That's sort of the point. Drappier goes backwards and forwards: back to the old grapes, forward to production methods nobody else thought of.
Drappier's wines aren't easy to find in the US. The entry-level Carte d'Or Brut is OK, but you only really sense the specialness at the next level up, such as the long, elegant Blanc de Blancs. Here's a sad reality: Drappier is one of two non-fortified wine brands imported by a company that specializes in spirits, so they're barely on the market here. But the tale isn't 1000 years old yet.
[author] [author_image timthumb='on']http://palatepress.com/wp-content/uploads/2010/03/blake2.jpg[/author_image] [author_info]Wine writer W. Blake Gray is Chairman of the Electoral College of the Vintners Hall of Fame. Previously wine writer/editor for the San Francisco Chronicle, he has contributed articles on wine and sake to the Los Angeles Times, Food & Wine, Wine & Spirits, Wine Review Online, and a variety of other publications. He travels frequently to wine regions and enjoys coming home to San Francisco.[/author_info] [/author]