I had entertained the idea of starting a home vineyard on a family property within eyesight of downtown for several years. I had hesitated because I was not certain which cultivars would do well at the site. Two years ago, I had an inspiration and planted aglianico followed by montepulciano this year. My friend, Jeff Miller played an instrumental role in this by guiding me and providing the aglianico grafts.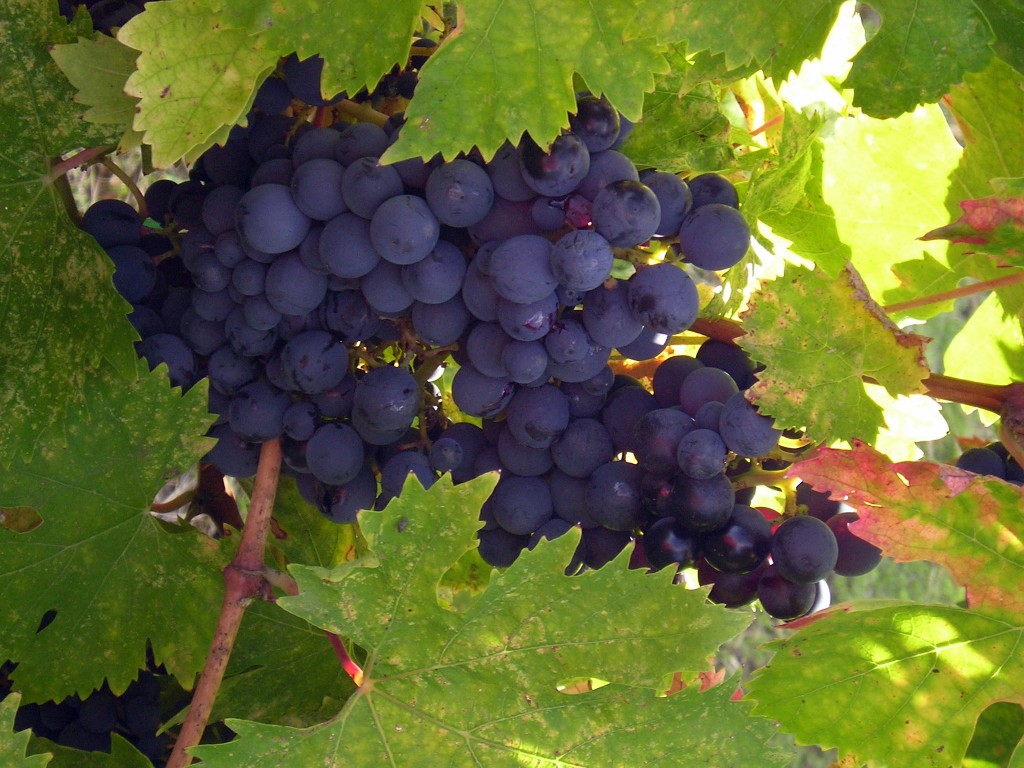 There are many people with home vineyards in Los Angeles. With its history of Pierce's Disease and Phylloxera, the area's hot climate presents a number of challenges. Nevertheless, people grow wine grapes all over the LA area. Some grow syrah and others grow Bordeaux varieties, but I felt aglianico and montepulciano would be better suited for my site: they ripen later and retain good acid levels.
With my aglianico vines trained and ready to bear fruit next year and my montepulciano vines resting after their first leaf, one question preoccupies my mind more and more: What will the wines be like?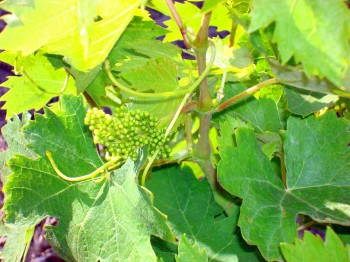 When Appellation America became a subscription-based site and then ceased updating its content, its Best of Appellation program faded into obscurity. It was an admirable enterprise because it sought to catalog and describe the character of wines of the North American continent. This compendium that never was would have been an invaluable resource for learning about and understanding North American wine.
In the absence of such a reference, looking at wines already being produced, one can reasonably approximate what may be expected. To do this, I researched where these varieties are grown and produced on this continent. Because aglianico and montepulciano plantings are so sparse, it seemed to make sense to explore the spectrum of styles of both varieties in all of North America.
I went on a virtual milk route, referred by one producer to another, to find wines from these two varieties. It was interesting to find that several producers have been growing and producing these for a number of years—though in relative obscurity. All those making Aglianico and Montepulciano wines were happy to share the fruits of their labor and very soon, I had a very intriguing line-up of wines. I assessed each variety on a separate occasion, each time tasting and taking notes over two days, and compared the wines with Italian varietal bottlings, as a form of benchmarking. When two bottles were submitted, they were each tasted on separate occasions. Opened bottles from the second round of tasting were placed in a selection of wines at a social gathering that same day. Full tasting notes for the wines are published here on Palate Press and linked below.
The Montepulciano line up was tasted with a mushroom, truffle and goat cheese thin crust pizza and Blackened Salmon. The Aglianico line up was tasted with St Louis BBQ Baby Back Ribs and Texas Beer Batter Brisket.
MONTEPULCIANO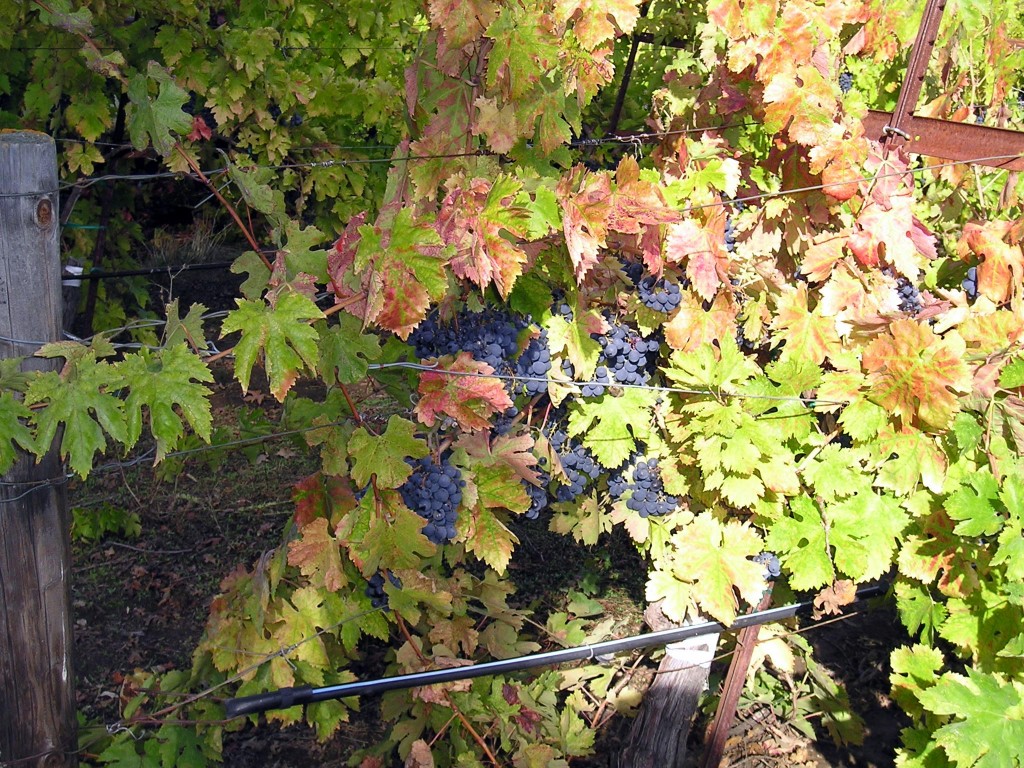 With unusual leaves reminiscent of maple leaves and huge clusters with berries the size of table grapes, this variety—thought to be of Tuscan origins—is most prominently produced in the province of Abruzzo on the eastern coast of Italy, east of Rome. There, it is used to make Montepulciano d'Abruzzo, which can alo include up to 10% sangiovese. It should not be confused with "Vino Nobile di Montepulciano" which is made entirely from sangiovese. It may also be used in many of Italy's other wine regions (most notably Le Marche, north of Abruzzo, and Puglia and Molise in the south) but tends to end up in bulk wine.
Montepulciano has found small footholds in the North American continent, primarily in Californian regions like Solano (Suisun Valley), Sonoma (Carneros), Contra Costa, Riverside (Temecula Valley), and the Central Valley, but also in Texas and North Carolina as well as in Mexico's Valle de Guadalupe in Baja California.
When made well, Italian Montepulciano is generally felt to make for deep-colored, fresh, lighter wines with lower tannins, bright acids, and tangy red fruit accented by some earthy, leathery or, sometimes, gamey notes. It makes for approachable wines styled somewhere between Beaujolais and Pinot Noir. Others have described it as "uncomplicated, refreshing, easy-drinking."
100% varietal Montepulcianos tasted:
2008 Mandola Spino, from Duchman Family Winery in Texas
2008 Raffaldini Montepulciano, from the Swan Creek AVA in North Carolina
2008 Rock Wall Montepulciano, Contra Costa County
2009 Seven Artisans 2009 Montepulciano, Suisun Valley
2007 Witch Creek Montepulciano, Valle de Guadeloupe, Mexico
2008 Witch Creek Montepulciano, Valle de Guadeloupe, Mexico
Montepulciano-based blended wines tasted:
2007 Domenico Montepulciano, Central Valley
2007 Mahoney Vineyards Montepulciano, Carneros
2009 Wargin Solano County Red, Solano County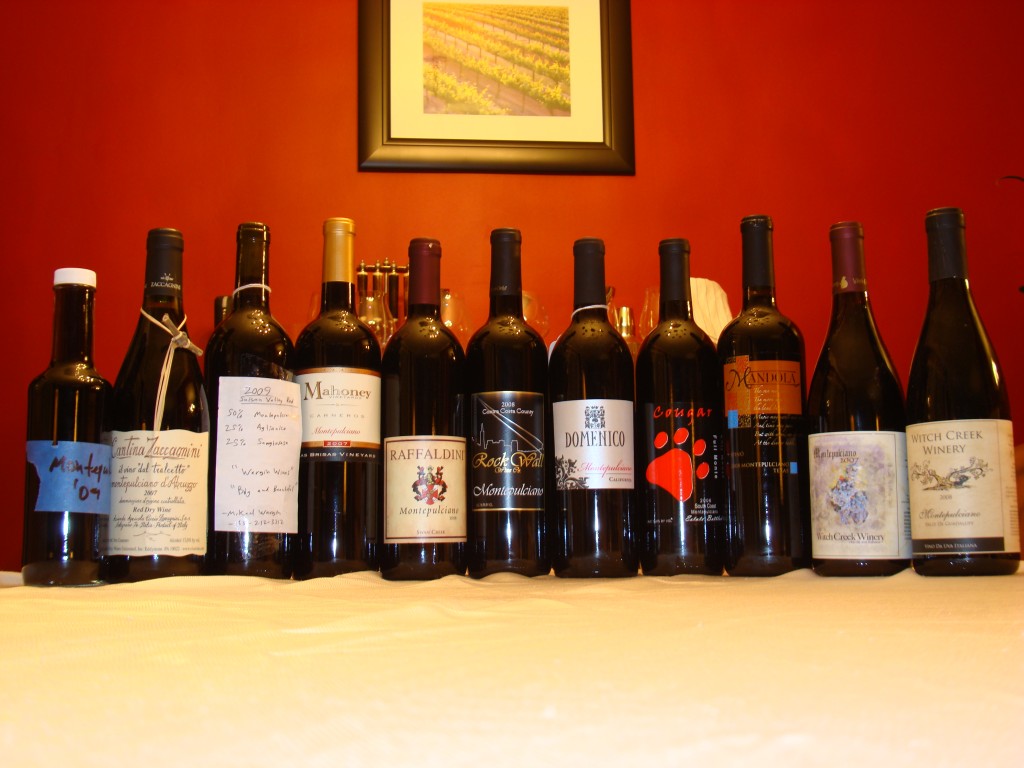 In North America, montepulciano is an esoteric variety and, while not many have experimented with it—alone or in blends—it seems to do well with sangiovese. Petite sirah also seems to do well with this warm climate fruit. Degrees of brett are not uncommon, as is volatile acidity,  but neither is widely prevalent. As is often the case, varietal characteristics are muddled in hotter growing regions, especially when coupled with certain farming and harvesting decisions or more heavy-handed, oxidative winemaking. While, in the purist's view, a 100% varietal Montepulciano can be very rewarding when sufficiently complex and cleanly made, the blends were also interesting. While the hot Central Valley fruit benefits from the addition of a tannic variety like petite sirah, Mahoney Vineyards makes an interesting spicy wine from their cooler climate-grown montepulciano and sangiovese. Mikael Wargin, however, has captured a winning formula with the Solano County Red from his eponymous winery that will please enthusiasts of larger-bore Super Tuscans and Cabernets.
It was hard to put Witch Creek Winery winemaker Brian Baker's excitement over his wines out of my mind. He makes these wines in a San Diego winery but gets the fruit from Baja California's Valle de Guadalupe—northeast of Ensenada. In our initial conversations, Brian stressed how the minerality of the valley's soils comes through in the finished wines. My curiosity was piqued, but I kept a healthy skepticism because the ability of a vine to take up specific minerals and salts from the soil and into its fruit has not yet been demonstrated.
Best varietal expression

:  Seven Artisans. This is the one that started me on my path. It is solid, clean, lighter with good fruit and breadth, but young and in need of some time to come into its full stride. The acids are more integrated into the composition and less noticeable than in other wines, in all fairness, but I expect this to be an appealing trait to the majority of wine lovers. In the interest of impartiality, (Jeff Miller is a friend and that friendship, as I said before, was sealed by his wine) I would name the Raffaldini as being the most true to the variety.

Best value

: If varietal fidelity is to be the yardstick, I think the consumer gets lots of varietal typicity and complexity for their money from the Severn Artisans Montepulciano. Again, in the interest of impartiality, I would say the Raffaldini can also hold this title. For those who value heft, extraction and boldness in their wines, the Rock Wall is likely to be a sound value choice.

Most intriguing

: This position is a tie. The Witch Creek wines are very intriguing because of the brininess on top of more subtle varietal character. These are truly "geek" wines with the 2007 showing more balance. The Rock Wall wine is both enjoyable and intellectually captivating because, despite Shauna Rosenblum's assurances that the wine is 100% Montepulciano, the wine illustrates that it is sometimes hard to escape House Style. This wine is very Zinfandel-like. Surprise!

Most Italian-lik

e: Raffaldini. This wine has good varietal traits plus the rustic edges that hearken unmistakably to an Italian identity.

Best blend

: The Wargin Solano County Red is, hands down, a dazzling Super Tuscan type of wine that will satisfy Cabernet lovers and Italian wine lovers alike. This vibrant and powerful wine is a well-built, winning blend.
AGLIANICO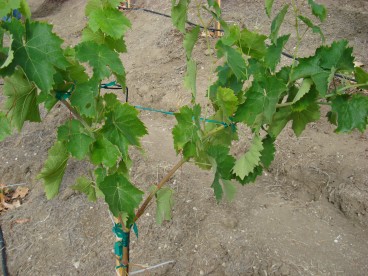 Southern Italy, particularly Campania, Basilicata (most famously, Aglianico del Vulture) and, to a lesser extent, Calabria, Puglia and Molise are aglianico's modern home. The grape is fabled to have come to Italy from Greece in the seventh century B.C., but some challenge that assertion. Over the centuries, it has ascended to Italy's trinity of noble wine grapes, which also includes sangiovese and nebbiolo.
This variety has notably smaller clusters than montepulciano and leaves which are more easily recognizable as grape leaves. The wines are typified by high acidity, fruit ranging between plum and blackberry and tannins that need time to tame.
In the western New World, this variety is planted in California (Paso Robles, Suisun Valley, Lake and Amador counties, as well as Temecula Valley), Valle de Guadalupe in Baja California and in the Texas High Plains.
100% Aglianico wines tasted:
2006 Caparone Aglianico, Paso Robles
2007 Cougar Aglianico, South Coast, Temecula Valley
2006 Domenico Aglianico, Sutter Creek Vineyard, Amador County
2008 Mandola Aglianico from Duchman Family Winery, Texas
2008 Terra d'Oro Aglianico, Shenendoah Valley, Amador County
2008 Witch Creek Aglianico, Valle de Guadeloupe, Mexico
Aglianico-based blended wines tasted:
2005 Domenico Aglianico, Sutter Creek Vineyard, Amador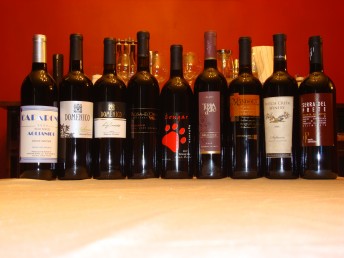 It would appear from this tasting that North American Aglianico is not very aromatically expressive in its youth. This may be related to climate: the cooler the climate, the tighter the wine. It can be very tannic—which, with the right structure, can make it very age worthy. The tannins tend to be stronger, bolder, more astringent and grippy when the fruit comes from cooler climates, whereas hotter climates tend to temper their aggressiveness, making the wines more immediately accessible. This, of course, comes with a trade off: more vague fruit and a shorter lifespan. Because the spectrum of styles and varietal expression was broader, it was difficult to identify single choices for the following list:
Best varietal expression

:  This is a bit of a difficult decision. The 2006 Domenico Aglianico showcases nice varietal aromas and flavors but has the structure of a more mature wine. The 2007 Cougar Aglianico is rather shy at first but it has a fairly brawny tannin structure without being aggressive.

Best value

: The Caparone Aglianico may split opinions. Nevertheless, this wine is interesting and has appeal and at $14, is the best value. If one's preference leans more in the cleaner, more fruit-forward style, then the Tera d'Oro or the Witch Creek offerings (at $18 and $29, respectively) are good choices.

Most intriguing

: This again, is a tie: The Caparone is intellectually beguiling because it was difficult to say for certain if the saddle leather/horse blanket character was from brett (the wine is, after all, unfined and unfiltered) or from extensive oak treatment. The Cougar Aglianico is also interesting because of its juxtaposition of good varietal character and a distinct brininess, which is more pronounced than that in the Witch Creek Aglianico.

Most Italian-lik

e: Again, a toss up. One could say Caparone's leathery character is somehow Italian-like. Certainly, its grippiness resembles the benchmark wine, but the Domenicos were also evocative of mature Italian wines.

Best blend

: This choice was easy as there was only one aglianico-based blend, the 2005 Domenico.
Several of the wines in this tasting were tasted from two separate bottles. This presented an opportunity to see how a slightly broader audience would receive them. These second bottles were tasted on the morning of a social gathering to assess for any variation from the first bottles. From an array of wine laid out for a social gathering of non-wine industry friends, the Wargin Solano County Red and the two Domenico Aglianicos appeared to be most popular as those bottles were emptied first—suggesting the group's preferences through an informal, popular vote.
What about me?
One key question I sought to answer with this tasting was: How might my own wines taste? I have a general sense that my wines will fall somewhere in the vicinity of the Domenico, Caparone, and Cougar wines. All this is based on comparison of climates—which is really a loose approximation. Beyond that, I cannot account for (or predict if my wines will have) the brininess of the Witch Creek wines or the Zinfandel-like character of Rock Wall Montepulciano.
Careful observation leads to establishment of pattern, explanations of observations, and a greater understanding of a phenomenon. Whatever the result of my wine growing and winemaking efforts is, I hope to gain a deeper understanding of these two amazing varieties. Every reader is encouraged to go outside any comfort zone and explore the wines made from aglianico and montepulciano. With time the character and regional identities of these wines will gain resolution and these North American wines should gain their own recognition.
Author's note: For the purposes of this article, I wanted to taste these wines alongside some Italian benchmark wines. I sought the counsel of several people in the know: Thomas Pellechia, Ron Washam, Alfonso Cevola, Italian Wine Director at Glazer's Distributors and Terry Hughes, Domenico Selections. I wanted 100% varietal wines below $35. Ultimately, the search resulted in the 2007 Cantina Zaccagnini Montepulciano (imported by Viva Vino) and 2006 Musto Carmelitano, Serra del Prete Aglianico (imported by Domenico Selections) as the Italian benchmarks for this tasting. Domenico Selections provided two sample bottles of the 2007 Cantina Zaccagnini Montepulciano. I purchased two bottles of the 2008 Serra del Prete at a local wine store.
---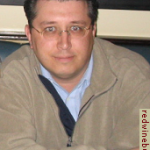 Arthur Z. Przebinda focuses on California wine stories, particularly those from the Central Coast, for PALATE PRESS: The Online Wine Magazine. Arthur founded redwinebuzz.com in 2006 to focus on California's Central Coast wines and to offer general wine education.