Do you really know what the 1961 Latour you purchased from an online buyer will taste like? And if the flavor is slightly off, will you blame the age or storage conditions of the wine or something more nefarious?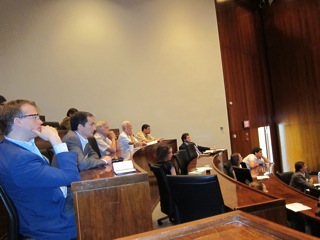 Wine counterfeiting has been happening for over a century. During a visit to the Champagne region a few years ago, I saw a display case full of fake bottles of Veuve Clicquot's Yellow Label.  In Rioja, Marques de Riscal's famous gold wire netting was originally wrapped around bottles to prevent crooks from refilling them with inferior wine.
At a recent conference of the American Association of Wine Economists in Princeton, New Jersey, I learned that—compared to the 1800s—today's counterfeiters have an easier time than ever creating convincing wine doppelgangers.
Guenter Schamel, from the University of Bozen-Balzano, presented a talk entitled "Virtue and Value of Etiquette." He began the presentation by clarifying that "etiquette" in this sense was not about politeness, but it is the French word that refers to labeling.
According to Guenter, to begin as a wine fraudster, one first must select a wine to forge. Older vintages of Bordeaux and Burgundy are top choices because of their resale value and because older wines had less security measures in place when they were made.  In addition, older wines are more likely to be cellared after purchase.  If buyers do not immediately taste the wine, they could conclude that the wine "turned" after they acquired it.  Another advantage of faking older wines is that the purchaser may not know what the vintage is supposed to taste like—particularly if they're already inebriated when they open it.  He further noted that, beyond a certain age, taste is an unreliable indicator of authenticity.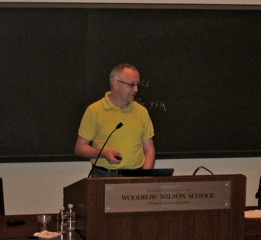 After selecting which wine to impersonate, the fraudster could approximate the taste of the wine by buying the same estate's wine from a lesser vintage or by adjusting cheaper wine with sugar or other additives.
Beyond creating a convincing concoction for inside the bottle, the most creative work comes with imitating the exterior of these expensive wines.  There are a number of ways in which fraudsters can fake the look of an expensive wine bottle. The easiest way is recycling—to acquire an empty bottle of correctly labeled wine from a prized year. Empty bottles from rare wines are resold for as much as $1500.
As far as the cork, fraudsters can buy a low quality bottle of wine from the same chateau.  When removing the cork, they would use an Ah-So instead of a corkscrew so as not to damage it.
Wine counterfeiters also hoard old foils to top their creations. But one of the most fascinating aspects of Guenter's talk related to the online trade in wine labels, an area where the Internet is truly benefitting criminals.
There is a thriving online marketplace for labels of old vintage wine.  A 1982 Lafite Rothchild label recently sold for 121 euros.  But that's nothing compared to the price a 1937 Romanee Conti label fetched—444 Euros.  Guenter told us that Wine Searcher valued this vintage at $10,000.  Not a bad return on investment.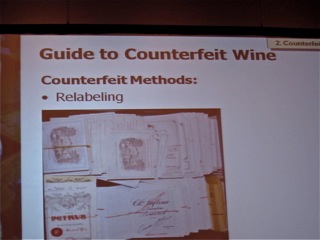 When it comes to stopping fraud in older wine sales, there doesn't seem to be much being done, especially regarding online sales, where identity is easily masked.   However, Guenter told us that in China, sommeliers sometimes smash bottles after tastings in order to impede fraud. But, even after the glass has been broken, the labels might be preserved.
Fraudsters who appreciate those fine rare wines have another trick up their sleeves: purchasing a real bottle of wine, and returning a different bottle claiming it was fake.  Not a bad way to drink rare wine for free, since the auctioneer would return the sale price.
Finally, imitating a label closely is sometimes an easy way to fool consumers, particularly from other cultures. Guenter showed us a slide comparing an authentic label from Penfolds with a nearly identically labeled wine for sale in China. The only difference was the stylized "P" in the original had one extra curve, making this wine "Benfolds." At a glance, it would be tough to distinguish between the two.
It was Guenter's feeling that the online wine market is rife with fraud. So, as in all things: buyer beware.  And for those collectors interested in rare vintage wines—only purchase from sellers with sterling reputations.
[author] [author_image timthumb='on']http://palatepress.com/wp-content/uploads/2012/07/me-2-2012.jpeg[/author_image] [author_info]Diane Letulle has been writing Wine Lover's Journal for over five years. Her blog takes readers along on journeys through the vineyards of France, Italy, Spain, Portugal, Austria, Hungary, Republic of Georgia, United States, and Canada. She writes wine columns for Examiner.com and contributes wine and travel stories to various online publications.  Diane earned the Advanced Certificate with distinction from the Wine and Spirits Education Trust, spoke at the 2012 International Wine Tourism Conference, and teaches wine classes in New Jersey.  She is writing a wine and travel memoir, and will have a travel story featured in an upcoming anthology: Leave the Iguana, Take the Mascara: Funny Travel Stories and Strange Packing Tips.[/author_info] [/author]