A large, loping dog greets me at the gate, followed in short order by a woman in work gloves on a four-wheeler who casually asks, "Can I help you?"
"I'm Lisa," I tell her, "the enology student from Oregon who e-mailed you a few weeks ago."
"Oh, yes!" she replies, and jumps down to unlock the gate.  "Just drive on up to the winery—I'll meet you there," she says as she swings the gate wide.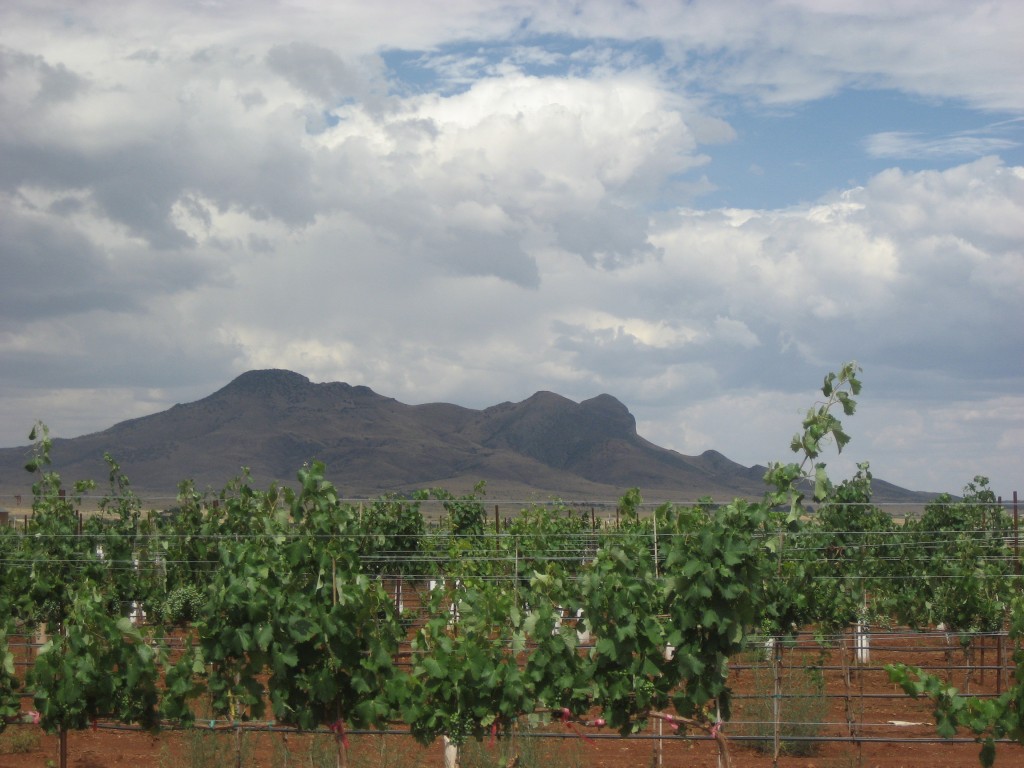 It's a March mid-afternoon in Sonoita [Suh-NOY-tah] AVA, and I'm already sweating through my clothes.  This is, after all, southern Arizona, an hour and a half southeast of Tucson. Summer comes early to these parts–and with a vengeance.  Luckily for me, there's a dry breeze, and a fair amount of the day has been spent in the cool of barrel rooms.  And luckily for the vines, Sonoita is situated at a pleasant 5,000-foot elevation that prevents against the true extremes of the Arizona desert and keeps the vines from shutting down photosynthesis and sugar production.
Located southeast of Tucson, the Sonoita AVA is bounded by three mountain ranges– the Santa Ritas, Whetstones, and Huachucas.  It was established in 1984, and a few hundred acres are planted to vine– though the numbers in the region are growing with each passing year.  There are ten established wineries and two wineries in development in the AVA, though signs pointing the way to others dotted the roads, as one is driving in its direction.
I'm at Lightning Ridge, the final stop for the day, and I'm about to have a Kiltlifter Ale with Ann Roncone. As we talk shop, I gain more perspective on this unique land that holds the only AVA in Arizona.  So far, I've tasted through a complex and nuanced lineup of Mediterranean and Spanish varieties at Callaghan Vineyards, dished about business and school in Australia at Kief-Joshua, and learned about the roots of the winegrowing region at Sonoita Vineyards. However, it's Ann's wines that I've been most looking forward to. She grows Italian varieties, and (as my sweetheart, who hails from Campania, will attest) I'm a sucker for Italians.
As we settle in at her tasting bar, Roncone tells me that she came to winemaking from an engineering background, and pulls out a binder full of notes on pH and sugar levels, every possible parameter tracked and noted.  Roncone loves wine, but she's also an astute scientist and businesswoman.  "I started out in California," she says, "volunteering to work crush, and I just fell in love with the process.  When I decided that this was what I wanted to be doing, I was obviously priced out of California, so my husband and I started looking elsewhere.  We decided on Sonoita—we could grow the sorts of Italian varieties we loved drinking, and we just loved the area."
Love of the area also drew Kief Manning, a graduate of the viticulture program at the University of Melbourne, to Sonoita.  "Honestly, I always knew that this was the place I wanted to make wine, have a vineyard," he told me earlier in that afternoon.  "Arizona has always felt like home.  My graduate school project involved putting together a business plan to put in a vineyard and start making wines right here."  His lineup at Keif-Joshua Vineyards includes Sauvignon Blanc, Pinot Gris, Tempranillo, Mourvedre, Syrah, and a couple of red and white blends.  Not all the fruit that goes into the wines is estate-grown, though Manning mentioned that he was in the process of purchasing more 40 more acres of vineyard land in the Kansas Settlement, a yet-to-be delineated winegrowing area near Sonoita, which would allow him to produce more estate-grown selections.  He currently has 15 acres planted to vines.
Tough conditions
It's not surprising that winemakers in Sonoita would sometimes bolster their inventories with a few truckloads of grapes from California or New Mexico, however.  In 2010 a massive August hailstorm battered the vineyards in the area, leaving some winemakers such as Kent Callaghan, whose 25-year-old vines lie mere minutes up the road from Kief-Joshua, with no crop whatsoever.
The sobering sight of Callaghan's beaten vines was my first vision of the Arizona winemaking region as I started out tasting and talking that morning.  Though Kent holds a degree in philosophy, he was down-to-earth and pragmatic when it came to winemaking.  "What can you do?  I bought grapes from other vineyards," he said regarding 2010.  The fruit he purchased, however, was not to be sneezed at—one of his sources was Dick Erath's Cochise County vineyard.  As for the rest, "Our planting decisions involve educated guesses. We're always thinking about established regions that are similar to ours. But varieties that seem well-suited to our area sometimes don't work out as well as expected, and vice versa."
Callaghan is perhaps the most established winemaker in the region, and his attitude of trying different varieties and seeing what worked has yielded wines of wide variety, and some of my favorites.  Callaghan has been directly involved in all aspects of the winemaking process for over 20 years—and the wines bear the touch of a craftsman with a particular vision.
While I would have happily taken a bottle of each of Callaghan's wines home with me, I remind myself that I am a student on a budget, and decide that the Cabernet Sauvignon will be it.  Before I leave, he generously opens a long-sold-out bottle of Riesling made by his neighbor Tim Mueller at Canelo Hills Vineyard and Winery.  I'd heard that a few of the Sonoita winemakers were growing Riesling, and I was skeptical as to what this area­, so different in climate from the banks of those great German rivers, would yield.  The aromas of lush, tropical fruits, supported by a crisp backbone of acidity won me over—it seems that Riesling can be done, and done very well, in the American Southwest.
As Callaghan and I chat, I learn that hail is just one threat these vines face— late spring freezes are not uncommon at this elevation, and can wreck havoc on young buds.  When the right climactic factors align, however, the region can see harvests pushing late November, allowing the grapes to come into full phenolic glory.  And that is why I'm so excited to taste the fickle, late-harvest king of grapes that Roncone is growing on her estate—Nebbiolo.  Piedmont may be the most perfect growing region for this grape with its languorous growing season, with its rolling hillsides around the villages of Barolo and Barbaresco turning out long-lived, tarry, rosy, deep wines that evolve in your glass over the course of a meal.  But if there is any area of the US that is perhaps well-suited for giving this grape the time it needs to develop, then Sonoita just might be it.  The Italian varieties Roncone is currently cultivating are delicious, especially the Montepulciano—a heady mouthful of cherry, plum, cocoa and loam.
Of course, Roncone's few rows of Nebbiolo produce just a few barrels, but she's more than happy to pull me a sample.  It may be the end of my day, and this may be a young wine, but I am positively giddy at the ruby drops from the wine thief.  The acidity and tannin are there.  Even out of the barrel, it hints at what could develop into haunting aromas later on in its life.  Though I have enjoyed all Roncone's wines, I'm excited and intrigued to see what this wine has the potential to become.
"Tell me when you bottle it," I say.  "I want a case."
---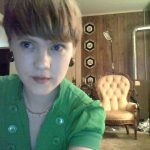 Lisa Strid is an enology student and writer based out of Corvallis, Oregon.  She holds an advanced certification in wines and spirits from the Wine and Spirit Education Trust, and a degree in creative writing from Oberlin College.