Have you heard that there are now wineries in every state in the US? Here's the "state of the state" of Arizona's fledgling wine industry.
Serious consumers and people in the wine trade may be aware that Arizona has a nascent wine industry. But if you ask more challenging questions like "Where?" or "Which grape varieties?" most draw a blank. However, a recent comprehensive media tour of the state provided me with some answers.
Vineyard Sites and Typicities
Arizona has 942 acres under vine and 83 bonded wineries. Wine grapes grow in three locations: Sonoita/Elgin, Willcox and Verde Valley. Sonoita is the only one with AVA status. Willcox accounts for two-thirds of Arizona's wine acreage, a ratio that appears to be maintained based on planned plantings in the next three years. However, planned plantings over the same period in the Verde Valley are 15% of the state total versus a historical acreage ratio of about 8%. Thus the state's production will skew towards the Verde Valley, and away from Sonoita, as that production comes online.
Climate
Growers use altitude to exploit the benefits of sizeable temperature diurnal change in the vineyards, benefits such as increased aromatics and acidity in the wine. As much as vineyards altitude helps, it can also be a hazard. The three major growing areas are at 3,800 ft. (Verde Valley), 4,200 ft. (Willcox) and 4,900 ft. (Sonoita/Elgin). These Arizona areas are beset with a high risk of late frost: if frost arrives after bud break in the spring, the young buds are at risk of freezing. Grape growers are taking serious measures to combat it, like the wind turbines that invert warm and cold air in the Verde Valley at Merkin Vineyards.
Grape Varieties
Arizona seems to have a different flagship red grape at each of the best wineries. Sangiovese, cabernet sauvignon, syrah, graciano and grenache all figure here. For white grapes, the state has an unknown gem in its expressions of malvasia bianca. A successful grape mix may center on Mediterranean varieties. But from the wines that I tasted, it also extends to Bordeaux varieties: look for unblended cabernet sauvignon examples from Javelina Leap and Saeculum Cellars and blended cabernet sauvignon from Callaghan Vineyards. Ageworthiness of Arizona wine is still an open question. However, tastings in 2014 of wines that were up to 17 years old (Callaghan Vineyards) showed examples that age gracefully in the classic manner.
Training Infrastructure
Grape growing and winemaking "infrastructure" are young in Arizona. Yavapai College (part of the Arizona junior college system) and the University of Arizona's College of Agriculture and Life Sciences provide academic support. Yavapai offers a two-year certificate in viticulture taught by two specialized faculty (one in viticulture and one in oenology). Next fall it will begin offering a one year enology certificate. Graduates can transfer credits to the University of Arizona system for a four-year degree. The University of Arizona College of Agriculture does not provide viticulture or enology classes but does provide research support, regarding grapes as part of its agricultural crop portfolio.
Youthful Industry
Arizona viticulture and winemaking are both young industries in viticultural terms. The first vinifera grapes were planted in Arizona in 1973. By comparison, California had vinifera grapes in the middle of the 19th century. As you might expect with such a youthful industry, the state is a skunkworks of viticultural experimentation and innovation.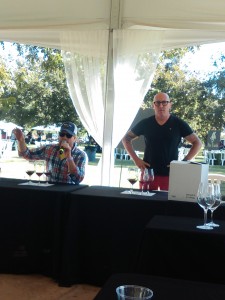 Youth, perhaps better described as inexperience, shows even more clearly in the winemaking. Though there are large variations in wine quality, I believe Arizona now makes some "national quality" Cabernet Sauvignon, Sangiovese, Tempranillo, Syrah, Chardonnay and Malvasia Bianca.
Youth leads to exuberance and nobody shows it more strongly than Maynard James Keenan. He is well known as the front man and composer for alternative rock bands Tool, A Perfect Circle and Puscifer. However, Arizona wine is his focus nowadays. Keenan is no dilettante or weekend winemaker. From his base in Jerome he is owner and winemaker at Caduceus Cellars and Merkin Vineyards. He also donated the educational vineyard adjacent to Yavapai College and was a major force behind the founding of the custom crush/cooperative winery called Four Eight Wineworks in Clarkdale.
Tourism
The state touts the role of the wine industry in promoting tourism although the industry is still developing. Most tourists come from within the state and, given the state population distribution, tourism is likely to develop more in the Verde Valley (one hour north of Phoenix) than in the other two wine areas (two plus hours east of Tucson). Verde Valley is showing early signs of tourism growth, with the topographically stunning town of Jerome sporting places to stay (mainly B&Bs) and tasting rooms (Caduceus Cellars, Cellar 433 and Passion Cellars), as well as nearby Clarkdale's having a cooperative winery. Cornville is home to quite a few tasting rooms such as Javelina Leap Vineyard and Winery, Oak Creek Vineyards and Page Springs Cellars, and Cottonwood likewise with Alcantara Vineyards, Arizona Stronghold Vineyards, Burning Tree Cellars, Pillsbury Wine Company and Fire Mountain Wines. There is also the beginning of high quality dining in the area with the Abbie's Kitchen in Cottonwood which features New American cuisine with a focus on local sourcing.
Legal
Arizona has few significant legal barriers to the industry. One law that the industry recently changed was a provision to allow two remote/off-winery tasting rooms without requiring a new winery permit.
Looking Forward
Arizona is on a trajectory towards national prominence. The state is training more winemakers than ever before and with better equipped facilities and body of existing knowledge. It is now turning out wines that deserve a place at the table with their west coast and foreign counterparts.