Many economists see the ongoing financial crisis that started in 2007 as the worst since the Great Depression of the 1930s. Greece dominated the news this year, and it was finally confirmed on May 2nd that the European governments and the International Monetary Fund (IMF) are committed to pulling Greece back from the brink of default, agreeing to provide emergency loans of € 110 billion.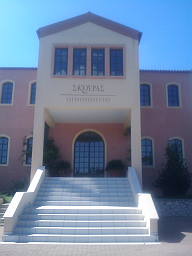 How are Greek wineries affected by these harsh economic conditions? What steps are they taking to counteract the economic ramifications? George Skouras, owner of the Domaine Skouras, kindly agreed to an interview to give an insider's perspective on these questions. Domaine Skouras is one of the best-known Greek producers in and outside of Greece. Mr. Skouras is widely considered a seminal figure of wine production in Greece: he is one of the first people who started the "quality revolution" in the latter part of the 80s. Currently, he is also President of the Association of Peloponnese Wine Producers. It would be hard to find anyone better qualified to answer these questions.
I focused our talk on the wine industry rather than politics, and Skouras was able to offer some hope to future generations of Greek winemakers and wine drinkers.
•••
Markus Stolz: Have sales of wine been noticeably affected locally and in the export markets?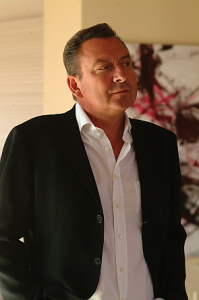 George Skouras: "For the first time ever, it is very hard to make plans for the future. In the Greek market, sales are down between 5% and 20%. The export markets, though, still remain at the same levels, and there are even encouraging signs in the U.S. and Canadian markets. The crisis in our country may also lead to some solidarity from consumers abroad.
The U.S. presents a good opportunity for Greek wineries. In the U.S. everything is related to pricing. They operate by different price bands for wines, for example from $10 to $20, then to $30, $40, and upwards. Expensive wines are increasingly having a difficult time, and it is the lower segment of $10 to $20 which rapidly gains importance. That is exactly where we can offer exciting wines with solid quality. In contrast, in Europe—apart from the U.K.—such a clear price structure is less apparent.
As far as the Greek market is concerned, we producers must make the most of these circumstances by seeking to reconnect with the consumer. In the last years, imports of foreign wines into our country have steadily increased. We must approach and engage the Greek wine lover, and work on rebuilding our relationship with them."
MS: How do you counter decreasing sales?
GS: "Generally speaking, I believe that most Greek wineries have already made the bulk of their investments over the last few years, and now, like all Greek businesses, must do everything in their power to offset sales losses. For Skouras, this means cutting costs, holding back on new investments, focusing even more on prices, and maybe introducing new products that will sell more easily during the times of crisis. We will do everything we can to not cut back on our employees; this for me is the very last resort. We must double our efforts in other areas, and must implement efficiency analysis in order to become more productive and competitive."
MS: What are your options to control your revenue stream?
GS: "There is no easy response to this. Theoretically, one option would of course be to cut prices, but really there is no generic answer. For example, 2009 saw a very small harvest in Nemea. Normally, people are thirsty for the wines from Nemea, and a reduced harvest would certainly support prices. But we do not live in normal times. Other regions are clearly overstocked in quantity, and this is a serious problem, as this coincides with consumers' cutting back on wine purchases.
We all have to be extremely careful, as it is so hard to gauge ahead. For me, one thing is of utmost importance: I will not use any shortcut that could adversely affect the quality of my wines. I cannot stress this highly enough: we all must continue to focus on the quality, which must be consistent, year in and year out. In addition, we have to focus on our prices to remain competitive."
MS: Does the Greek crisis have a compounded negative effect?
GS: "Of course it does, but it is hard to see exactly where things are going. There is an enormous amount of uncertainty, but after all, life doesn't stop. Greece has many things to offer apart from wine—take the tourism industry as an example. I do not think that the tourism industry will be badly affected by the crisis, but it will become much more competitive. People will still yearn for their holiday, particularly during these stressful times. I have spoken with many friends and have read a lot of information regarding restaurants and hotels, and it seems industry prices have been, or will be, cut between 20% and 30%. With regard to the wine industry, we at Skouras focus fully on the export markets. We are increasing our efforts and marketing activities abroad."
MS: Have you noticed delays in payments for your wine?
GS: "Not for us at Domaine Skouras. But of course there are real problems out there, many bars and restaurants are affected. In the current time, liquidity is a huge problem, and this presents a big issue for the Greek market in general."
MS: There is a lot of bad publicity for Greece as a country in Germany—will this affect sales?
GS: "It is primarily the press that drives the bad publicity. So bad publicity will continue for as long as the press keeps pushing it, but I believe that this will wane soon. Two factors are obvious to me: First of all, a very low percentage of Greek wines are exported to the German market. It must be difficult for this small percentage to decrease even further. Second, I feel that there are many people in Germany who are fond of us Greeks, despite the media hype. In all my years that I have visited Germany, I have come across so many Germans who are honestly fond of Greeks and Greece. I am very heartened by this. I do not think that this particular business will be affected. In fact, yesterday I was in Mani [Peloponnese] and it was full of Germans."
MS: How is the mood, both for you as an employer, and for your employees?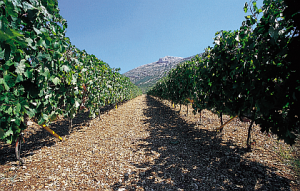 GS: "I think the mood is one of uncertainty. My employees still feel relatively safe, as they know that cutting back on jobs would be my very last resort, and I hope it does not come to that. I have 15 employees, and we have been together for many years. We do not run a big industrial business. They are part of my family. Having said that, of course the times are not good. You know, I am not a citizen of a city; I am a citizen of nature. My vineyards do not know anything about the crisis. They are beautiful, green, and produce beautiful grapes. There is something regular about them. This gives us a lot of lessons for life, which must also be regular. We must continue to do our work; that is the secret."
MS: How do you view the next couple of years?
GS: Times are simply too uncertain to answer this. Even when we last spoke just three days ago, things were different. Now it is a fact that the aid program will come, but who knows what next week might bring us? I am hopeful that things will get back to normal for us. We are proud of our business, we pay a lot of taxes, and we are certainly not the sick part of Greece, we are the healthy part.
---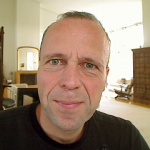 Markus Stolz, a German, lives with his Greek wife and their four children in Athens, where the wines of Greece first captivated him. He holds the advanced certificate of the WSET, and authors Elloinos, a blog that shares his passion for Greek wines and  Greek culture. He can be found on twitter @elloinos.