It is generally accepted that wine growing and making originate in what is now the country of Georgia. There is archaeological evidence of wine making in the region dating back to some time around 5000 B.C. Some 500 unique varieties are reported to grow in Georgia's wine region – a valley between two mountain ranges and the Black Sea situated along roughly on the same lines of latitude as the most renowned wine growing regions (France, Italy, Spain and Northern California). With a few exceptions, Georgian varieties (which have been the staple of wine for centuries) have existed in a juxtaposition of global obscurity and vast planting in the cradle of viticulture.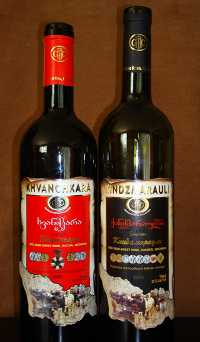 Georgia has been one of the countries steadily supplying its neighbors and former Soviet Bloc countries with wine for quite some time. Georgian red wines like Saperavi or Alexandrouli are produced in a range of styles named according to length of ageing in barrel. They are deeply colored, have slight tannins, softer acids, bigger alcohols and notable sweetness. Just the right combination for immediate enjoyment but not the phenolic, acid or sugar content for longevity or to place them in any rubric of what is considered a great wine by the arbiters of taste – past or present. Unexpectedly, some of these varieties have found a home in New York's Finger Lakes region. At McGregor Vineyard and Winery on Keuka Lake, The McGregor family grows and produces saperavi, sereksiya charni, sereksiya rosé and rkaksiteli ("rkah-tsee-tely") alongside other vinifera and hybrid grapes more commonly encountered in that region.
Saperavi is believed to have originated in Eastern Georgia. It is an acidic teinturier-type grape variety native to Georgia. Aptly, its name is from the Georgian word for "paint" or "dye". Blended with the alexandreuli grape, it is the mainstay of Georgia's red wines.
The less common sereksiya charni (sereksiya chernaya) of Moldovan and Romanian origin, is grown throughout the Caucasus and Balkans. It makes for red wines typified by deep color, high acidity and a prominent fruity element.
Rkatsiteli is a white Georgian variety ubiquitous in the former Soviet republics. It is one of the most widely planted but also probably most obscure varieties in the world. Nevertheless, it has made its way, in small quantities, to Australia and the Finger Lakes. In its homeland, it is made (alone or in blends) in a variety of styles typified by high acidity and spicy and floral notes.
Very little information is available about sereksiya rosé beyond the fact that McGregor may be its only home on the American continent.
John McGregor, having taken over the helm at the winery, oversees the growing and production of Cabernet Franc, Cabernet Sauvignon, Merlot, Pinot Noir, Sangiovese, Chardonnay, Riesling, Gewürztraminer, Muscat Ottonel, Cayuga White, and Vignoles.
The two Georgian red varieties are bottled by McGregor as the proprietary blend, Black Russian Red. The Rkatsiteli and Sereksiya Rosé are also blended and labeled with the varieties. The most recent releases were recently tasted.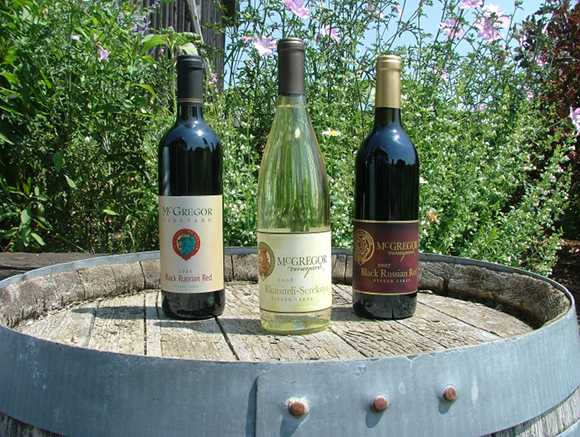 The McGregor 2006 Black Russian Red is a product of a wet and cool growing season in the Finger Lakes. The grapes for this bottling were brought in from two separate blocks of Saperavi and Charni picked two days apart towards the end of October, 2006. The first lot came in at 19.2 Brix and the other registered 18.5 Brix. Each lot was chaptalized to 23 Brix and inoculated with yeast. The wines were pressed after completing primary fermentation, blended and put through malolactic fermentation. A more restrained than usual barrel regime consisting of 13 months in Minnesota American oak barrels (15 new barrels, six three years old, and three four-year-old barrels) was applied to this production. Founder, Bob McGregor had decided in the early 1990s that French oak was wrong for this wine (saying that French oak left the wine vaguely flat and unappealing to him) and has adhered to American oak ever since. Egg white fining and cold stabilization completed the elevage. 538 cases were produced at 12.5% alcohol 0.75 and residual sugar. $49.99
The wine starts with blueberry aromas with graphite and leather notes. In the mouth it has a dusty texture, plush mouthfeel with bright acidity. The finish is focused around blackberry. On the second day, cedar aromas dominate the more reticent leather hints. In the mouth, blackberry flavors predominate and the structure holds up nicely.
The McGregor 2007 Black Russian Red is made from two lots of fruit, one brought in at 23 Brix and the other at 22 Brix natural sugar. The riper fruit (i.e., higher sugar level) indicates a hotter, dryer vintage for this region. The lots went through primary and secondary fermentations separately. The first lot was aged in Minnesota American oak barrels for 19 months. The second lot was aged in similar barrels for 18 months. Thereafter, the wines were blended together. Half of the final blend was held back for further barrel maturation and the remainder was bottled – thus the smaller production. As with the previous vintage, the wine was egg-white fined, cold stabilized, filtered and bottled. A total of 293 cases were produced at 12.5% alcohol and 0.25% residual sugar. $54.99
————————
Chaptalization
The sugar content of grapes is measured by a number known as Brix.  One degree Brix corresponds to about one percent sugar in grape juice.  Chaptalization (illegal in some places, done in many places) is a way of saying "adding sugar" to juice before fermentation with the intention of increasing potential alcohol. Named after Jean-Antoine Chaptal, who discovered the relationship between sugar and alcohol in wine, it's not to be confused with back-sweetening, which is adding sugar post-fermentation for increased sweetness.
Chaptalization is fairly commonplace in cooler climates, where grapes may not always reach the desired level of potential alcohol.  This is especially true in the New World.  In the Old World, where regulations are stricter, producers caught adding sugar (or too much sugar) to juice can face harsh penalties, as was the case with some Beaujolais producers in 2009.
T. Mansell
————————
Aromas of cedar and graphite dominate this wine initially. In the mouth, it is richer and more opulent that the 2006 bottling. It has a smoother texture and a generally riper impression. On day two, the ripe character of this wine splays out more distinctly with blackberry aromas accompanied by an intriguing light floral note. In the mouth, this wine is substantially softer with negligible tannin textures and a juicy core.
McGregor also produces another unusual wine, the white Rkatsiteli-Sereksiya. The 2008 vintage is pale in color, with dominant grapefruit aromas backed by hints of tropical fruit and vanilla. In the mouth, citrus and sweetness are opposed by tangy acidity. These persist into the finish where vague lychee and hazelnut notes taunt the tasting acumen. On the second day, grapefruit aromas dominate and are backed by notes of new parchment paper. Acids, however, are markedly flatter, with the balance having tipped decidedly in the direction of notable sweetness. 2.0% residual sugar. $24.99
While the white is a bit hard to categorize (as the producer says, it's somewhere in between a Riesling, Gewürztraminer, and Sauvignon Blanc), it is at home in the realm of grapes like seyval blanc and vidal blanc. It is an aromatic wine best consumed fresh and young. Serve well chilled and pair with Asian dishes.
Interestingly, while the vintage 2006-2007 differences in the two Black Russian Reds are quite distinct in the wines tasted, they emphasize the varieties'similarity to Teroldego and Dornfelder. In their ripe, developed form they are soft, fleshy with a dense fruit character. They differ from their Georgian counterparts (available to US consumers in areas with larger Armenian, Russian or Near-Eastern populations) in a residual sugar level that is undetectable to most consumers. They should be versatile pairings, complementing meats and lighter sauces.
Arthur will host a discussion about these Georgian grapes, as well as chaptalization, this evening, September 23rd, at 9 Eastern, in our Forum.
---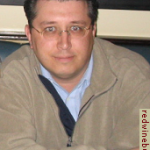 Arthur Z. Przebinda focuses on California wine stories, particularly those from the Central Coast, for PALATE PRESS: The Online Wine Magazine. Arthur founded redwinebuzz.com in 2006 to focus on California's Central Coast wines and to offer general wine education.