British wine critic Jancis Robinson has something of a romantic debt to American wine.   Not only was her first British national wine story about American wine, but she met her husband, Nick Lander, when they organized a tasting of American wines in London. At the time, wines from the US were very much an upstart novelty in Europe.  And Moët et Chandon's 1976 investment in California was big news for an aspiring young wine journalist.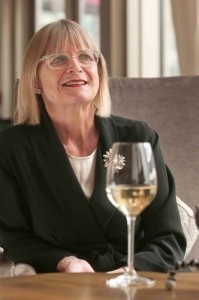 Now Jancis Robinson has risen to the top rank of wine critics. She is a popular wine columnist, author and co-author of several of the most classic wine books, creator and presenter of a TV wine course on the BBC, and she is even an advisor for the British royal household's wine cellar.
But she has returned to her early wine writing days for her latest book. Robinson and co-author Linda Murphy have now written American Wine, a comprehensive book encompassing a range of United States wines from the well known to the obscure.
Robinson said that although she knew the "Big Three," as she called them – California, Oregon, and Washington – reasonably well (although Washington a bit less so), she was looking to delve deeper into the American wine scene.
America, she discovered, is not only producing more wine but consuming it in much greater quantities than previous years.
"I then became aware that – although some of them are crummy, pretty awful – that the number of good wines being produced in the other 47 (states) have dramatically increased," she said.   "And then, also, there is that topical business that the U.S. has recently become the world's biggest wine market.  And I look around and I see so many people, particularly young Americans, proactively interested in wines, much more so than in Europe, where people just take it for granted.  They go to wine classes, they go to wineries, there are urban wineries.  So I just felt the time is right for a book that celebrated American wine.   There are masses of books on California, quite a lot on Oregon and Washington, but there was no single book on the current American wine scene throughout America."
To help fill in the gaps in her American wine knowledge, Robinson recruited Linda Murphy, who gets full co-authorship credit.   Murphy is former wine section editor of the San Francisco Chronicle and ex-managing editor of the wine website of the New York Times.
Robinson and Murphy's new 288-page book is not a coffee table tome; it's more like a full-sized laptop.   It is comprehensive and written in an engaging style — for which Robinson gives co-author Murphy high credit.   It is subtitled "The Ultimate Companion to the Wines and Wineries of the United States."   That's not hype.
All the AVAs across the country are covered, often including very detailed maps.  (As a co-author of the World Atlas of Wine, she had the right to use the atlas' maps.) If you want to know about North Carolina cabernet or Michigan riesling, you'll find all the info here.
But even for as experienced a taster as Robinson, there were surprises in the research.
"All places that produce wine that I've come across produce some rubbish and some good stuff," Robinson observed.  "Of all, I would say Austria has very little rubbish, but almost everywhere else has some really bad stuff.  New York State hasn't got that much rubbish, if you put on one side the Concord grape and a lot of the hybrids.  Texas is producing some pretty good stuff.  You have to quantify for each state. But there is enough good stuff to produce a book. I was quite surprised by the quality of [NY] Finger Lakes Riesling when I first came across that.  Michigan Rieslings, that's surprisingly good considering how far north they're made.  Not so surprising is the quality of Virginia wine because they've got a lot going, really, here."
One major find she singles out– and one to which I can attest – is the Gruet sparkling wine out of, all places, New Mexico, just about the last place you think would be making quality sparkler.   The wines are made by traditional (champenois) method.  They possess an unexpected depth of elegance and finesse, but sell for less than most major America sparklers, usually under $20.  The book labels the Gilbert Gruet Grand Reserve and Brut Sauvage Blanc de Blanc "world-class."
As for indigenous American grapes, her "top of the pops," as she calls it, is Norton.  "It exists in poorly-made versions, but it's surprising to me that an all-American vine without a single vinifera gene in it can produce wines that taste so good."
Publishing another wine book is a risky proposition these days.  Thanks to the internet, the time when a handful of critics like Robinson and Hugh Johnson and Robert Parker had a monopoly on wine criticism is over.   But Robinson says it is a good thing that wine criticism has become more democratic.
"I think in a way it's quite healthy in that we've all got to stay on our toes," she said.   "We can't just sit on our mountaintops and preach to hoi polloi below.  We can only survive if we are good at our jobs and people respect us enough to read us and buy our wares, if you like.  And there are lots of nice, fresh voices out there."
So if you want to be educated and entertained (learning some great wine trivia along the way to wow your dinner guests), sit back with a copy of American Wine and a glass of the same, perhaps a tribidrag.
The tribidrag grape, Robinson points out, was shown through DNA testing to be the original of that perhaps best-known American variety, zinfandel – a wine responsible for much of the success of the American wine industry. Only one American winery – Napa's Lagier Meredith, which did the original DNA testing, is marketing a tribidrag.  So you'll have to settle for a zinfandel while perusing American Wine.