Winemakers will often tell you that their wines are meant to be enjoyed with food. But how often does a winery have a chance to prove it to their guests? In the U.S. more wineries have begun incorporating food and wine pairings into their hospitality programs. However, few of them have gone beyond simple bites to build an actual sit-down restaurant on site.
In Oregon, strict land use laws have kept many owners from developing commercial kitchens. But things are changing and slowly wineries are developing full food programs to go alongside their wines.
In our continuing exploration of epicurean experiences at wineries, we are focusing on five Oregon producers that are shifting the paradigm. From southern Oregon all the way up to Portland, these wineries have gone beyond the typical cheese and charcuterie plate by offering a seat at their tables. Literally.
Offering a full spectrum food and wine experience to tasting room guests is certainly one way for a winery to stand out from the growing competition. But I discovered that standing out isn't the reason these wineries decided to offer them.
"We never set out to be a restaurant," explains Dan Marca of southern Oregon's DANCIN Vineyards, "But I'm Italian. We are all about hospitality." And that hospitality inspired the decision to serve food as an extension of their table and family. "And I mean that," he continued, "My wife makes all the food, and you'll find me pouring wine behind the bar. We are right there with our guests."
They don't have a big kitchen or a large space for food preparation. "I don't consider us a big full-service restaurant. I look at us more as a bistro," Marca adds. "We are in the vineyard. Basically farm to fork, in essence. We're small. On our menu, the first two pages are focused on our wines. Then, later on, you'll find the food."
So why even bother offering food?
"We wanted to offer the option to taste our wines tableside," Marca explained. Though they are first and foremost a winery, focusing on Pinot Noir and Chardonnay, they believe that food, family, and hospitality are all intermingled. So they naturally wanted to serve food as a part of the DANCIN experience. Family is an important part of the equation.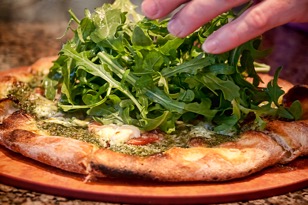 DANCIN welcomes the entire family, even little ones, to their Tuscan inspired dining area that extends from a smaller intimate space indoors to their larger outdoor patio complete with views of their vineyard. Here in the States bringing children to wine tasting rooms can cause heated debate. There are some who believe children should not be in wine tasting rooms. But Marca was always bothered by watching parents at tasting rooms who would leave their kids outside, with electronics or toys to keep them company, or worse off, kids that were just left in the cars to entertain themselves. His entire philosophy of wine is about family and hospitality, so he built a space that includes everyone.
"At our place kids are encouraged. It's a part of the experience."
At DANCIN, instead of being left out, kids can sit down with their family and feel welcomed. And what better way to welcome a kid than with food, especially pizza.
Although wine is the focus here, the rotating menu of pizzas is creative, fresh, and tasty, like their Moon Walk pizza made with organic local peaches, caramelized onions, fresh basil and mascarpone cheese drizzled with reduced balsamic. Their mushrooms stuffed with sausage and Parmesan, topped with Chardonnay cream and reduced balsamic, are also not to be missed.
A couple hours north of DANCIN, in Eugene Oregon, you'll find King Estate Winery and Restaurant, offering several rotating menus ranging from lunch, dinner, and weekend brunch, with a separate cheese and charcuterie menu (charcuterie made in house), King Estate is also family friendly, offering a separate kids menu for young ones. Here the tasting room and restaurant is large and spread out, with spacious patio overlooking expansive vineyards. The views here are jaw dropping, especially at sunset.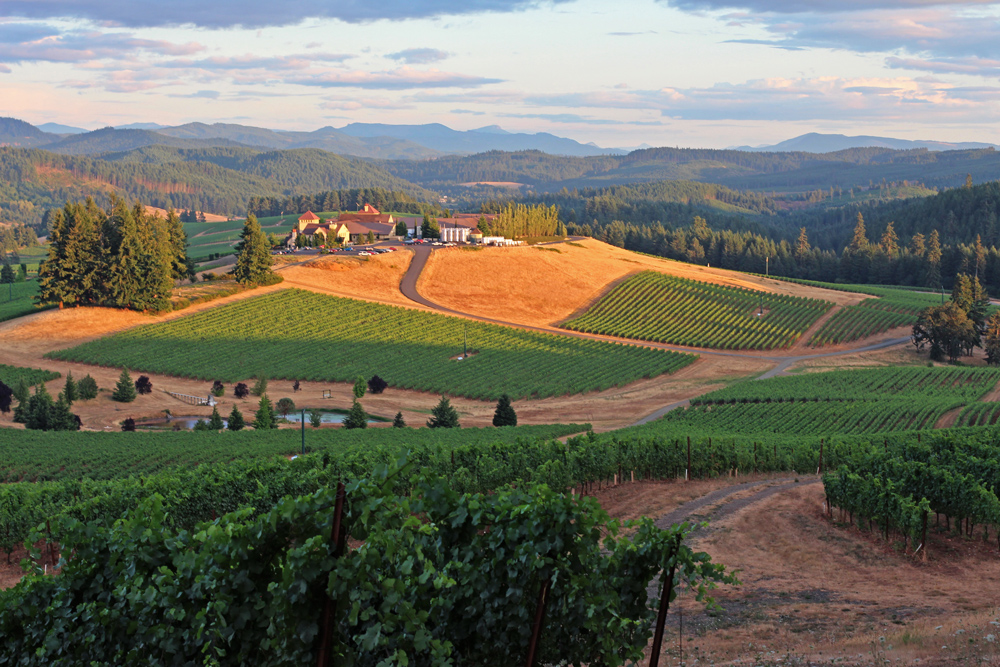 The crab cakes or truffle pommes frites are a good place to start while sipping on a glass of sparkling Blanc de Gris. The hazelnut crusted lamb loin is an excellent match for their range of pinot noirs. While you're there make sure to try some of their aged pinot gris. Don't think pinot gris can age? King Estate offers several older examples that may change your mind.
If you work your way back to I-5 and drive north about an hour and a half, you'll find yourself just south of Salem, at the Willamette Valley Vineyards estate tasting room.
Their recent remodel allows guests to experience a creative mix of food and wine pairings in an impressive sit down environment.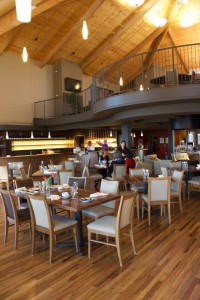 "We knew while conceiving our food concept that we were a winery first and wanted to use the food to showcase our wines," explains Christine Collier, Winery Director. "We believe our classic Oregon wines show their best when paired with food," Collier continues, "especially local dishes freshly prepared by our Winery Chefs." They built a commercial kitchen and developed a menu to specifically showcase wine and food pairings.
It was important for them to encourage guests to feel both comfortable and welcome. "Guests are able to enjoy food pairing meals as part of their visit to the winery, which showcases the wines at their best and they are able to extend their stays and relax longer."
While they may not consider themselves a full-service restaurant, you are sure to leave satisfied. Their food and wine offerings range from a daily pairings menu to four-course food and wine-pairing dinners offered three nights a week.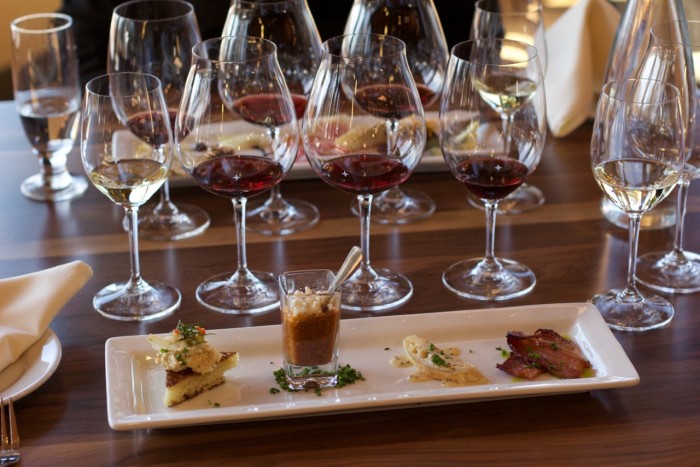 "We feature our pinots with everything from steelhead salads to roasted lamb and short ribs. These combinations excite guests and make them want to take our wines home and recreate the experience with their friends and family."
Their menu changes seasonally, but there are a few dishes you'll find year-round, like their steelhead and beet salad with horseradish dill yogurt sauce per the request of winery owner, Jim Bernau (it's his favorite dish on the menu). I can attest that it's tender, flavorful, and fresh and delicious with the sweet beets and tangy dipping sauce.
The Portland Scene
As you continue an hour north on I-5 you'll eventually arrive in Portland with a growing urban winery scene. And with an unlimited amount of exciting restaurant options in this foodie town, there are also a small handful of local wineries offering food in addition to wine production.
Michael Claypool and Sasha Davies are the team behind Clay Pigeon Winery and adjacent wine bar, restaurant, tasting room, Cyril's. Their decision to create a restaurant space within a winery was a natural evolution of their own interests: Claypool the winemaker, and Davies, a cheese expert, author, and educator. The concept became a marriage of their two passions and business ideas.
At the restaurant you'll find small plates, starters and seasonal salads, to hot off the grill entrees. With Davies' expertise, you can't skip a cheese board from her well-curated cheese list. Surprisingly you won't find just Clay Pigeon wines offered at Cyril's.
"We like wine — that's the whole reason we got into making it," explains Davies, which is why they also offer some of their favorites from around the world in addition to the small production wines they make right there on the property. "Plus," she continues, "it's also incredibly helpful to continue to taste and drink other wines — keeps up our palettes and keeps Michael honest about his winemaking!"
The restaurant is cozy, yet open, with just a glass wall separating the dining area from the working winery. You are sure to see lots of winemaking action, especially this time of year.
Just down the road from Cyril's at Clay Pigeon Winery is another urban winery with an incredibly unique concept, Coopers Hall.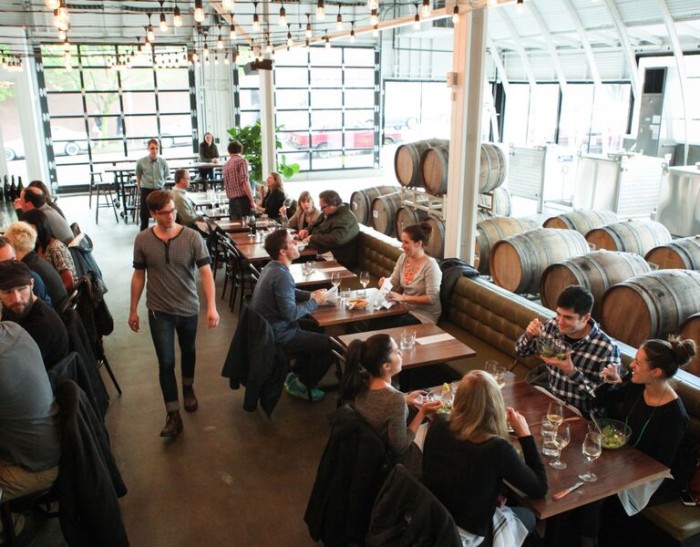 Situated in an 8,000 square foot former auto repair shop in southeast Portland, Coopers Hall is a winery, restaurant, and taproom, dedicated to keg production wines. Yes, wine in kegs — and one of the biggest and most impressive of its kind.
The place is seriously cool and utterly unique. Unlike most traditional wineries, that bottle wines in standard 750 ml glass, they set out to do something new with wine. "We wanted to incorporate what our brothers and sisters in the brewery world have done so well," Robert Gregg Karmin, Brand Manager, explains. That was to, "create an environment to understand the wines, to taste the wines… and help to demystify wine on tap."
With 44 taps, 36 of them dedicated to wine (the others beer or cocktails), they have a unique opportunity to achieve this goal. Like Cyril's at Clay Pigeon Winery, Coopers Hall doesn't limit their wine list to just those they produce. In fact, a majority of the wines on tap are from elsewhere.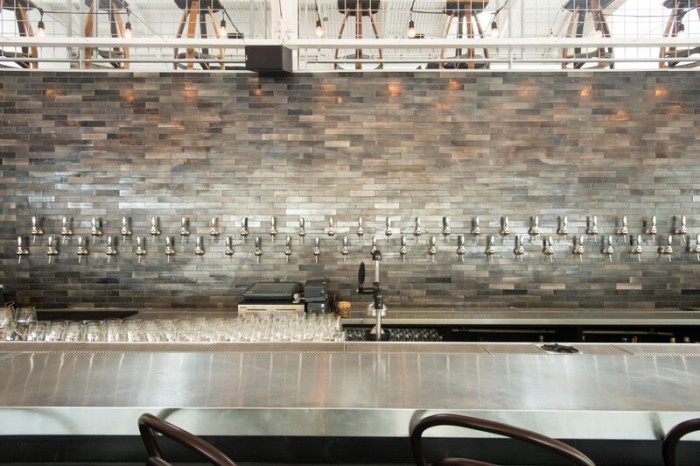 "We want our customers to understand that the best producers in our state, and some of the best in the world, are adopting kegs and pouring wine on tap." With the tap program as a focus, you also won't find Coopers Hall wines in glass bottles. Karmin explains, "Our winery operation only produces wine for kegs with no traditional bottling. The only bottles of Coopers Hall wine are the reusable wine growlers that we and some other pioneering retailers offer."
While the keg concept could be an article of its own, Coopers Hall does have a full menu, including appetizers, salads, and mains, with rotisserie as the focus.  The steak frites with dill chimichurri and shoestring potatoes are also not to be missed.
There's no hiding the wine production here, as it's in full view from the restaurant side. When asked about what it's like during harvest, Karmin responded, "It is truly alive, and buzzing. It is the most fun time of year to be a customer – that is unless you hate the smell of fermentation, and maybe the noise from a forklift!"
With close to 700 licensed wineries now in Oregon (though far fewer have actual tasting rooms) these examples all offer unique reasons to visit that go beyond discovering new wines. Their commitment to food is an extension of the philosophy that wine is meant to be enjoyed with food and friends.
"We love that we have built a destination for wine enthusiasts and offer them a complete experience," remarked Collier from Willamette Valley Vineyards.  Having experienced all five of these wineries I would add that the same could be said about all of them.
It's not just food they offer, but an experience to better understand the wineries' stories and taste their wines alongside a well-paired meal.  And for those, like myself, with children, it's also nice to know there are places where the whole family is welcome.
All photos courtesy of their respective wineries unless otherwise noted.