The trade and public tasting events of the California State Fair Commercial Wine Competition in Sacramento are usually something to really look forward to in the State Capital.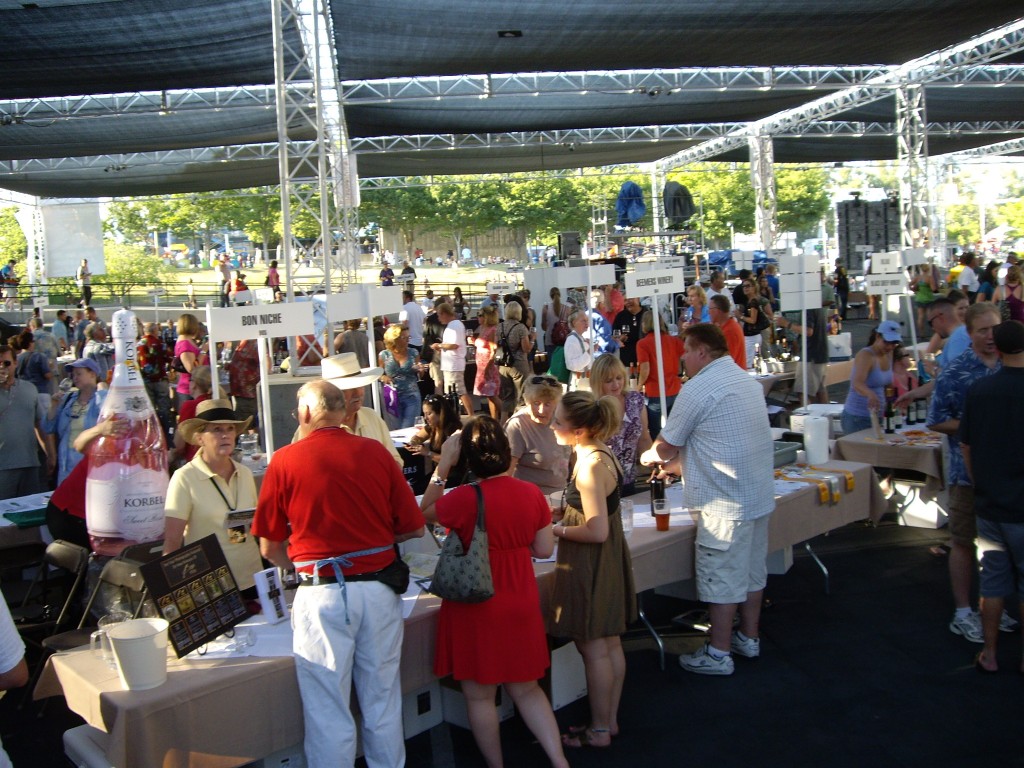 It is routine for folks here to taste at some of the 250 wineries around Sacramento in the American Viticultural Areas of the Sierra Foothills, Lodi and Clarksburg. But sampling the goods from the Alexander Valley to Zucca Mountain takes a lot more effort—that is, unless you make your way to the State Fair and then fork over $25 to sample some of the top 200 wines from throughout the Golden State.
It is worth the drive and the effort for winemakers and wine tasters though, says G.M. "Pooch" Pucilowski, the Chief Judge the past 25 years of this one-of-a-kind wine competition. Clad in a Tommy Bahama shirt emblazoned with "Serving Six Flights A Day," he has a glass of red in one hand and is giving directions to support staff with the other. But he interrupted it all to talk about his favorite subject.
"This is one of the few, if not the only, statewide competitions that is open to California only," says the guy everyone calls Pooch. "It's special because they know that they're competing against their brethren wineries. They're not competing against New Zealand, Australia and other places."
With roughly 2,800 wineries in the state—nearly half of the 6,000 total in the U.S.—that, by any measure, is some pretty steep competition. Though not all of the big, prestigious and luscious Cab, Pinot Noir, and Chardonnay producers from Napa and Sonoma compete in the State Fair competition, enough do to make it interesting.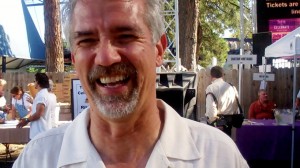 "Generally the bigger wineries (compete) and I find that a lot of the smaller wineries do," says Pooch. "The only wineries that don't are the wineries that are already selling everything they make."
Some of those smaller wineries are prospecting for Gold Medals that will add some metallic presence to Web sites and publicity materials.
"We're a new winery and make mainly Italian varietals—Barbera, Zinfandel, and Sangiovese," says Iscander "Issy" Borjon of Borjon Winery in Amador County. "We're new to the game. Though we have been doing vintner and vineyard management since 1991, we just thought it was our destiny to start making wine."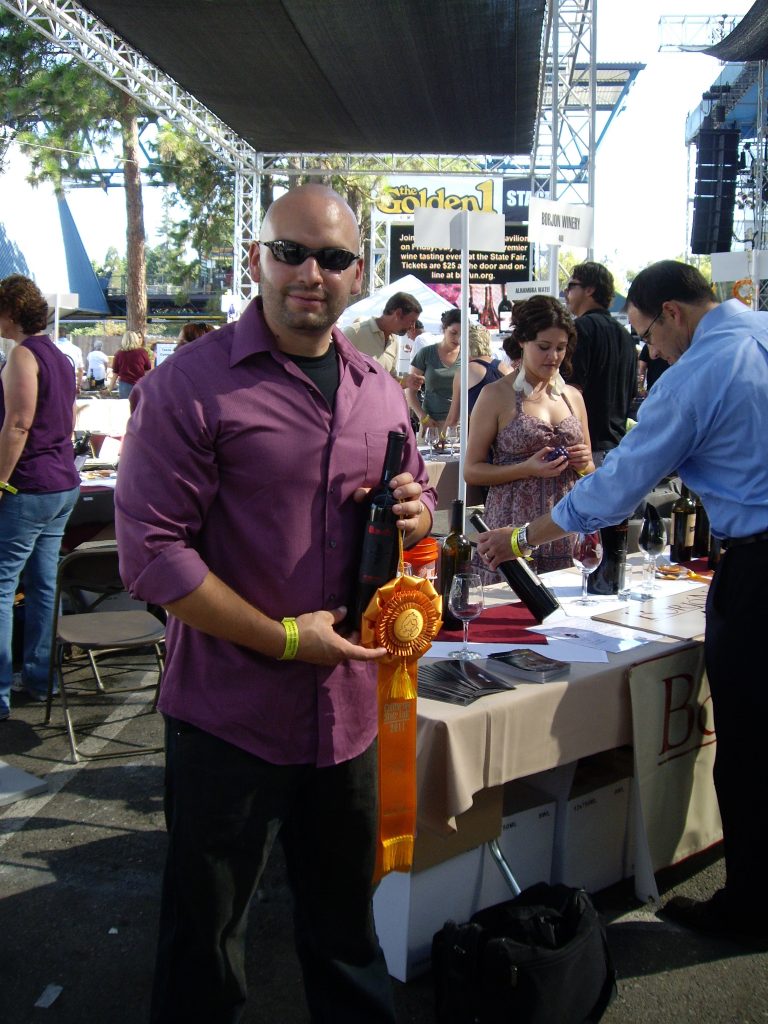 And such mettle brings home the medals.
"Last year we won Silver medals for our Barbera and Sangiovese," says Borjon. "This year it was Double Gold on our Barbera and Gold on our Sangiovese. A red blend called Los Portales got a Gold Medal plus recognition as the Best Red Blend of the Sierra Foothills."
Overall, some 200 wineries were awarded medals (Gold, Silver or Bronze). Of those, 50 also received either "Best of Region" or "Best of California" designations.
Special awards
Each year the State Fair wine competition—much as the motion picture industry—gives awards for lifetime achievement. Generally people with last names such as Gallo, Grgich, Jackson, Lohr, Mondavi, and Sebastiani are honored. But this year three California institutions of higher learning got the recognition for their efforts in viticulture and enology: UC Davis, Cal Poly and Fresno State.
The Vineyard of the year award in California went to To Kalon of the Oakville District in Napa. Golden State Winery of the year was awarded to Jeff Runquist Wines, based in the Sierra Foothills, but with a California-wide grape sourcing programs.
In the hot, hot heat
It should be noted that this year's festivities had fantastic wines but in less than ideal circumstances. In the outdoor fairground setting, it was hot, which is typical for Sacramento in late July. Though there was plenty of ice available, that still makes it hard to keep those Gold Medal reds at the right tasting temperature. Though food has been a staple in recent years—celebrated by area restaurants—it was nearly non-existent this time around. That was understandable, perhaps, since the Midway food vendors just a block away were offering everything imaginable on a stick—including such delights as chocolate-covered bacon! It tasted great with some of the port-style vintages—especially a chocolate-infused fortified wine from a Paso Robles winery called Graveyard.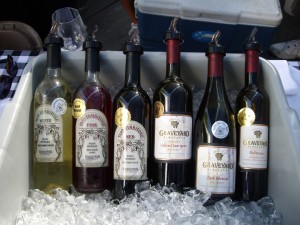 One certainly cannot taste every wine offered at such an event, but I can promise you that in the 90-degree heat, the chilled rosés and whites were pouring at the rate of a fire hose. I particularly enjoyed Sauvignon Blancs from Pedroncelli of Sonoma and Guenoc of Lake County, as well as a Sauvignon blend from Graveyard of Paso Robles. Jason and Suzanne McConnell served a lovely Viognier from Mendocino.
Some of the big winners in the big red categories were quite worthy and everything advertised: Amador County's Wilderotter Tempranillo, winner of its varietal category, was a beautiful combo of cherry, smoke and spice. El Dorado County struck gold with Windwalker's Shady Lady Primitivo, also a winner in its varietal category. Issy Borjon's 2008 Barbera Reposa of Amador was as good as any I have tasted.
There are two wineries I am next most likely to visit as a result of this tasting:
Silver Stag of Napa. Harry Parsley poured a lovely Chardonnay, but I was even more smitten by a 2006 Cabernet Sauvignon he allowed to decant before serving. There was a seductive, cherry-and-leather come hither in that wine that won me over.
Crystal Basin of El Dorado County. Though I have been there many times, Mike Owen sold me on a "non-vegetative" Petite Sirah. It was indeed, and I pronounced it the "Vegan P.S. of The Moment," and elicited a laugh.
Speaking of Petite Sirah, Pooch says it is the up and coming red varietal in California, possibly beginning to supplant Syrah, he theorizes. The other varietal to watch, he says, is Moscato. a.k.a. Muscadel, Muscat, Moscatel—among others. "There's a definite appetite for sweeter wines emerging, especially among the Millennial generation," he says.
---
To learn more about the winning wines of the California State Fair Commercial Wine Competition, visit http://www.bigfun.org/competitions-awards/wine-beer/the-best-california-wine/past-award-winners/
An even easier way is to check out the Sacramento Bee's Web site: sacwineregion.com which has a nice table and searchable presentation on the winners.
Robert Ehlert is the former Food & Wine Editor of the Sacramento Bee and the developer of a new smart phone app called Wine Tasting Tab (Apple | Android | Twitter) that searches Northern California wineries based on their tasting room fee, menus and amenities.