Can you bottle vanity?
If one guy should know, it's Alain-Dominique Perrin, the CEO of the Richemont Group, one of the world's largest luxury groups, with holdings including Cartier, Van Cleef and Arpels, Piaget, Chloé, Dunhill, and may others. He is the man responsible for modernizing Cartier and bringing it back to the top of the luxury market, a business that is all about vanity.
Perrin also owns one of the most renowned estates in the southwestern France appellation of Cahors, Château Lagrézette, which has received a number of high scores from Robert Parker and Wine Spectator. The consulting enologist at Lagrézette is none other than Michel Rolland, the wine world's most famous consultant winemaker.
A dozen years ago, Perrin and Rolland began to bottle vanity in a cuvée called Le Pigeonnier, made from a patch of vines that surround a historic pigeon house on this 500-year-old property. It is the epitome of the modern reserve cuvée, with super low yields, lots of extraction, and long oak aging. Current releases sell for over $120 (the 1999 sold for $160 in Quebec).
A tree with a single cherry
I tasted the Pigeonnier in a blind, horizontal tasting of 1999 wines late last year. It stood out like a sore thumb. A sore wooden thumb.
The notes I jotted down that night were the following: "Smells like a cedar box. Dark, dense. Blackberry, maybe? Tough tannins. Dry. Rough. Only wood, with a mentholated finish." And that's it. Around the table the displeasure was unanimous. Nobody found anything good to say about it. A friend summarized it as "a whole tree, with a single cherry in it," to approving laughter.
All eight bottles on the table that night had been kept in the same cellar and showed well—with this notable exception. All the wines had been decanted about four hours before serving, with about a quarter of the Pigeonnier staying in the bottle because of the huge amount of solids that had dropped out of the wine over time.
There were other substantial wines on the table, like the Balmoral Syrah from Rosemount Estate; Luce, from the Tuscan collaboration between the Mondavis and the Frescobaldis; and a Terre Rouge Sierra Foothills Syrah from Easton. There was also a Mas La Plana Cabernet Sauvignon from Torres, a Chilean Cabernet Sauvignon (Ninquen Barrel Select from Vina MontGras), a Venetian Bordeaux blend (Carantan, from Marco Felluga), and a Quinta de Crasto Reserva from the Douro.
All the other wines had become more supple and well-integrated over ten years, and still showed good fruit and a bit of earth, leather, or tobacco here and there. Not that they were all perfect (the Terre Rouge felt a little sweet; the Balmoral and Luce were a little hot on the finish), but they certainly all found some kind of balance.  The Pigeonnier, overladen with stiff extract and excessive oak tannins, had lost only fruit and remained hard on every level: the chances that the wine will lose this great barrier reef of tannins at this point seem pretty nonexistent.
To boot, the wine did not fare much better with the food served afterward, as the tannins always seemed to dry out whatever else we were eating.
Tricked by a monster?
I can't help but quote the note  Robert Parker wrote when he gave the 1999 Pigeonnier a 95, tasting from barrel samples:
"the finest wine I have tasted from Cahors. (…) A fine wine, an inky/purple-colored offering with tremendous intensity as well as an extraordinary nose of blackberries, cassis, licorice, and smoke. Extremely full-bodied, with low acidity and sweet tannin…"
Mr. Perrin, in an interview given to Jamie Goode of Wine Anorak, wrote about Parker's reaction when he tasted the 1997 Pigeonnier:
"I never forget the first time Robert Parker tasted the 1997 Pigeonnier," recalls Perrin. "He looked at me and said, 'Oh, this is a monster!'"
A monster? I totally agree. Only at the time, the monster was slathered in black fruit jam, which has now washed away, revealing the beast's true nature. Critics who lauded the wine as oh-it's-really-big-but-it-will-be-something-when-it-gets-older, in my opinion, got suckered by an original flash in the pan. Parker's comment on low acidity is in fact a hint that this wine would probably not age well, although that does not prevent the Château from claiming that it can age and improve for 25 years or more.
This one goes to eleven
I want to be very clear about one thing: my dislike for Le Pigeonnier 1999—which, I repeat, I tasted blind with a group of friends who all thought it was the disappointment in an otherwise fine evening of 1999s—is by no means a blanket condemnation of Mr. Rolland or Mr. Perrin.
I've tasted Lagrézette a couple of times and thought it was very good, as well as the lower-priced Moulin de Lagrézettte, a very drinkable wine at a decent price. I've tasted a number of wines made at wineries where Michel Rolland consults (or has consulted), and I've liked some of them and disliked others. For instance, I have only good things to say about the wines at Alpha Omega, in Napa; Jean Hoefliger, the winemaker, whom I know personally, interprets the fruit-forward, long-maceration approach in a way that I find very satisfying and quite balanced. He shows great deference to Rolland, who consults there, and I respect that. I've also liked the Clos de los Siete, an Argentinian project Rolland oversees, although I do find that it is a bit over the top. Ornellaia, in Tuscany, is certainly not plonk, either. Rolland's work can't be reduced just to micro-oxygenation, as the film Mondovino seemed to suggest. After all, he has worked, by his own accounting, with over 150 wineries on four continents; even with a single philosophy, there have to be variations in the way the wines work out, and the way winemakers in these estates apply his approach.
Yet in this particular case, the Rolland approach is taken to extremes of ambition, in a way that can be simply summed up as: more of everything.
For this particular pigeon, yields in the vineyard are reduced, through two runs of thinning, to below 20 hectoliters per hectare (a little over a ton per acre, the average in Napa Valley being around 4 tons per acre), where average yields in Cahors are easily two or three times that figure. Vinification is worked out to produce maximum extraction through long macerations and constant pumping over and punching down, in new oak fermenters and barrels, after which the wine is aged 28 months in new oak barriques.
It's the winemaking equivalent of cranking the amps to 11.
Again, this is not a condemnation of "big" wines per se, only of the folly of turning every dial to Max. When the Rolland approach is pushed to its ultimate conclusion, it fails utterly.
I'd even go as far as calling it a pornographic wine, in the sense that here, as in pornography, the thought seems to be that bigger and more is always better. But that tendency to blow everything out of proportion, to make the wine "extremely full-bodied," to use Parker's term, eventually gets you to monstrous—and ridiculous—extremes.
To understand what's driving this particular effort in maxed-out winemaking, it's important to note how Le Pigeonnier got started. Hard frosts in the spring of 1997 had naturally reduced the yields in that portion of the vineyard to 18 tons per hectare. Everyone thought the wine from that parcel was the Château's best that year, so they decided to try reproduce it the next. But a vine that produces low yields because of vintage conditions or natural setting is not the same as low yields obtained through drastic intervention.
It is very possible that the Lagrézette vines found a particular balance in 1997, but under an extreme situation, not an ideal one, and extreme does not always mean best. If it did, the 2003 growing season, with its extreme heat and severe drought, would have produced the best-ever vintage in Europe. It didn't. There is something to be said for balance and finesse.
---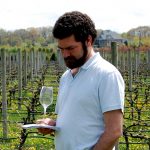 Rémy Charest is a Quebec City-based journalist, writer and translator. He has been writing about wine and food for over 12 years in various magazines and newspapers. He writes two wine blogs (The Wine Case, in English, and À chacun sa bouteille, in French) and, as if he didn't have enough things to do, he recently started a food blog called The Food Case.