My only regret in life is that I did not drink more Champagne.
– John Maynard Keynes
Champagne can soothe the soul and ignite romance. From the moment the cork issues the familiar pop, Champagne fuels excitement.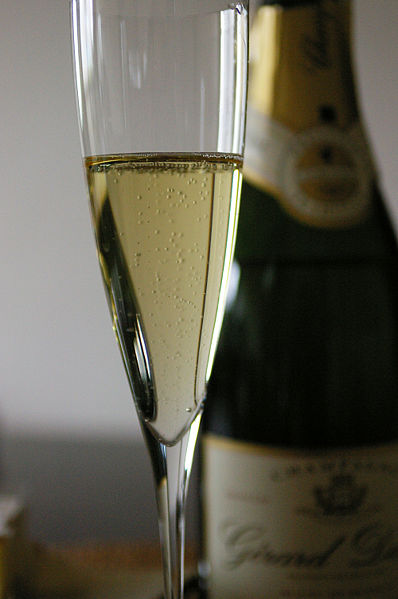 There are a lot of sparkling wines on the market, but they aren't all Champagne. In order to be labeled "Champagne," the wine must come from the Champagne region of France. This region pioneered the method of making Champagne that is now used worldwide. But it is the unique terroir of the region that makes true Champagne special. The region is uniquely suited for growing the three grapes that can make up the bubbly wine: Pinot Noir, Pinot Meunier, and Chardonnay. This northern French region is cooler, and the chalk in the soil contributes to the acidity and character of the grapes.
Large Champagne Houses, such as Taittinger or Moët & Chandon, grow some of their own grapes. However, a large percentage of their grapes are purchased from farmers throughout the Champagne region.  Alternatively, grower Champagnes, often called "family fizz" or "farmer fizz," are created by farmers who grow the grapes and tend the vineyards. Grower Champagne often meets or exceeds the quality of large House Champagne, but has a smaller price tag. Brett Davis, Sales Manager for importer/distributor Vintner Select, says that the "best values are your grower-producer Champagnes as far as quality to price ratio."
Jen Weppler, wine buyer for MicroWines in Cincinnati, OH, prefers the grower Champagnes. "The growers put a lot of their heart, soul, and pride into the product. I'd rather have a wine that speaks of a sense of place, people, and their heritage. I find farmer fizz much more interesting and it is a better value because you're paying for what you're going to drink rather than the name and the label."
Tyler Colman, author of the book "A Year of Wine: Perfect Pairings, Great Buys, and What to Sip for Each Season," echoes her sentiments. "I really enjoy good grower champagnes for a lot of reasons. First, is clearly taste since they often have a lot of charm, reflecting greater individuality than the Champagnes from the big houses. Second, buying a grower Champagne supports a family business and, as with car rental firms, I like to believe that the little guy tries harder. Third, they often pack more punch at lower price points than wines from the grandes marques."
How can you recognize a grower Champagne when you're shopping for bubbly this holiday season? On the bottom of the front label, there will be a tiny number preceded by two letters. NM (Négociant-Manipulant) signals a larger house that purchases many of their grapes, whereas RM (Récoltant-Manipulant) tells you that the winemaker grew the grapes.  According to Terry Theise, one of the leading importers of grower Champagnes, there are now nearly 180 RM Champagnes imported into the U.S, up from 33 in 1997. Grower Champagnes occupy only 2.95% of the market, presenting a great opportunity to try something new.
Champagne is one of the elegant extras in life.

– Charles Dickens
Whether you try a grower Champagne or opt for a larger house, you should understand the different types of Champagne available. A Champagne label includes a large amount of information about the wine, starting with vintage (or lack thereof).
Champagne is divided into vintage and non-vintage (NV) wine. NV Champagnes are the most common and often include grapes from 3 or more harvests.  Every so often, a vintage is so remarkable that the winemaker will declare it a vintage year. Remember that while one House may declare a vintage, another may not. Vintage and NV wines are at the discretion of the winemaker.
Champagne also comes in several different styles that you'll see on the label. Blanc de blancs means that the wine was produced from all white grapes. In Champagne, this means the wine is 100% Chardonnay. Blanc de noirs means the Champagne is produced from Pinot Noir, Pinot Meunier, or a blend of the two.  You should also pay attention to the sweetness levels, denoted by French terms on the label. Extra Brut is usually very dry champagne, whereas Brut is dry, but may still be a bit rich on the finish. Extra-Sec and Sec are usually medium dry wines and Demi-Sec is usually the sweetest style you'll find on the market.
Champagne! In victory one deserves it; in defeat, one needs it.

– Napoleon Bonaparte
In his 2008 Champagne catalogue, Theise relates a story of comforting a grieving friend with a bottle of Champagne. "What other wine can be at once appropriate for both celebration and consolation? The very sight of the tiny rising bubbles, dancing upward as if to snub their noses at gravity and exploding in a soft wash of foam, are heralds of unquenchable hope."
And while Champagne has built a reputation as the bubbly of celebration, the bubbly has also earned a place at the table for many wine lovers. In our own home, we have thrown a breakfast party, pairing a simple quiche with our favorite farmer fizz. Natalie Maclean, who publishes an award-winning wine newsletter at www.nataliemaclean.com, believes that "Grower Champagnes have a depth and richness that is especially versatile with food. I pair them with everything from potato chips to Thai dishes. But they work with so many dishes: seared tuna, spinach quiche, pasta in cream sauce and even fried chicken."
Ryan Leitner, of Northern Kentucky's Cork-n-Bottle, takes Champagne pairing a bit further. "Pinot Noir-based Champagnes will show more richness," he says, "and will pair with meats and a smorgasbord of cheeses. Blanc de blancs are often enjoyable on their own. Keep your pairings light, such as a simple bistro salad with lobster claw."
Whether you're having potato chips or pasta, Champagne might just be the perfect match.
– Michelle Lentz is a freelance writer based in Cincinnati, OH. She runs Write Technology, where she offers classes on social media and helps people establish their personal brands online. She also speaks regularly at national conferences on integrating social media into training and development.  Michelle writes about technology for Brian Solis's Bub.blicio.us and runs the award-winning blog My Wine Education, which is sourced by Gannett newspapers.