From high-tech wine bars to newly restored châteaux, Bordeaux is ready and eager to receive tourists. Downtown, much of the shift has been attributed to the city's charismatic mayor, Alain Juppé, as modern trams speed quietly along crime-free streets, carrying commuters and visitors alike.  But the classic wines, formal estates and other regional traditions also remain, and continue to charm visitors.
Beyond the city's infrastructure, the proliferation of wine bars is another visible change. After discovering the Enomatic machine (which keeps bottles fresh for at least three weeks, once opened) while working in Australia, Ben Bouet returned home to Bordeaux to open Aux 4 Coins du Vin, a bistro with 32 wines by the glass and 250 wines by the bottle. Somewhat radically for Bordeaux, Ben features not only regional wines but also wines from elsewhere in France as well as "Les Blancs Secs Etrangers" – dry whites hailing from the likes of Germany, Austria, Italy, Chile, and the U.S.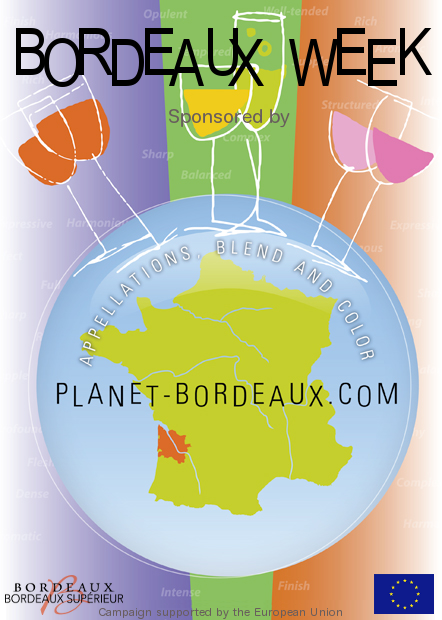 Enomatic machines are also put to good use at the futuristic Max Bordeaux Wine Gallery where customers can explore classified growth wines without having to contend with traffic on the heavily-traveled D2 highway or go into major debt to buy a whole bottle of one of these wines. During a guided tasting with Vancouver-born sommelier, Leagh Barkley, we tasted one-ounce pours of Domaine de Chevalier Blanc 2010 for €7 (otherwise available at €115/bottle) and Château Lafon Rochet 2002 for €4 (€50/bottle).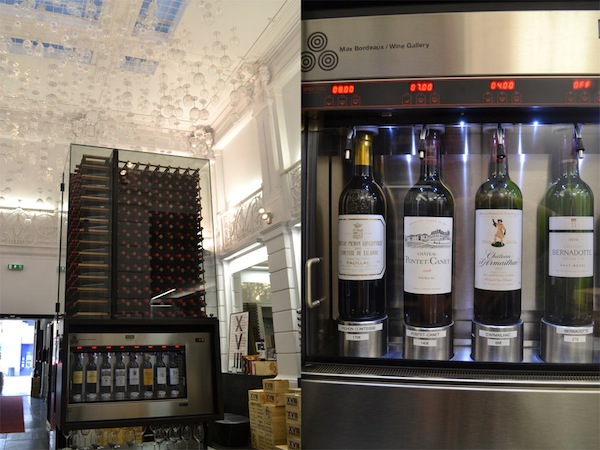 In contrast, La Tupina's tiny wine bar looks like it arrived from central casting and represents a unique partnership with the Côtes de Bordeaux organization, with selections limited to these wines. The namesake restaurant offers traditional cuisine, while newer additions to the La Tupina empire include Kuzina, a Mediterranean-inspired fish restaurant, and the quirky boutique hotel, Maison Fredon. Housed in an eighteenth century building, each of the five, fully-renovated rooms has its own contemporary décor and well-appointed bathrooms. Rooms range from €180/night to €250/night.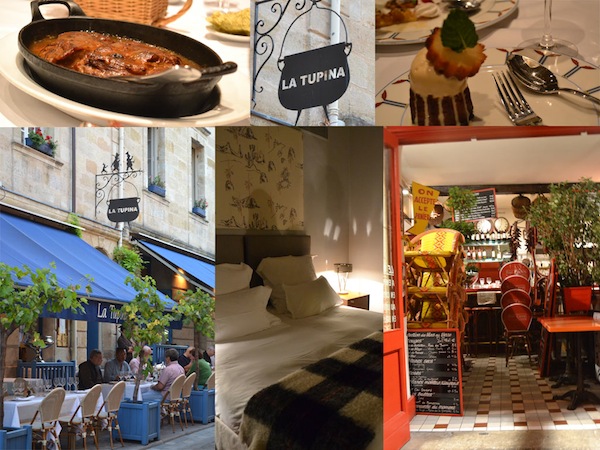 Another downtown option for overnight accommodations is the Hôtel de Normandie, located across the street from the Maison du Vin de Bordeaux, which houses the Conseil Interprofessionnel du Vin de Bordeaux (the CIVB, aka the Bordeau Wine Bureau). This comfortable hotel features well-proportioned rooms with a sleek, minimalist vibe. Rates start at €99/night to a maximum of €360/night, depending upon room type and season.
In addition to scheduling their highly-anticipated vineyard visits in Bordeaux, visitors to the region can choose to take classes in the heart of the city. L'Ecole du Vin de Bordeaux (Bordeaux Wine School), run by the CIVB, is the place to go for introductory seminars as well as in-depth workshops. A great way to start is with the two-hour "Introduction to Bordeaux Wines" class, in which students are presented with a general overview of Bordeaux, inclusive of climate, soils, grape varieties and wine production, followed by a guided tasting (€35/person).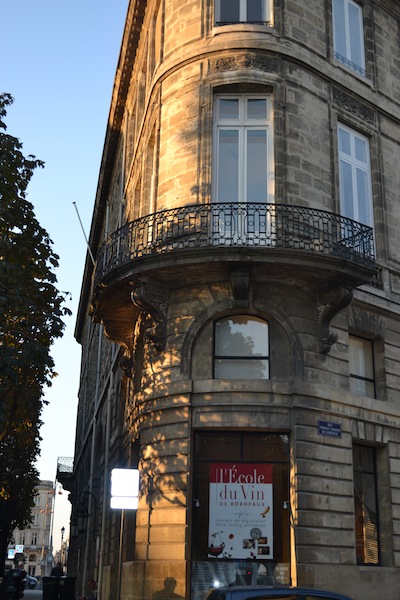 Thankfully, Bordeaux's history and traditions remain vibrant despite these improvements.  For example, everywhere in Bordeaux natives – as well as tourists — still enjoy a dessert or snack of the emblematic canelé, an egg yolk-based pastry, which, like everything else in Bordeaux, is tied to wine. Created by nuns during the 16th century, the yolks originally came from wine producers who used only the egg whites to clarify their wines.  Baillardran shops are among the best-loved providers of these sweet confections.
And there's another historically-important area — a UNESCO World Heritage site — an easy drive east of Bordeaux.  Here, the medieval town of Saint-Emilion beckons visitors with its rich history, its  impressive monolithic church, and other  important monuments sprinkled around its cobblestone squares. Yet nearby, Troplong-Mondot (a Premier Grand Cru Classé chateau) has recently combined past and present when it unveiled its magical, on-site restaurant, Les Belles Perdrix, along with overnight accommodations at this classic 18th century estate.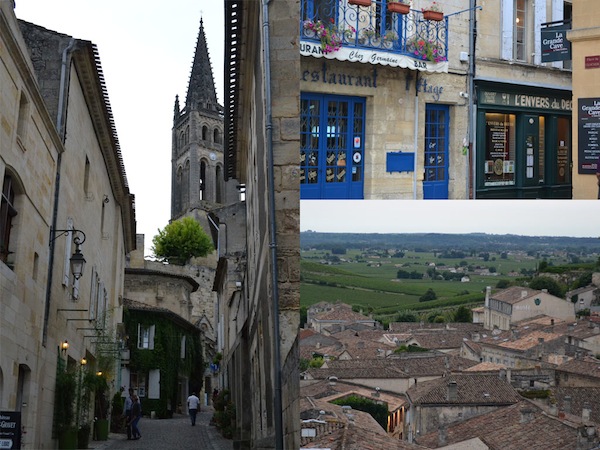 And, if that's not enough to entice you to Bordeaux, the city is slated to open a major wine center and museum in 2016. Currently under construction, the €63 million project is designed to resemble a drop of wine swirling in a decanter and was the brainchild of Monsieur Juppé.
A word from Planet Bordeaux, the sponsor of Palate Press Bordeaux Week:

Bonjour!

We invite you to take a journey through the beautiful vineyards of Bordeaux & Bordeaux Supérieur appellations – the heart and soul of Bordeaux. Planet Bordeaux winemakers offer fresh new ways to rediscover & enjoy high quality, terroir-driven, affordable wines from the world's wine capital.