For those of us who didn't get over to Bordeaux this April for en primeur, the much anticipated annual futures market, some winery folks brought their new wines to us.
This is the week that favored customers, media, negociants, and retail buyers taste still-in-the-barrel wines. These immature wines, always sampled in the spring after the vintage, won't even be bottled for another year. In many cases, the final blends are still being determined, which, of course, presents some risks for buyers of futures. The wines tasted en primeur never taste the same when they are released. Sometimes the percentages of the component varietals have changed. In any case, the wine has aged a few years from en primeur to release and so tastes different.
Château Latour, a first growth, sparked a controversy this year by announcing that the 2011 vintage would be its last formal en primeur tasting. The left bank château said it prefers to avail the public of its wines only when they are ready to be released.
Consumers buy futures, hoping to snag wines that might be fabulous upon release — and would presumably be more difficult and more expensive to buy. Sometimes that strategy works.  But sometimes futures prices prove too high if the ultimate wine isn't well regarded; in those cases the wine's price tanks (pun intended) when it comes to market, some two years later. This is where the châteaux' reputations and the quality of the vintage are critically important. Early tasters can either provide much-needed hype or put a serious damper on a wine's prospects.
In mid April, Le Cercle Rive Droite (an organization of 143 elite winegrowers from the right bank in Bordeaux) brought 32 of its members' 2012 reds to the Millesime restaurant in Manhattan. The association's president, Alain Raynaud, said he founded it 11 years ago to promote small, mostly family-owned wineries on the right bank (Raynaud founded a left bank association in March).
He decided to do futures five years ago, he said, because "people wanted to buy the wines before tasting them and I thought it would be much more interesting to present these wines and let them make their own decisions." Two hours of the tasting were open to the public, at $150. Most winery representatives also brought their 2009s or 2010s — each widely acclaimed as a "vintage of the century," making the tasting even more enjoyable and instructive.
For the best and most storied Bordeaux from 2009 and 2010, prices went through the roof with a tremendous amount of speculation as well as a fast market in China, Bordeaux's number one export market today. As the Bordelaise chased that luxury-goods-loving market, elsewhere long-time fans were left out. That, coupled with struggling economies and a challenging growing season that produced good but not many great wines, made 2011 a year when prices settled somewhat back to earth — although apparently not enough as there are sizeable stores of the 2011s still available. There's currently a growing chorus calling for sharp reductions also in 2012 prices, with positive responses from some top châteaux.
Dr. Raynaud's association is trying to counter the high-priced, speculation-driven market with wines at accessible prices, generally $14 to $55. The experience of 2009 and 2010 left the public thinking all "Bordeaux is too expensive," he said, when, in reality, there "have only been 25 to 30 labels that have been charging speculative prices."
Instead, he said, "we want our wines to be drunk, not speculated in and put in a cellar or a bank to be sold. We want customers who have followed us for years to buy them and enjoy these very accessible wines."
Others say their wines are accessible, he said, "but 1,000 euros is not accessible for me even though I am a physician. Too much can be too much." Wine is often compared to art, he noted, But "art you can put it on the wall and you have the painting for years. When you open the bottle, it's over."
If one word could describe the outlook at this tasting, it would be "pragmatic."  The 2012 growing season was problematic, with a cold, damp spring which put off budbreak and flowering.  Then, Raynaud said, "We had a very hot, dry, sunny month of August, which was important for the ripening of berries, but in September we had lots of days of rain. So the locations and varieties that were early ripening were able to produce top-quality wines."
Fortunately for the predominately merlot-based wines of the right bank, especially the Pomerol and St.-Emilion appellations, merlot is an early-ripening varietal. Cabernet Sauvignon, which dominates on the left bank, ripens later and those wines that needed its structure and depth suffered. So the quality overall is quite varied. The appellations represented at the tasting included Castillon Côtes de Bordeaux, Fronsac, Canon Fronsac, Pomerol, Lalande de Pomerol, Saint-Emilion Grand Cru, Saint-Emilion Grand Cru Classé, Montagne Saint-Emilion, and Lussac Saint-Emilion.
At the tasting, there were several wines in this incredibly young lot that were especially impressive. Thierry Gaudrie, whose family has owned Château Villars (Fronsac) since the 19th century, poured a 2012 that seemed finished, compared to those around it. A good number of the wines I tasted were sweet or unripe, simple in a bad way. I could not imagine, even with some age, that they would please. Perhaps their blends will be recalibrated. Gaudrie's wine, 75% merlot, 22% cabernet franc and 3% cabernet sauvignon, was wonderfully rich with ripe fruit balanced by ample oak and not too-stringent tannins. Wearing his trademark multicolored plastic bowtie which lent him a mischievous air, he said that with the growing season he'd endured, "what's exceptional was my ability to make wine at all." He's modest.
Another favorite was Château de Pressac and behind its table was Jean-Francois Quenin, a rather formal man who purchased the château with his wife Dominique in 1997.  With the 2012 vintage, the château was permitted to affix to its label its new classification, Grand Cru Classé, Quenin said with pride. The weather was so cruel that he dropped half his grapes to give the remaining fruit a chance to develop more intense flavors. "It was expensive to do, and we have half the crop," he noted ruefully. It paid off in quality. His wine was rich, with good minerality and slate, probably due to the 13% cabernet franc. Some of the complexity no doubt came from the 2% carmenère and 1% pressac, another name for malbec, for which the estate was named. Although malbec was one of the original five main Bordeaux varietals, it is little-used today in the region.
At a nearby table, Yseult de Gaye, winemaker and owner with her family of Château Grand Corbin Manuel (Saint-Emilion Grand Cru), playfully rolled her eyes at the man pouring to her right, after hearing him say, "Ladies first," to a group holding out their glasses. Mother Nature and winemaking afford no such concessions to gender, she said, recounting how back-breaking vineyard work is. She had to make numerous sorties into the vineyard as grapes ripened at different times, and she had to taste from many barrels to find the best to blend. The result is a promising wine with black cherry-plum notes, an underlay of minerals, hints of tobacco and, for such a young wine, manageable tannins.
Across the room was Brigitte Rullier-Loussert, who took over Château Dalem (Fronsac) from her father in 2002. Her wine is 90% merlot, 10% cabernet franc and seriously concentrated, with blackberry flavors and a foundation of minerals.
Raynaud, who consults for Colgin Cellars in Napa, summed up the 2012 vintage in Bordeaux this way: "There are some very, very good wines and others are medium quality. At the end, if the wines are not so good, the market won't be so good."  As I said, pragmatic.
---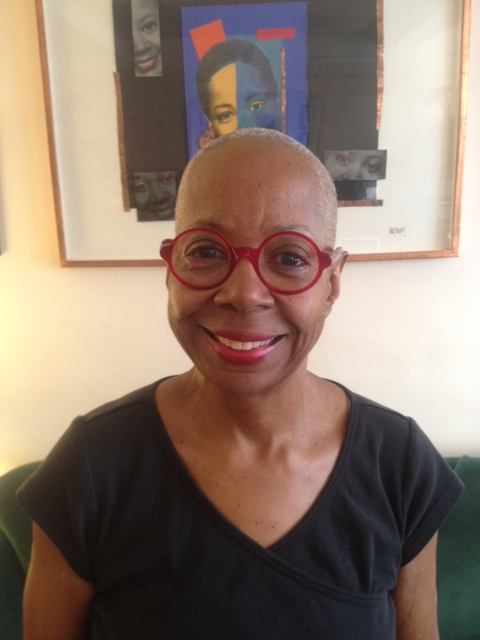 Dorothy J. Gaiter, with her husband John Brecher, wrote the wine column Tastings for The Wall Street Journal from 1998 to 2009, when, to the consternation of wine lovers everywhere, they suddenly announced their last column. Together they share their lives, raised daughters Media and Zoë, and wrote Love By the Glass, Tasting Notes from a Marriage, Wine for Every Day and Every Occasion, and several editions of The Wall Street Journal Guide to Wine. Dottie and John have hosted Open That Bottle Night in Palate Press: The online wine magazine since they left the Journal.