Imagine a tropical sea: its waters are warm, not very deep. Around it the landscape is lush with tropical plants and prehistoric animals. Occasionally a simmering underwater volcano stirs the calm surface.
This was what you would have seen if you had been in the eastern province of Verona, Italy, 50 million years ago. At the bottom of those waters it is quiet and shallow, protected by a coral shoreline, which is continually buffeted by the waves. Over the centuries plants, insects and fish settle onto the sea bottom. Layer upon layer, like a giant cake of puff pastry, animals and plants of the Cenozoic Era accumulate, eventually creating one of the most interesting and rich fossil sites in the world.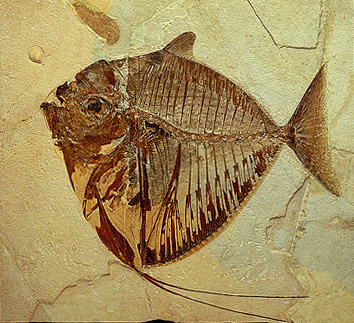 The sea has disappeared; in its place today are meadows and hills. Even the turbulent volcano has taken the form of the serene Monte Purga. But the deposit of fossils, the famous Pesciara of Bolca continues to be a goldmine of discoveries. And among petrified angelfish and ferns, small flies and jellyfish, some of these fossils are particularly important: they are the Ampeliidee, the ancestors of the grapevine.
Atop this rich bank of fossils, a bizarre and original grapevine has grown: durella. The bunches have medium-size berries with very thick skins of yellow-green color. This grape grows well only on volcanic soils. Its origin is in the distant past; we only know it was common by the Middle Ages.
The first official mention of durella dates back to an official document from 1292, the Statuto della Comunità di Costozza (Statute of Community of Costozza, a village near Vicenza). In it, the author calls this grape "durasena."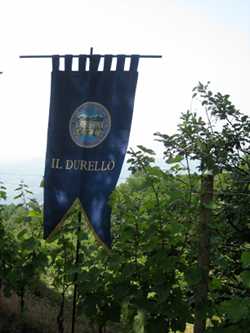 This region is durella's home, and here it thrives both in calcareous and tuffaceous soils. The origin of the grape's taste is right here. The age-worthy wine made from it is called "Durello;" it can be either still or sparkling. It has distinctive mineral notes that were born in vineyards planted firmly on volcanic soils.
Regardless of soil characteristics, another element has always distinguished Durello: a very strong acidity, that gives the wine a "hard" final note—"duro" means hard in Italian. This contrasts with today's taste in wine, which can lean toward wines that are soft and smooth. Durello instead earns its name and is harsh, edgy, "male." Here on the hills between Verona and Vicenza, people say Durello "is a wine for men, which will whip the palate."
About 40 years ago, durella grapes were sold anonymously to reinforce the noble grapes of some well-known sparkling wines (not all in Italy) in vintages with less acidity. We'll never know how much Durello we have consumed in the most famous sparkling wines in the world!
However, very recently, this highly original wine has regained its dignity. In the late 1950s, producers in Verona and Vicenza decided to try something different: 100% sparkling durella.
The first wineries to make Durello were founded in the 1960s. In 1987 Durello was recognized as an Italian DOC wine (Denominazione d'Origine Controllata or Appellation of Controlled Origin).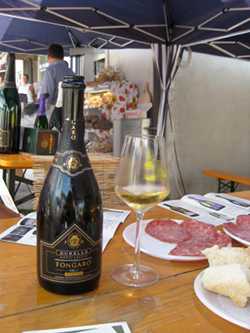 Today, the most famous Italian sparkling wine is Prosecco, also produced primarily in the Veneto. From my point of view however, the Durello being produced in the Lessini DOC sparkling wine is equally fascinating.
While Prosecco may be sipped with appetizers, Lessini Durello may accompany dishes throughout the meal; its acidity is a perfect contrast to many hearty foods.
There's only one downside to this wine: there's very little in the entire world. The production area consists of a mere 600 hectares (1,500 acres) of vineyards, mostly on the Lessini hills. Only about 500,000 bottles a year are produced.
However, production is increasing because demand is rising as more people experience Lessini Durello—and this is an experience I hope you all can have soon.
The most common Lessini Durello sparkling wine is produced using the Charmat method. However, some of the more imaginative winemakers also produce Lessini Durello using the méthode traditionelle (Champenoise method) as well as still wine. Here are some notable examples.
2007 Az.agricola Fongaro, Durello Monti Lessini DOC Purple Label, metodo tradizionale
From one of the most famous producers of Lessini Durello sparkling wines, a totally organic wine of a bright, pale straw color, with yellow nuances. The mousse is fine and persistent, the aromas reminiscent of white and yellow fruits and bananas along with custard cream, yeast and white flowers. The palate is vibrant and fresh, with notes of citrus and a savory finish.

Corte Moschina Monti Lessini DOC Durello Brut
In the glass the wine shows a very pale straw color, the mousse is very fine and compact, with citrus aromas. In the mouth it is very dry. The finish is long and savoury, with nuances of green grapefruit.

2008 Casa Cecchin Monti Lessini Durello Superiore
This still wine has a bright straw color with golden nuances and aromas of sweet white fruits, bread and light citrus. In the mouth it is vibrant, savory and fresh. Its finish is quite long and dry, very pleasant over all.
You might also like:
---
Elisabetta Tosi is a freelance wine journalist and wine blogger. She lives in Valpolicella, where the famous red wines Amarone, Ripasso, and Recioto are produced. Professionally, she serves as a web-consultant for wineries, and in her free time  writes books about Italian wines. She is also a contributor to Vino Pigro.