The best-kept secret in the American wine industry celebrates its 30th anniversary this year. The secret? The fact that the first place to receive an American Viticultural Area designation is the small town of Augusta, Missouri. And hardly anybody knows it, although it seems that the bureaucrats of the Missouri Wine and Grape Board would have been proclaiming the fact ever since 1980. But as in many other areas, the state seems to enjoy hiding its light under a bushel basket. Its brochure, listing the 90-plus wineries in the state, makes unobtrusive references in its descriptions of wineries in Augusta.
But when it writes of Mount Pleasant Winery, where it all began one spring afternoon in 1980, it says (including typographical error), ". . . Augusta, Mo., the fist government-appointed wine-growing district. . . ."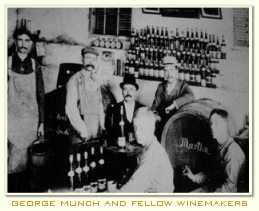 And Missouri certainly deserves the honor. German immigrants were planting grapes and making wine along the Missouri River a decade before the discovery of gold at Sutter's Mill. After the Civil War, Missouri growers discovered that their root stock was resistant to the phylloxera louse, and sent plants, and botanists, to California, and then on to France, to help save the wine industry in both places. Thomas V. Munson, a botanist who did research on the louse, was named "Chevalier du Merite Agricole," in the French Legion of Honor, and a statue erected at the French Wine Academy in Montpellier. Late in the 19th century, Missouri was the second-leading wine producer in the U.S., and a medal-winner in competitions all over the world.
Lucian Dressel, then the winemaker and owner of Mount Pleasant, is the man primarily responsible for the goings-on, which started almost as a joke, after a couple of glasses of Norton. Millard Cohen and Howard Nason, friends from St. Louis, were visiting. Both were avid wine collectors and experts, and both were members of the state wine and grape board, established to help improve and promote a slowly growing wine industry that had been practically dormant since Prohibition.
"It was a quiet afternoon," Dressel recalls. "We were talking about a lot of things, mostly abut wine, of course, when someone suggested that we contact the French government and ask about qualifying for a designation as a viticultural area. France had been doing this, and recently had started giving these designations to colonies.
"Augusta had once been part of a French colony [prior to the Louisiana Purchase] and besides, all that phylloxera-resistant root stock had originated in Missouri, so they owed us one. We laughed and decided it was a great idea, and if Martinique could get a designation, why couldn't we? So we decided to go ahead. I thought it could be good for the winery, and the town, and we always had loved to do things that might upset, or at least confound, some stuffy part of the establishment and its bureaucrats."

Mount Pleasant's winemaking history dates to 1859, when California was a 10-year-old state and its residents were more interested in digging gold out of the ground than growing grapes on top of it. German immigrant George Munch, who founded Mount Pleasant, and his brother, Frederick, saw the grape-growing and winemaking potential in Augusta, whose land was watered by the Missouri River. Land speculators also saw promise, and in the 1830s and 1840s sold many Germans on the idea that the Missouri River Valley was just like its German counterpart, the Rhine. River towns like Augusta, New Haven, Hermann, and Dutzow soon had active vineyards and wineries. Stone Hill Winery, in Hermann, dates to 1847
The Missouri wine glory of the 19th century wilted in the 20th, whose first half brought two world wars sandwiched around Prohibition and the Great Depression, plus the knowledge that vinifera grapes could not handle the vagaries of Missouri weather but they simply loved California. The 1950s and 1960s, which brought social and sexual change, also re-lit a flame for winemakers. Today, the state has more than 90 wineries, some growers who have learned to grow vinifera, a thriving tourist business and four AVA designations: Augusta and Hermann, in the east-central part of the state, and Ozark Highlands and Ozark Mountains, both in south-central Missouri. Augusta is on the north bank of the Missouri River, Hermann, some 40 miles to the west, is on the south bank.
"I was doing research and trying to answer all the questions in the application, with a lot of help from Bruce Zoecklein, who was Missouri's first state enologist," Dressel continued, "and then I discovered that the U.S. Bureau of Alcohol, Tobacco and Firearms, as it was called then, had decided to designate its own viticultural areas. I figured there would be a boatload of applications, so I called a friend in Washington to find out what was going on. Well, I was shocked to discover there had been only one application, and the applicant had made so many errors that it had been discarded."
Some hearings were conducted, all was in order, and AVA No. 1 was awarded on June 20, 1980. Dressel, 74, now is the winemaker at Mary Michelle Winery in Carrollton, Ill., some 50 miles from St. Louis and close to the Illinois River.
Being AVA No. 1 hasn't done much for the Missouri wine industry, though it has continued to grow since. It's a great question for a wine trivia competition. It doesn't affect the quality of wine, or its price. And one of the reasons, I think, that the designation system sits in a corner like a red-headed stepchild is the fact that only California has major marketing campaigns for its wine, and can you hear a resident of the Napa Valley proclaiming, "We're number two," which it has been since it received its own AVA designation in 1983.