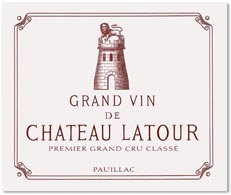 WHO: Chateau Latour
WHAT: Red Bordaux Blend
WHERE: France, Bordeaux, Médoc, Pauillac
WHEN: 1978
SIZE: 750 ml
RESERVE: $475
MINIMUM BID INCREMENT: $25
92 points, Wine Spectator
Better than I anticipated. A sleek and racy wine.Ruby-amber color. Aromas of cedar, cigar box,tobacco, mint and mushrooms, with hints of red fruits, follow though to a medium body with fine tannins and a long, silky finish. Excellent now, but a little more bottle age would only improve it.
Recent ratings by wine lovers show this wine is just peaking now. These are all from CellarTracker.
October 2010:
My last bottle. Surprisingly dark with no bricking. Soaring nose of lead pencil, black cherry, earth, old leather couch, smelled like a cedar closet. I loved the nose! Great penetrating flavors of pure cassis, minerals muscular tannins, and a long tasty finish. Blind I would have guessed much younger. My last bottle of this 3 years ago was much more advanced and I wasn't expecting much. Just a lovely example of a masculine claret with some age on it. Well stored bottles have many years of life left. Went great with prime dry aged filets.
January 2011:
A great-showing bottle of Latour. Storage is everything! I've definitely never had a richer, more powerful '78, and obviously that's partially because this is Latour but also partially because this bottle is in such great shape that it still has a lot of fruit sweetness hanging on. But it's not just generic claret fruit; this has a sinister edge to it and it's black as night in complexion. It feels almost completely resolved of its tannin but it's still a structured wine by virtue of its acidity, which contributes a stalky sap running through its veins.
June 2011:
The color of this wine was very cool. Dark maroon core with a firey-orange rim. This bottle had been opened about an hour before I tasted it, and I was told that it was still on the upswing at the time. The nose had aromas of dark fruits, pencil shavings and a very spicy pepper note. The palate had flavors of plums, currants, pepper and earth. This wine had a very elegant mouthfeel and a long finish where a hint of licorice came forward. I came back to this wine a few hours later, and it had not fallen off at all. There was a little more complexity to the palate at that point with some tobacco and celery notes on the palate. I really enjoyed this wine! Very clean, and not a hint of anything barnyard-like in the least!
Please submit your bid in the comment section, below. If the reserve is met, the auction will be won once a bid goes unanswered for a full calendar day.
The winning bidder will be asked to pay directly to the Hillel Foundation at Indiana University, "Find Lauren Fund." The Hillel Foundation at Indiana University is a 501(c)(3) charity with a dedicated fund. Palate Press: The online wine magazine will not collect any proceeds as part of this auction. The buyer will also pick up the wine at, or pay shipping from, Zachy's in New York City.
For more about the auction please go to Wine for Lauren. For further information about the search for Lauren Spierer, please visit http://www.findlauren.com.