Medolla Vineyards, part of the amazing New York contingent of generous wineries, contributed a case of their 2003 Merlot, the only grape they use in the only wine they make. Retail value is $192.
NOTE PLEASE- Can only ship to New York customers.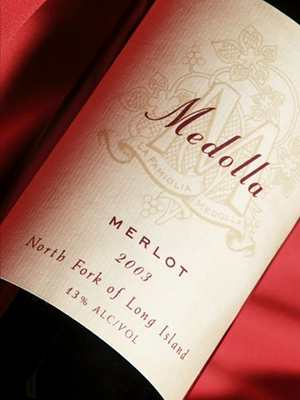 "The North Fork's expanding roster of producers has two promising new entries, Clovis Point and Medolla Vineyards. Both have just released their first vintages. … Medolla's 2002 merlot ($22.99) is earthy, gutsy, sultry and all-around satisfying." Howard Goldberg, New York Times. (Notes for 2002 vintage).
"This fresh red delivers black cherry and plum fruit, with notes of chocolate, licorice and olive. The firm tannins are well integrated, and the lively acidity keeps this red juicy. Drink now through 2009" – 88  points, T.M., Wine Spectator (Notes for 2002 vintage).
You might also want to check out this recent review, from Undertaking Wine. Click the link for taste details:
"This wine is a fantastic value.  At $15 a bottle, it truly is a great everyday drinking Merlot.  I had mine with some bleu cheese and some goat cheese on some crusty French bread with some turkey soup.  It went perfectly." 
–
–
–
Opening bid is $100.00. Minimum bid increment $10.00.
[How it works- Each auction lot will get its own post. As soon as it gets its own post, the auction is live. Once a bit of time has passed, and people really know about Wine for Haiti, lots will go live AND HOT. Every item will got "hot" if bidding reaches retail value.  Once hot, each lot is on a 24-hour cycle, ending at 10:00 p.m. Eastern Time. If a lot goes a full 24 hours, from 10:00 p.m. to 10:00 p.m., without a new bid, the last bid in the comments wins. If we get into a bidding war, with the same people going back and forth, one day at a time, we will post something in the comments of that Auction Lot and schedule a time to bid to the death, at a time mutually agreeable to everybody involved.]
For more auction Wine for Haiti auction items, please see the Wine for Haiti Auction Catalogue.