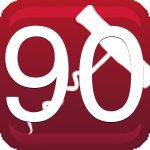 Pinot candy. On the nose this would be picked, blind, as a Pinot Noir, with cherry pits, cola, a touch of black earth, and a very pretty floral background of rosewater. Cherries and plum lead on the palate, followed by black tea. Everything then takes an interesting candied turn, with the fruit flavors taking a pastry-filling sweetness over a smoky background. Acids give this a real zing. Drink with cedar planked salmon. Recommended. 90 Points.
WHO: La Rochelle
WHAT: Pinot Noir
DESIGNATION: Saralee's Vineyard
WHERE: California, Sonoma County, Russian River Valley
WHEN: 2012
HOW MUCH: $38
La Rochelle also offers Palate Press readers a 10% discount off online purchases, plus ground shipping on case purchases. Use promo code "PALPRESS" for the 10% discount and code "CASESHIP" for ground shipping. Shop La Rochelle here.