Vitkin Winery focuses on grapes other than cabernet sauvignon, chardonnay, and merlot, working with carignan and petite sirah, veterans from Israel's years in the wine wilderness, as well as viognier, pinot noir, cabernet franc, french colombard, gewurtzraminer, and more. It may take time for Vitkin to find the perfect combination of grape, soil, and elevation, but it is pioneers like this that will find the ideal Israeli wine, the one the industry is known for in years to come.
Vitkin's Carignan opens on the nose with raspberry, cinnamon, and violets. On the palate, red and black fruits work together, cherry and mulberry, with cinnamon and violets in support. Tannins are sweet, and vanilla lingers on the finish. Drink with pot roast. Highly Recommended. 90 points.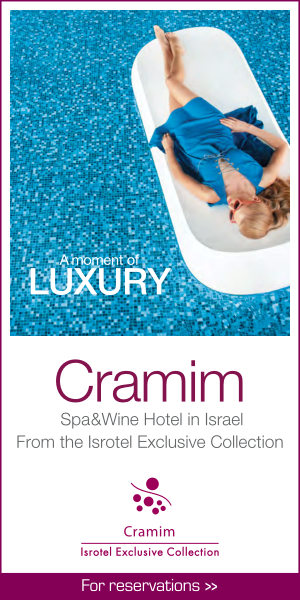 WHO: Vitkin Winery
WHAT: Carignan
WHERE: Israel, Binyamina and Zichron Ya'achov
WHEN: 2009
HOW MUCH: $30
A statement from Cramim Spa and Wine Hotel, our Kosher Wine Week Sponsor

Cramim Spa and Wine Hotel

is situated in the heart of the Judean wine region, a 15 minute drive from Jerusalem. The hotel is surrounded by a beautifully scenic, pastoral setting and offers a quality experience of combined leisure, recreation, fine wines and impeccable tastes. Hotel guests will enjoy an exquisite chef restaurant, boutique wine bar, a contemporary spa complex with unique vino-therapy treatments, as well as pampering rooms and suites that boast a modern interior design.