Chehalem, of Willamette Valley, Oregon, generously contributed a six-bottle case of their 2005 Ridgecrest Best Barrel Pinot Noir (Retail Value: $450).  Each bottle is individually numbered, and they are already boxed and ready for the winner. These Best Barrel bottlings are never sold commercially, making this a very special and unique opportunity.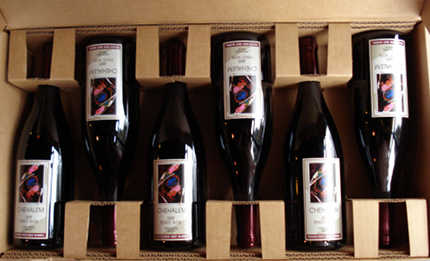 Early each May, Chehalem's winemakers disappear into the cellar for the better part of a day to select the "Best Barrel" of each of our Estate Pinot Noirs and Chardonnay. With more than 500 unique barrels from which to choose, they settle on those that best represent the hallmark characteristics of each vineyard. As close as you can get to "terroir in a bottle," there is no better testament to their skill as winemakers. Each of these barrels  yields a maximum of 48 six-bottle cases which are sold exclusively as futures at an event held each year at the winery.
The following are reviews of the regularly released Chehalem 2005 Ridgecrest Vineyard Pinot Noir (Best Barrel wines are not released for review):
San Francisco Chronicle, December 2, 2007, Jon Bonné with Lynne Char Bennet, Top 100 Wines: "Best of the West: Ridgecrest is the oldest of the vineyards that winemaker Harry Peterson-Nedry designates on the label, dating back to 1980. Fierce in character, it hinges on darker notes, with dried branch hints from French oak and a slightly tannic fruit profile, filled with citrus zest and soy."
Pinot Report, February 15, 2008, Gregory S. Walter, 94: "Medium ruby color; deep, dark cherry and berry aromas with earthy and herbal notes; ripe, deep, concentrated flavors of dark cherry and berry, complex herbal and toasty oak notes; good structure and balance; long finish. A deep and husky Pinot with plenty of interesting nuance."
Wine Spectator, December 31, 2007, Harvey Steiman, 91: "Impressive for its expressive range of flavors, this stylish Pinot centers its blueberry, dark plum and currant flavors over a bed of fine-grained tannins. Velvety and open-textured, hinting at coffee and grilled meat as the finish rolls on and on."
Stephen Tanzer's International Wine Cellar, May/June 2008, Josh Raynolds: 91. "Light red. Seductive perfume of spicy red berries, candied cherry, blood orange, rose and incense. Sappy red fruit flavors convey palate-coating concentration but no excess fat. Gains energy and snap on the long, mineral-dominated finish. I like this wine's combination of sweet and spicy qualities."
Opening bid is $300.00. Minimum bid increment $20.00.
[How it works- Each auction lot will get its own post. As soon as it gets its own post, the auction is live. Every item will got "hot" if bidding reaches retail value.  Otherwise, it will go hot after 7 days. Once hot, each lot is on a 24-hour cycle, ending at 10:00 p.m. Eastern Time. If a lot goes a full 24 hours, from 10:00 p.m. to 10:00 p.m., without a new bid, the last bid in the comments wins. If we get into a bidding war, with the same people going back and forth, one day at a time, we will post something in the comments of that Auction Lot and schedule a time to bid to the death, at a time mutually agreeable to everybody involved.]
For more auction Wine for Haiti auction items, please see the Wine for Haiti Auction Catalogue.