Red Newt Cellars contributed a case of their Sawmill Creek Cabernet Franc 2007. Mmmmm,  Cab Franc. Retail value $470.00.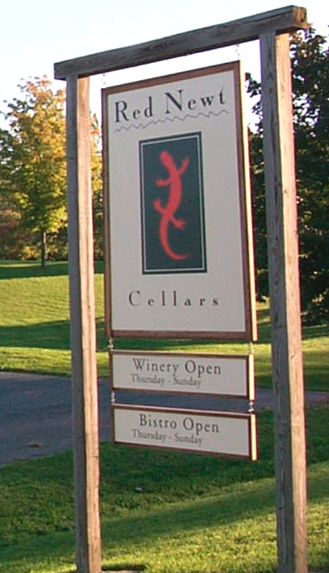 "An up and coming variety for the Finger Lakes. Cranberry and raspberry with overtones of smoke and spice make an elegant red that shows well young and ages beautifully. Cabernet Franc is one of the most promising red varieties ever introduced in the Finger Lakes. Structure is typically complex, complete but delicate. Color is moderate to dark and tannins soft. In many ways, my production of Finger Lakes Cabernet Franc parallels a typical Burgundian vinification model. Gentle crushing with some whole cluster and stem inclusion, pre-fermentation cold soaking and intensive early fermentation cap management by punching down manually are important production practices. Wine is aged in 60 gallon oak cooperage that is selected to be moderately neutral in order to allow the development of wine complexities without overbearing oak extraction. Rackings are kept to a minimum, with wine somewhat reductive throughout aging. Small amounts of Merlot and Cabernet Sauvignon are utilized to fine-tune the finished blend." Red Newt Cellars.
Opening bid is $250.00. Minimum bid increment $20.00.
[How it works- Each auction lot will get its own post. As soon as it gets its own post, the auction is live. Once a bit of time has passed, and people really know about Wine for Haiti, lots will go live AND HOT. Every item will got "hot" if bidding reaches retail value.  Once hot, each lot is on a 24-hour cycle, ending at 10:00 p.m. Eastern Time. If a lot goes a full 24 hours, from 10:00 p.m. to 10:00 p.m., without a new bid, the last bid in the comments wins. If we get into a bidding war, with the same people going back and forth, one day at a time, we will post something in the comments of that Auction Lot and schedule a time to bid to the death, at a time mutually agreeable to everybody involved.]
For more auction Wine for Haiti auction items, please see the Wine for Haiti Auction Catalogue.