Shinn Estate Vineyards has been tremendously generous, contributing two different offers of their flagship Nine Barrels Reserve Merlot, a magnum and a case. This lot is the case, with retail value of $500. BONUS- Shinn Estate Vineyards just threw in a magnum of Cabernet Franc to prime the auction pump. Thank you again, Shinn, for your amazing generosity.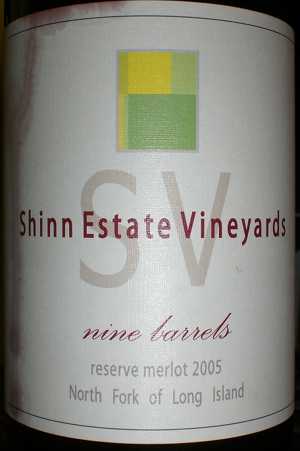 "This Reserve wine is a blend of Merlot, Cabernet Sauvignon and Petit Verdot . Possessing refined tannins, elegant flavors of blackberry and black plum, distinct aromas of violet, and aged 20 months in small French oak barrels, our Nine Barrels is the crown jewel of our cellar. We produced only 225 cases (9 barrels)." Shinn Estate Vineyards
"When you taste Shinn's wines, you quickly get the sense that they are authentic and meticulously crafted. They are among the more expressive wines I have sampled from the region, even though Shinn's vines are no more than a decade old. … The signature red is merlot, and Shinn's 2006 offers enticing notes of sweet dark berries, roasted meat and subtle oak, at once soft and accessible but with good tannic structure." Edward Deitch, Wine Columnist, USA Today.
"The North Fork of Long Island is one of the few places in this country that merlot makes a wine of distinctive character. … I first tried Shinn's merlot in 2005, in a blind tasting of Long Island red wines. The Shinn 2002 merlot was our top wine in the tasting. The next year, in a 2006 tasting of wines to go with Thanksgiving, the 2003 Shinn merlot was the top red. Last year, I had the 2005 Shinn Estate merlot, and I thought it was wonderful." Eric Asimov, The Pour.
Opening bid is $250.00. Minimum bid increment $10.00.
[How it works- Each auction lot will get its own post. As soon as it gets its own post, the auction is live. Once a bit of time has passed, and people really know about Wine for Haiti, lots will go live AND HOT. Every item will got "hot" if bidding reaches retail value. Once hot, each lot is on a 24-hour cycle, ending at 10:00 p.m. Eastern Time. If a lot goes a full 24 hours, from 10:00 p.m. to 10:00 p.m., without a new bid, the last bid in the comments wins. If we get into a bidding war, with the same people going back and forth, one day at a time, we will post something in the comments of that Auction Lot and schedule a time to bid to the death, at a time mutually agreeable to everybody involved.]
For more auction Wine for Haiti auction items, please see the Wine for Haiti Auction Catalogue.