"California makes the worst wine in the world," said Grandiose Statement Guy, as he reached for a tasting glass of a red blend I thought he might enjoy. He took a sip, and continued, "I'll take a glass of this one! You know my palate well already."
I sure do, I thought, as I poured him the requested glass of a Santa Barbara wine.
Sigh.
There are at least 200 wine bars in Los Angeles, each with something different to offer. As a wine bartender, I see all types of customers, from wine geeks to cigar dudes and folks who kindly request a white wine—with ice. (Not kidding.) I also get asked about once a week if we pour white Zinfandel by the glass. (We do not.) In the process of serving all sorts of wines to all sorts of people, I'm privy to "behind the counter" info that may help to make the most of your next trip to a favorite watering (wine-ering?) hole.
One big faux-pas that many customers commit is misusing descriptors when communicating the types of wine they prefer. Here's a quick low-down on three commonly butchered terms:
Crisp/Acidic. Ah, my favorite: "How about a bright, crisp Sauvignon Blanc! But not acidic." What? "Crisp" denotes an evident level of acidity in a wine, so fulfilling this customer's request is nearly impossible from the get-go. There are certainly white wines that are too acidic, mostly because they're poorly balanced or really cheap plonk. Bearing that in mind, however,  a well-made Sauvignon Blanc will have some acidity, making it "crisp" (or tart or tangy or refreshing or another acidity-denoting term). If some wines give you acid reflux, I'd suggest switching to a softer style of white, maybe a Viognier or Chenin Blanc. Or put an ice cube in it. If you must.
Now that we've got those terms squared away, let's look at some other aspects of the Wine Bar experience where a little inside knowledge can go a long way.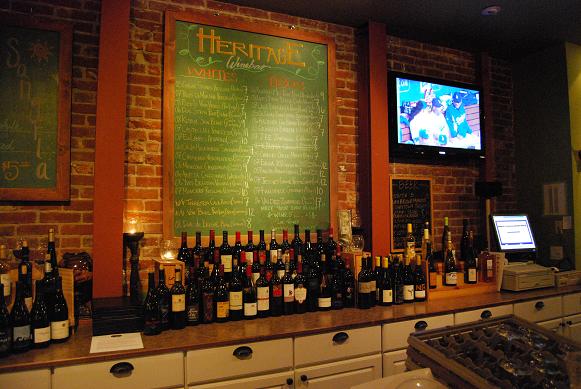 The WBTG List. For many, the wine-by-the-glass list—whether it's a chalkboard or five menu pages—is still intimidating. Part of the reason is that they can vary quite a bit from one bar to the next. A good WBTG list will note how many ounces the bar pours for a taste (usually 2 oz.) or glass (usually 5 oz.) and sometimes for a carafe; also, unless the bar has its own retail store, the WBTG list will also show the bottle price. A few tips on navigating, especially for a customer on a budget:
Price. If the glass price is MORE than 1/3 the listed bottle price (with the exception of Champagne, as bubblies spoil faster), consider purchasing a bottle, especially if you or anyone else in your party anticipates having more than one glass. Obviously, if everyone wants something different, stick with the glass. Usually, wine bars that also have retail feature a more reasonably priced glass list, as bottles purchased can often be opened with no corkage fee. It doesn't hurt to ask!
Verify. Watching the wallet? iPhone wine apps come in handy when you're checking out the bottle price at retail. Some wine bars mark bottle prices up to insane levels; go to wine-searcher.com and get a sense of the real price range for the bottle you're contemplating. I wish I had done this at a local wine bar where I was burned: the $19 glass of Gigondas I treated myself to one evening retails for $34. Ouch!
Pour sizes are typically 5 ounces for a glass and 2 ounces for a taste. Depending on the glassware a bar uses, a 5-ounce poor can look huge in one type and skimpy in another. If a pour bothers you, or if it's obviously (and I mean obviously) under poured, don't be afraid to say something. But first, please consider the glassware.
Ask. Not sure what to order? Overwhelmed by the choices? Ask for a tiny taste! Many folks don't know to do this, but if you're about to drop $18 on a glass of Pinot Noir and feel nervous about it, most wine bars will pour you a taste before you commit. Or, if you like variety and the bar is so inclined, order a 2-ounce pour of a few different wines.
Flights. Traditionally, a flight is a series of 2-oz. pours gathered with a theme in mind (e.g., "Big Reds") or region ("Bordeaux"). Flights are the most popular order at my bar, especially because we let you make your own or ask us to create one for you based on the wine you like (or if you're daring, the wine we like.) Personally, I like to ask a customer what he/she likes to drink, and create a flight for their tastes (and toss in some new wines they may not have considered.) One of my shining moments: a customer claimed she really liked "interesting" white wine – and wanted some surprises. The flight I created consisted of a sparkling Riesling from Germany (NV Wegeler Sekt); a California Grenache Blanc from the Central Coast (2008 Celadon, Beeswax Vineyard, Arroyo Seco); a Godello from Spain (2007 Alma de Blanco) and an Oregon Pinot Gris (2007 Belle Pente, Willamette Valley). Kind of random, but that's the beauty of a customizable flight. If a wine bar has an extensive flight menu, I'd avoid asking for a customized flight; but for more and more places these days, it's a welcome request.
Deals. Sundays are a popular day for many wine bars here in Los Angeles, and here's why. At bars that use a preservation system and like to turn over their stock each week, if there is a surplus of bottles (some barely poured) on Sunday, glasses of those wines are usually discounted. If you're an Angeleno, the best Sunday deals of this nature I've seen are at 55 Degree Wine, Vertical Wine Bistro, and CitySip Los Angeles. There's nothing "wrong" with the wine, we'd just prefer it didn't go to waste. What's more painful than dumping out a half a bottle of a lovely Pinot noir? Take advantage of these specials; call around or Yelp to find them.
Truthfully, what will make or break your wine bar experience isn't the food or even the wine – it's the staff. A friend of mine tells this story: he walked into a wine bar in Santa Monica and asked for a glass of domestic Cabernet. The wine bartender said, "Why would we serve that crap when we have wine by countries who have been making it for a thousand years?" My friend left, and hasn't returned.
The best wine bars offer something for everyone, a fairly priced glass list, and a knowledgeable staff. Even though I spend most of my time on the other side of the bar, I'm a customer too, and while that makes me a little more critical, I really appreciate a good experience when I have one. However, if your wine bar experience must include challenging the staff with (obviously ignorant) Grandiose Statements, I'd suggest you stay home and read Wine Spectator.
But that, folks, is another article.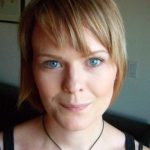 —Erin McGrath is a  native of the Chicago suburbs, where she grew up thinking wine was swill found in boxes and jugs. A seven-year California resident, her website and blog Vintwined is a record of Erin's adventures, tastings, likes/dislikes, memories, and travels within the wine industry, focusing on Santa Barbara and Central Coast producers. She works behind the bar at Heritage Wine Company in Pasadena.