How many of us haven't, at some point, fantasized about leaving it all to go run a winery? This dream always seems to entail lunch shared with friends and family, a light dish accompanied by a bottle of one's own red wine, eaten al fresco and overlooking breathtaking views of one's own vineyards. A labor of love? Yes.  An idyllic life? Maybe.
There seems to be an innate tendency to idealize farm life. This author's own father moved his family from urban Chicago to a working Wisconsin dairy in pursuit of the pastoral. In spite of coming to learn how misplaced this dream was for her family, thirty years later the author conveniently found herself in ignorance of the fact that wineries are farms, too.  And while they must live in the day-to-day reality of working a farm, many of these winery owners are finding clever ways to seek the idyllic life.
Julie Johnson, winemaker and owner of Tres Sabores in Napa Valley, recently shared how she has integrated the vineyards into their larger farm business. "All I'm really looking for is an authentic Napa Valley reality that resonates for my family and our guests and works for us in an earth-wise and financially viable way," she comments. She established the winery in 1999, she adds, "as a natural offshoot of wanting to explore the dynamics of the land. Establishing a winery helped to keep the energy on site, especially since we live here as well." It also helped pay homage to history; as the story goes, her lands were used to grow petite sirah as far back as pre-prohibition times.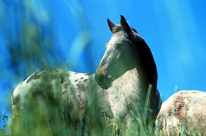 Johnson's is just one in a growing number of vineyards across the country who call themselves farms and who are producing more than wine as part of a more integrated approach to farming. Chris Hall, General Manager of Napa's Long Meadow Ranch, relates: "Our integrated organic farming system includes world class estate-produced olive oil, a substantial herd of grass-fed Highland cattle, an organic vegetable garden, and an egg-producing poultry flock. We even breed and work our own Appaloosa and POA (Pony of America) horses and keep two teams of Haflinger draft horses." The aim, according to Hall, is to create a modern, commercially successful version of the family farm, while at the same time being acknowledged as a purveyor of fine food.
Lise Ciolino, owner of Montemaggiore in Sonoma County, explains, "Through the years, we've realized that we needed a poly-culture since multiple crops lead to fewer pests and diseases. Crop diversification also means huge risk reduction when one considers the unpredictability of Mother Nature. We've realized animals can play a huge role in providing fertilizer, cultivation, and weed control—in addition to food. Our goal has become making our small family farm a complete ecosystem—farming organically, growing multiple crops, and raising different types of animals."
Brook Drummond,  General Manager of Skipstone in Alexander Valley, CA points out that, to Owner Fahri Diner, a third generation olive farmer from Cyprus, "it's really important that the estate operates in a symbiotic relationship with nature."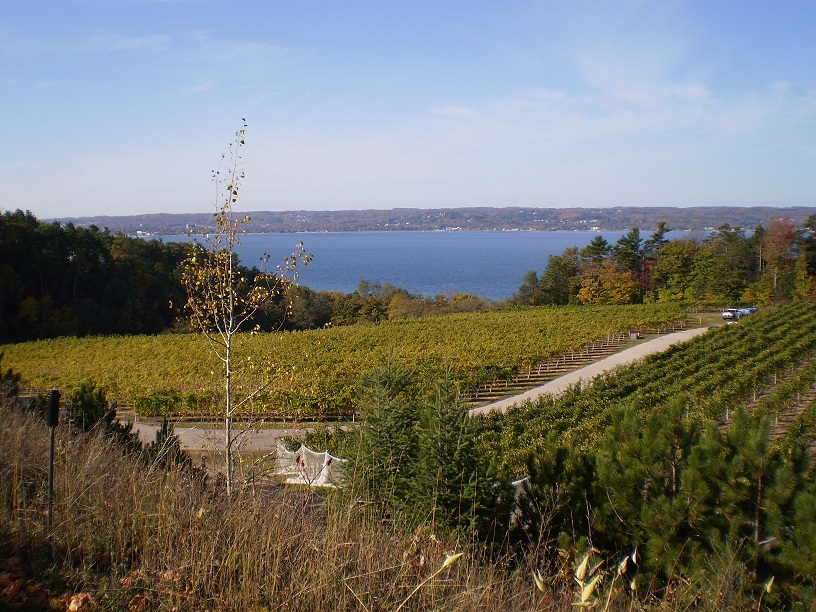 Don Coe, Managing Director at Black Star Farms in Michigan suggests the land—and industry competition—dictated Black Star's model. "We farm 160 acres—not all suitable for grapes –so we have a mix of vineyards, orchards, hayfields, pastures, woodlots, other fruits and vegetables, etc. all growing for processing by our various on-farm businesses and retailing directly to consumers," he says. "For us it creates our unique selling point. We knew that there would be rapid growth of the wine industry and we wanted to ensure that we would be a 'must see' winery. We do this through the breadth of our offerings: a winery, distillery, creamery, inn, restaurant and vineyard café, bakery, farm market, stables and farm animals. All of which celebrate the bounty of the land and the artisans who produce the products from the land. We support and practice value added agriculture and agricultural tourism as well as offering something of interest to all of our visitors. The most important aspect of our business remains the winery and all the other businesses are here to support the winery." Coe points out, "the idea was to have our wines benefit from the regional food movement and vice versa. When you enjoy the Raclette cheese with our wine you know that the cows were grazing on hillsides facing the vineyards and the two products, that pair so well together, are an expression of place."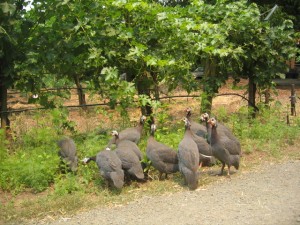 Getting "back to nature" is a common theme that runs throughout this integrated farm-winery model, and it usually means growing other crops and raising livestock. "The plantings I've established at the ranch myself—pomegranates and citrus, herbs, cover crops, and decorative landscaping—augment the health of the vineyards," says Johnson about Tres Sabores. She's at work restoring a large grove of olives planted over 130 years ago. She also raises sheep and guinea fowl as a source of manure (for fertilizer) and as a way to deal with the material side-products of wine production. Rather than pay one company to cart away the seeds, stems, and skins after pressing, and the barrel lees removed during clarification, and then pay another to return later with the compost required for fertilizing the vineyards, Johnson instead makes use of the byproducts by layering them with the sheep's manure to create her own, rich compost. That's just one benefit to owning the sheep. "[Another] side benefit to the critters," she notes, "is that they're entertaining, often very sweet to be around, and are terrifically tasty when cooked and served with wine.  Everything has a consequence: having a farm winery means that I marshal those elements into a system that really works in an integrated way."
This is no small feat. As Montemaggiore's Ciolino points out, "Having a complete farm means understanding additional crops and animals—and understanding how to leverage their benefits! Instead of just understanding vineyard design, grapevine pests and diseases, and vine pruning methodologies, we must also understand olive tree pests and diseases, pruning of olive trees, olive harvest methodologies, and olive oil pressing technology. Having sheep and chickens means that we must understand animal husbandry, pests, diseases, and nutrition." For all the hard work, the payoff is worth it. "Farming is a 24/7 business. You are always working, but it's never a job," she says, pointing out that she feels their family farm provides a healthy, fulfilling lifestyle for the whole family.
In a world of mass consumption and growing landfills, this "back to the earth" approach is a gentle reminder to consider our connection to our food sources. Sarah Cahn Bennett, co-owner of Navarro Vineyards, notes, "As a society, we have forgotten how to farm, process, and preserve. Not that everyone out there should go raise sheep, or can tomatoes, but go produce something, realize how much work it is, and what the value is, question how sustainable you think it is. We are so dependent as a society on just running to [a grocery store] and picking up dinner."  Navarro Vineyards incorporates cover crops between vines to reduce sedimentation and encourage beneficial insects, raises dairy cattle for its creamery, and uses sheep and chicken as a fossil-fuel-free method of mowing, suckering, and limiting pests. Chickens, apparently, provide "some of the best manure out there and work great at debugging vineyards, " she says, "but aren't really mowers."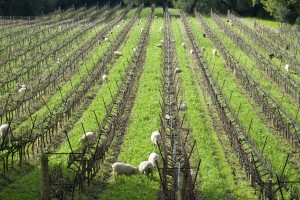 That's where sheep enter the picture. Deborah Walton, the owner of Canvas Ranch in Petaluma, CA, has been leasing out Babydoll Southdown sheep to Sonoma and Mendocino wineries for years. She chose this particular breed for three reasons: they are small (only 24 inches at the shoulder) and therefore easier to handle, can be used for both wool and meat, and were on the endangered species list. After receiving a grant to test these sheep on the vineyards at California Polytechnic State University, a business was born.
Walton admits that many wineries hesitated to "get into the whole new arena of farming by owning sheep. So, I offered to simply loan the sheep for 3-4 months to graze and then bring them back to home pastures for the summer and fall to breed, have their lambs, and care for our property."
Babydoll Southdown sheep are a rare breed, and it follows that they would be pricey. Even so, Walton has found wineries have been increasingly interested in purchasing the lambs to raise for meat as well as for their ability to work the vineyards. Navarro Vineyards raises Babydolls to graze in the older vineyards throughout the growing season, allowing the farm to use the sheep almost 10 months of the year. They chose the sheep because "they are herbivores that can live with very little outside input," says Bennett. "We are grape growers but we spend a lot of time fussing over our ground covers and growing grass anyway. Sheep are very gentle of the vines. They also graze with minimal erosion concern which is good for our hillside and help controls fire danger." For Ciolino, the decision was easy: "Cows would rip out the grasses, roots and all, making a bit of a mess. Goats on the other hand, would eat everything in the vineyard including the fence posts and irrigation hose. So, sheep are a natural choice for vineyard floor management."
One of the reasons wineries seem to exist outside the realm of traditional farming is perhaps the fact that wine has always been seen as a luxury good. Wine grapes quickly lose their magic when paired alongside more banal crops—let alone with sheep manure. To produce your own applesauce is quaint, to produce your own wine is elite. Wine is so standalone, that is seems both sacrilegious and funny for wineries to produce anything but the elixir of the gods.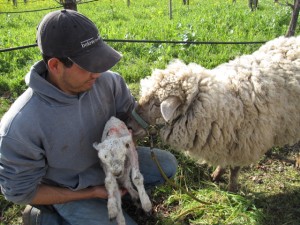 But what if this weren't the case? What if we came to think of grapes for wine as just any other crop? As Johnson explains, "I don't subscribe to the 'wine as hallowed elixir' hype. A gift of the gods—yes!—but only in the context of being able to really enjoy the beverage with great food and fine friends. I figured that it made absolute sense to be a winegrower who also supplies some of the other ingredients for the table." Sarah Cahn Bennett says, "to me wine is something you enjoy with food, and farms are food. Being a winemaker and enjoying wine is exciting, but it's only part of the experience. Food is a big part as well."
All this raises the question: which comes first, the farm, or the winery? Do we call these types of places farms with winery components, or do we say that some wineries also operate as farms? Wine with its infamous markup and income potential probably does mean the farm's vineyards will inevitably reign supreme. It really depends on the farmer, and how she wants to identify herself. Will this newest generation of vintners be able to reconcile the status of being a vintner with the day-to-day lifestyle of running a working farm? Or will they remind us that there is no real difference?
---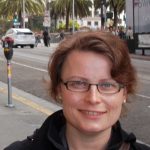 Kristina Anderson is an Industrial-Organizational Psychologist, and together with her husband, the publisher of www.localvinacular.com, a wine blog focused on wine education and enjoyment. They live in Brooklyn, NY.