The AVA name "Red Mountain" sells a lot of wine in steakhouses. I learned this from master sommelier Thomas Price of Seattle's Metropolitan Grill, who says people just like the sound and will order wine from there without knowing a thing about it.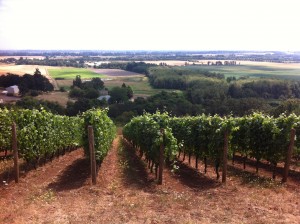 "Red Mountain is probably the best AVA name there is," Price said. "People really relate to it."
That got me to thinking about a seminar I moderated last week about Mount Veeder wines. Price says Mount Veeder just doesn't sound as macho as Howell Mountain, and people who want Napa Cabs want macho.
And that got me to thinking about the best and worst official wine region names in the English-speaking world. Here are my choices.
CALIFORNIA
With more than 100 official AVAs and a wine industry that's brilliant at selling wine to Americans, California naturally has lots of great place names.
Best
Diamond Mountain District
Established in 2001, Diamond Mountain District is one of the hottest parts of Napa Valley, even though grapes have to be 400 feet over sea level. So the future in our time of global warming isn't bright. But right now, what a great association: the wine to get engaged by. Even if you've been there and know it's hot, the image still works: Cabernet grapes, forged on the mountain like diamonds.
Sonoma Coast
It's huge (2000 km2) and deviously drawn to include vineyards far inland. But Sonoma Coast sounds cool, with wonderful assonance of those long "o" sounds. It sounds like a foghorn. It sounds like exciting cool-climate Pinot Noir and Chardonnay, and that's accurate often enough to reinforce the image.
Honorable mention: Chalk Hill, Fiddletown, Howell Mountain, Rockpile, Stags Leap District, Wild Horse Valley
Worst
Fair Play
This probably sounded like a good idea when it was granted to a subsection of the El Dorado AVA in 2001. And it actually has the highest average elevation of any California AVA. But it sounds so lame, like something hand-holding hippies would drink around a campfire while singing "kumbaya." Hand-holding hippies don't spend any money on wine. Wouldn't you rather drink a red-wine blend called "foul play?"
Sloughhouse
Can you pronounce this, without looking it up? I can't. It's a high-elevation northern part of the Lodi region, and was approved in 2006. It makes me think of "slaughterhouse," which isn't what I want to think of when ordering dinner.
OREGON
Oregon only has 16 regions, and three of those it shares with Washington. Great place names are few, perhaps because people aren't as flamboyant as their neighbors to the south.
Best
Rogue Valley
Warmer and drier than the rest of Oregon, the southern Rogue Valley produces Bordeaux blends and Syrah in a
state known for Pinot Noir and Pinot Gris. So not only is the name interesting, it fits.
Worst
Umpqua Valley
There aren't many good words with the sound "ump" in them: Dump, plump, slump, frump. Not only that, the AVA jumps from the warm southern part of the state to cool Elkton, more like the Willamette Valley. So it's all lumped together.
Washington
Washington has only 12 AVAs, even fewer than Oregon. But the place names are much better. Which is easier to spell and pronounce: Walla Walla or Willamette?
Best
Red Mountain
The AVA that started this discussion, it's descriptive of both the area — though the red comes from spring cheatgrass, not from soil — and the wines produced there. And it sounds formidable, a Cab drinker's AVA.
Worst
Naches Heights
Approved in 2012, this tiny AVA is on a chilly plateau west of the city of Yakima. The Heights part may be descriptive, as these are the highest elevation vineyards in Washington. But it sounds like either the onetime KKK stronghold of Natchez, Mississippi, or nachos, and neither of those says "fine wine." What do you want to bet that Walla Walla jokesters already call it "Nacho Heights?"
EAST COAST
Best
Martha's Vineyard
Bet you thought this was only a single-vineyard wine made by Heitz Cellar. Yeah, that's what Heitz and that vineyard's owners, the May family, thought when landowners on two islands in Massachusetts applied for this AVA in 1985. But the feds discovered people have been trying to grow grapes in Massachusetts since 1602. There's not a lot of wine grown there today, but with global warming, you never know: maybe one day on Massachusetts they'll say, "Didn't they used to grow fine Cabernet Sauvignon at a place named after us in the California desert?"
Worst
Northern Neck George Washington Birthplace
Yes, that's one AVA name in eastern Virginia. What did George Washington have to do with wine? Weren't they thinking of Thomas Jefferson? Who, may I remind you, failed miserably at growing wine grapes because he had phylloxera, America's "gift" to the wine world, and didn't know it? This AVA belongs only on the kind of cheap airport souvenir bottles never meant to be opened.
OTHER US
Best
Snake River Valley
Not only is this a great name, the best wines from Idaho's main AVA are pretty good and getting better every year, thanks to more serious farming and fewer devastating frosts. When visiting there, I asked why the Snake River got that name, and most people think it's because it's shaped like a serpent. Not as exciting as being chock full of water moccasins, but more reassuring to tourists.
Worst
Hermann
In the mid-1800s, this area of Missouri was the leading wine region of the US, thanks to Germans who settled there. Stone Hill Winery was the 3rd largest winery in the world in the late 1890s. But come on, Hermann? This shows the inherent danger of using a man's name for a wine region. This generation's Brendan might be next generation's Biff. Who was the last famous person named Herman: Herman Cain? Herman Munster? See what I mean?
AUSTRALIA
Naturally I don't get all the subtleties of Australian English. But I love these names: some have aboriginal influence, some pine for Merrie Old England, and some are just wacky. You could say it's not fair for an American to evaluate these regions by the sound of their names, but Australia is trying desperately to rebuild its US export market, so it's fair game. Fair dinkum.
Best
Coonawarra
Not only is it a wonderful sounding name (it's aboriginal for "honeysuckle"), it's a subregion of the Limestone Coast, which is also pretty great. It's famous for red soils and Cabernet Sauvignon, but it sounds like some sort of waist-high mammal you might encounter after midnight in a nature reserve. Which, if you shoot it, might be good with Cabernet.
Tasmania
It sounds so distant, so foreign, so exotic. It's not hard for wineries to make the argument that they're not like all the rest of Australia, because it's true: cooler climate, more rain, different varieties. And as a kid I loved the Tasmanian Devil; this was not a critter to be trifled with.
Worst
Tumbarumba
It's a dry, mountainous region southwest of Canberra. They make cooler-climate wines here, including Pinot Noir and Chardonnay. And it's tempting to put it on the "best" list because I love saying "Tumbarumba." But how much money would you spend for a wine from Tumbarumba? When you drop $75 or more in a restaurant, do you want something serious-sounding like Mornington Peninsula or McLaren Vale, or do you want something that sounds like a toddlers' clothing line?
Kangaroo Island
When Australian wine was trendy, the impression of this region might have been different. Now, though, the island is south of mainland Australia like Tasmania, it sounds like something Yellow Tail dreamed up. "I'm going to Kangaroo Island." "Sure you are. Stop by Wallaby River and Dingo Mountain on your way home."
The rest of the world is a ripe topic for this sound-of-name analysis — would anyone order Pouilly-Fuissé if they could just say "Chardonnay" instead? — but we're already gone quite long this month. So maybe you can give me your favorite (and least favorite), wine region names in the comments. Think about it with a nice glass of German rotwein.