It is a Saturday evening in late summer in Montepulciano, the Tuscan hill town that is the namesake of Vino Nobile, which, alongside Chianti and Brunello, makes up the holy trinity of Tuscan Sangiovese wines.
I arrived here yesterday with a couple of other American food and wine writers. Along with Italian journalists, we will serve as this year's jury in the town's annual citywide festival, Bravio delle Botti, which is a modern take on the centuries-old contests that seem to be de rigueur between neighborhoods in every Tuscan walled city. The most famous of these annual competitions takes place annually in nearby Siena, an over-the-top horse race on cobblestones called Palio. Whatever the town, neighborhood allegiances, with their singular flags and association activities, remain strong even in the Age of the Internet.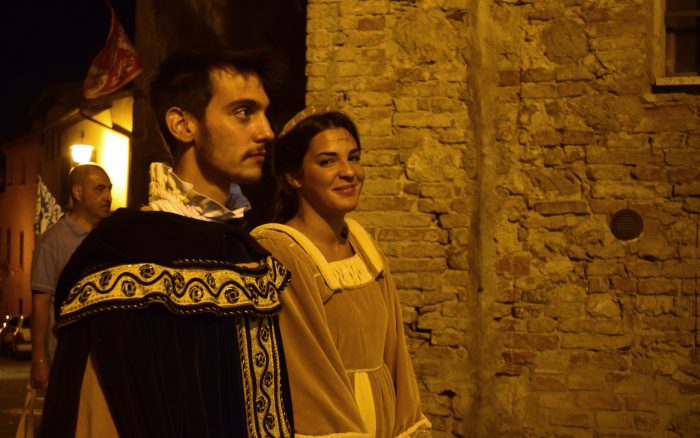 Bravio's tourist-oriented race has long ago abandoned horses. Instead, it pits the town's eight subdivisions – called contradas (It: contrade) – against each in a barrel race with eight teams of young men rolling eight large but empty wine casks from the lowest-lying section of this vertical town to the plaza at the top. There are other neighborhood contests through the week, including pageantry with medieval dress-up and flag-twirling contests and A Tavola con il Nobile, a cooking contest in which I will be a dedicated taster and drinker.
Our hotel is just off the main square at the top of town. And while I love the view from my window, there is a steep disincentive to explore the lower parts of town, as what goes down must climb back up.  But walk we must, visiting four contradas this evening – starting at the ones at the bottom of the hill – and four in the morning. This year's theme is game meat, and we will determine which neighborhood team of amateur chefs fixes the entrée that is traditional yet innovative and which best pairs with Vino Nobile.
But wine writers cannot live by food alone. During the few days that I am here, I will be visiting several producers of Vino Nobile, all of whom export their wines to the U.S.  Vino Nobile de Montepulciano received its DOC status 50 years ago in 1966 and became a DOCG in 1980. There are currently 230 grower-members of the consorzio, and 67 of the total of 89 local bottlers are members. The consorzio also represents the region's second wine, Rosso di Montepulciano.
So let's push back from the table for a few moments and enjoy some wine.
Poliziano
Federico Carletti has to be one of the most wine-savvy producers in Montepulciano. His modern, visitor-friendly winery is now over 50 years old, the last 36 having been under his tutelage after he took over from his father in 1980. Carletti has grown the winery to about 900,000 bottles annually and hosts 10,000 vino tourists each year.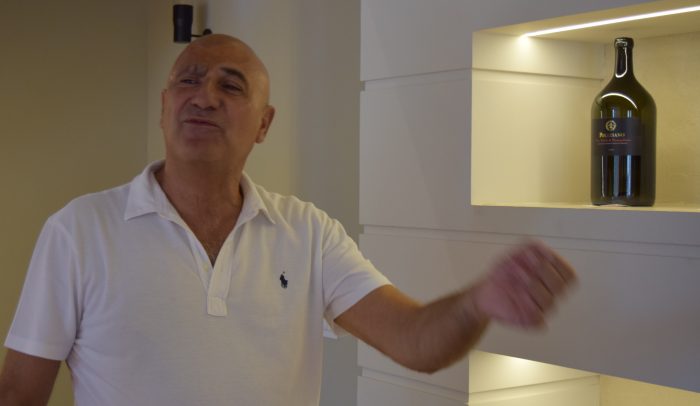 "I have a philosophy," he says, "of making wine only from our grapes, our land, our vines. And I always make one major investment in the business each year." This year, it is a cellar expansion, an optimistic vote that Vino Nobile will continue to move upward.
Salcheto
Salcheto lies at the end of a long-and-winding road within view of the city walls. It is the kind of facility that appeals to wine lovers, environmentalists and gadget freaks.  I have previously met with winemaker Michele Manelli on one of his visits to New York – he is not here today – about talked about how he has all but erased the winery's carbon footprint.
And the tour of the winery certainly illustrates his obsession with saving energy and water through all sorts of innovative technology, and its differences stand out from any other wineries I have visited over many years.
Tre Rose
Montepulciano has long been accustomed to playing second fiddle to Chianti. Yet it was not emotionally prepared when the boondocks town of Montalcino was suddenly thrust into the spotlight a few decades ago as its Brunello became the darling of wine collectors. Part of Nobile's problem lies with its name – Vino Nobile de Montepulciano – which is wordy, hard to pronounce and causes some confusion with Montalcino. Add to that the fact that there is not a singular Nobile taste, as my tour of seven wineries certainly illustrates.
Not surprisingly, how to make Vino Nobile more-recognizable and more-popular is a topic at all wineries I visit, especially here at Tre Rose.  Tre Rose is a beautiful property recently purchased by Bertani Domaines with Andrea Lonardi serving as the estate director. "We need to emphasize not the historic clones, such as Prugnolo, but the different terroirs that exist in Montepulciano, in Chianti and in Montalcino," he says as we tour the vast estate. "We also have less rain here than in Montepulciano than elsewhere, with more influences from the lake [nearby Trasimeno]." Lonardi says he is also trying to convince the wine consorzio to "drop the Montepulciano" and simply call the wine Vino Nobile.
La Braccesca
Some see the current influx of large outside companies into Montepulciano as a necessary component in raising the reputation of Vino Nobile, much as Banfi is credited with helping lift Brunello when it purchased an ancient castle in Montalcino in 1983 and turned it into the research-heavy Castello Banfi. Bertani is one such company, and another is Antinori, who established La Braccesca in the 1990's on the border between Montepulciano and the even-lesser-known Cortona region. However, although Vino Nobile is certainly produced here, the lime and clay soil, plus winds off the lake, make La Breccesca's vineyards ideal for growing Syrah, which goes into Antinori's regional blends.
Lunadoro
Change can come quickly, even in Tuscany. Before visiting Lunadoro, I had been briefed on this adorable couple who ran the place, and I had read about them that morning on Lunadoro's website. But they are no longer there, having sold the winery to a large European beverage, Schenk, which was also high on Vino Nobile. "We are interested in making improvements in the vineyard, and not in the winery itself," says director Adriano Annovi. "We think Vino Nobile has a great future."
Boscarelli
Boscarelli has long been a favorite of American drinkers, and once I get there on a hot morning, I don't want to leave. It is run by the two De Ferrari brothers – Nicolo the winemaker, who cultivates a rough-hewn appearance, and Luca, the sophisticated marketer, along with their mother, Paola. Both men are fascinating people with whom to discuss wine and life. They are Geonese and still spend part of their times in that coastal city.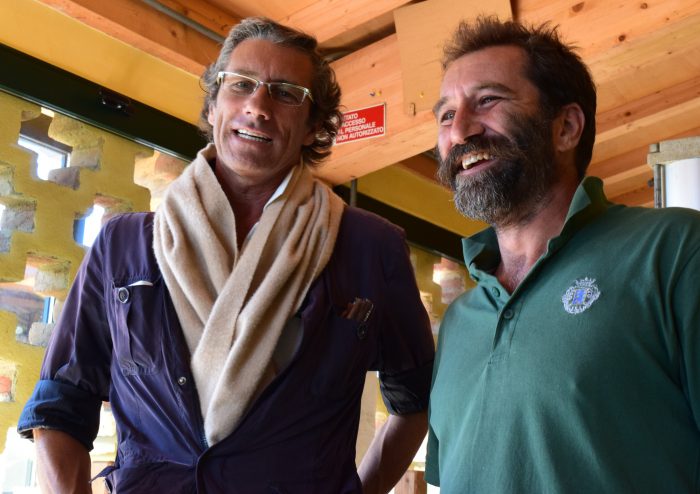 Unlike most producers, Boscarelli doesn't make its rosso as a separate type of wine, but rather, "To us, rosso is declassified Nobile," Nicolo says. Except for young vines, all vineyard grapes are potentially Nobile – or rosso.  The brothers admit the family has different palates when deciding which cuvee goes where.  "I like to drink wines that are straight," Nicolo says with an illustrative sweep of his hand. My brother likes more tannins. My mother prefers younger wines."
The De Ferarris are more traditional in some ways, following the lunar movements as decisions are made in the winery and in their selection of casks that "are really old." Yet their wines are elegant, lean and food-friendly with the promise of long aging. The last wine tasted, and the last question asked, I reluctantly say goodbye to this vivacious and charming family.
Contucci
The final winery I visit is also the last winery that still makes wine within Montepulciano's walls. Contucci is just steps away from my hotel, and I take a self-guided tour of its small labyrinth of rooms and corridors – a photographer's delight. The winery is still owned by the Contucci family, which traces its history, and the winery's history, back for centuries. There is a brisk business in tasting and sales, partly due to its location just off the Piazza Grande at the top of the hill.
Meanwhile, I have not neglected by duty as judge and juror.
In between winery visits, I have been savoring game meat in all its forms. That first night, as I wandered near the walls in the lower contradas, we tasted pheasant, followed by wild boar, rabbit and then pheasant again. The next morning, it was quail, venison, another pheasant, then boar again. The quail from the Collazzi neighborhood was almost a unanimous first choice among the jurors I talked with, including myself, and it won first prize.
As a reward, we revisited Collazzi for dinner the evening the award was made.  Was it just a coincidence that the neighborhood is at the top of the hill?