A few weeks ago, I was walking around a small fair of Italian foods and wines, in Northern Italy. A little crowd was gathered around a cotton candy machine that, swirling quickly, formed fluffy balls of cotton candy on the sticks. "Ah! Good for the kids, but too sweet for my palate!" said somebody.
"Really?" replied the maker of the cotton candy, who stood at a small table with several bottles on it.  Then he picked up a spray bottle and pfft -pfft! … sprayed something  directly on the cotton candy. "Who wants to taste this?" he asked.
"I do!" I said, taking the stick. Well, the cotton candy was delicious. The sweetness of the sugar was perfectly balanced by a slightly balsamic acidity … yes, acidity. The mysterious spray was vinegar, but not just any vinegar: it was a honeydew fir vinegar from a honey producer called Thun.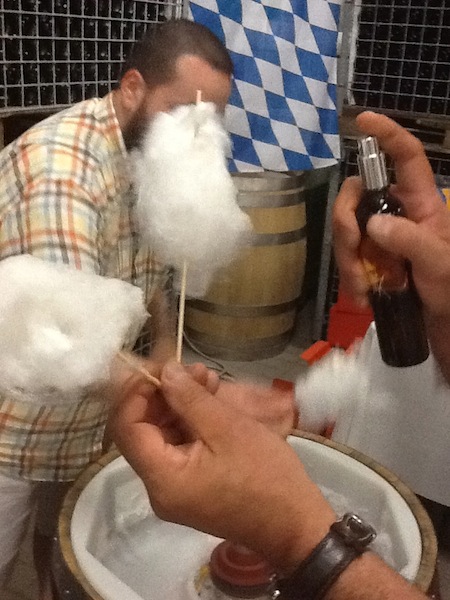 Vinegar is an ancient cooking ingredient, but nowadays it is most often underrated and misunderstood. There are people who consider vinegar simply a 'wine gone bad,' some who use it only as a seasoning for vegetables, and even some who hate its acidity. However, it is an asset that can give a touch of personality and originality to many dishes. You can use it on eggs (however they are prepared), and whenever you have asparagus or sprouts, fatty fish, eels, turbot; it even works on fruit salads and meat. I remember once in Fruili, at the Trattoria al Cacciatore della Subida in Cormons, I had a sorbetto with vinegar from whole grapes, olive oil and honey.
Obviously, in this case we're not speaking about a generic vinegar, like those you can buy for a few dollars in any supermarket. We are talking about certain, special vinegars made from fruits and whole grapes, and not from wine. They are not easy to find, even in Italy, the "Nation of Traditional Balsamic Vinegar."  Here, in fact there are only five producers: the Acid Friends (Amici Acidi), they call themselves. They are Mario Pojer, of Pojer e Sandri winery, Josko Sirk of Al Cacciatore Restaurant, Andreas Widmann of Baron Widmann winery, Andrea Paternoster of Mieli Thun, and Andrea Bezzecchi of Acetaia St. Giacomo, renowned producer of Traditional Balsamic Vinegar of Reggio Emilia DOP (Denominazione di Origine Protetta).
Each of them offers a very personal take on this type of exceptional vinegar.  Mario Pojer, for example, produces eight vinegars from fruits (blackcurrant, quince, pears, cherries, elderberries etc.), all of them made without adding any synthetic flavor. And all of them are packaged in 100 ml. spray bottles, so using them becomes a game—and you can put one of them in your bag when you're travelling, and try it on some exotic dish.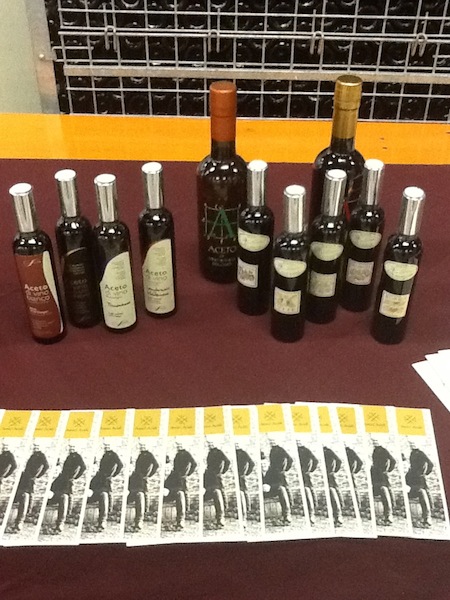 Andreas Widmann produces vinegar from fruits grown on his property: apricots, peaches, plums, quinces.
Andrea Bezzechi, owner of Acetaia San Giacomo, produces a vinegar from beer, a vinegar from an organic Lambrusco Viadana Sabbionetano DOC, a vinegar from Malvasia wine and a very interesting vinegar from red wine aged in juniper; it's acetified in barrels and aged at least 3 months in small, 30-liter juniper casks.
Finally, Josko Sirk makes only one vinegar, and it is from whole grapes, aged 3-4 years in small barrels, unfiltered and sulfite-free. "If it's true that a great wine is made ​​with great grapes, it is from such great grapes that I make my great vinegar, Sirk explained to me, when I visited his vinegar cellar for the first time. "It takes a few years.  And during this interval, I look after it as if it were a baby."
To make their vinegars, the five Acid Friends follow three rules:
1) Raw materials of excellent quality (not discarded fruit!)
2)  Patience. Respect for the time required for the whole process (the vinegar is made without any mechanical intervention)
3)  Respect for the natural oxidation process that enhances their typicity and original flavors (without heating to accelerate the process)
While regular vinegar is made just from wine, all of these special vinegars are only made from fruits, honey or whole grapes. It's a process that requires more time, experience and (of course) a strong passion for the product.
"Sadly, in Italy and elsewhere there is not a real widespread culture of vinegar, even in the restaurants" said Sirk. "People don't realize that it's difficult and expensive to produce such a vinegar. Nowadays with machines and technology 24 hours are enough for making a vinegar.  We need from one to four years to make ours."
Note: some of these vinegars are already imported to the US (by Viola Import for Acetaia San Giacomo and Mieli Thun, by Manicaretti for Pojer& Sandri); the others will be within next few months.
In October, Andrea Bezzecchi and Andrea Paternoster will tour key cities in the US and Canada to present their products:  a valuable opportunity to taste them and learn how to use them to give a "touch of Italian style" to your cooking. In the meantime, here is a preview: a recipe from their little book of recipes with vinegar that will be published in October:
[box]
Crudités of veal, tomato flavored with honey vinegar and vanilla fleur de sel
Ingredients for 4 people:
210 grams veal fillet
5 g crushed black pepper
for the sauce:
1 tablespoon of aged vinegar of wine
extra virgin olive oil
salt
for garnish:
vanilla fleur de sel
sprouts
celery
sauce:
150 grams celery
80g cold mineral water
5 g lemon peel
5 g lemon juice
salt
pepper
for marinated tomatoes:
1 large tomato
50g cherry honey
100g vinegar of whole grapes
Preparation: Clean the fillet of veal and cut into very thin slices (as for carpaccio). Then marinate the meat with pepper in a closed container (or zip-loc bag) for at least 24 hours. Peel the tomatoes, cut them into quarters, discard seeds and skins and marinate in the emulsion of vinegar and honey for at least 2 hours. Preparing the celery sauce: blend all the ingredients in a blender or food processor. Cut the marinated veal into small cubes, and season them with a few drops of vinegar of aged wine, extra virgin olive oil and salt. Mix well. Drain tomatoes and spread on a plate.  Lay veal on top and garnish with fleur de sel, shoots and the celery sauce. Finish with a drizzle of extra virgin olive oil and a sprinkling of pepper.[/box]
[author] [author_image timthumb='on']http://palatepress.com/wp-content/uploads/2010/02/162f729-e1266674226608.jpg[/author_image] [author_info]Elisabetta Tosi is a freelance wine journalist and wine blogger. She lives in Valpolicella, where the famous red wines Amarone, Ripasso, and Recioto are produced. Professionally, she serves as a web-consultant for wineries, and in her free time writes books about Italian wines. She is also a contributor to Vino Pigro.[/author_info] [/author]