Italy is a country full of castles, and in SudTirol (Alto Adige) there is one particularly ancient, called Schloss Katzenzungen. The name means "cat's tongue" but this is not a nickname, it is the real name of its former owner. Situated on a hill in a little village named Prissiano (north of Bolzano), this castle boasts 800 years of history, but today it is a place for quiet relaxation.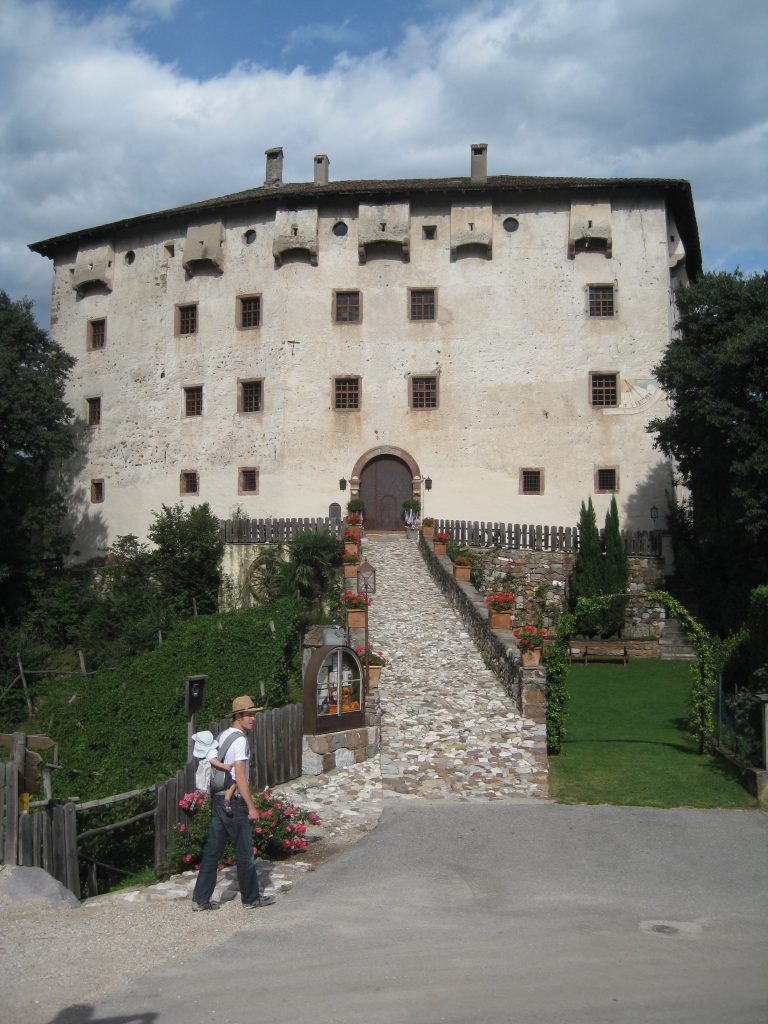 A long stone bridge leads to its heavy wooden door. Like a dry moat, an overgrown ditch stretches all around the castle's walls. Among the plants, an expert glance will detect an extended green canopy. This is the versoaln, an incomparable vine. It is a single grapevine, which is 350 years old, maybe more, with branches that stretch over 350 square meters. According to scientific studies conducted by Dr. Martin Worbes of the International Tree Ring Laboratory in Geottingen, Germany, this vine appears to be the oldest in Europe—though some have argued there is a vine in Slovenia that is about the same age— and the largest in the world. In any case, this age is extremely rare for a deciduous plant. Its dimensions are very impressive: it has a trunk 32 cm (13") in diameter and over 1 meter (3.3 feet) in circumference, with the largest branch in excess of 15 meters (nearly 50 feet) long. It still produces grapes regularly: each year the harvest from this vine is six to seven tons.
What does the name versoaln mean? Well, the best hypothesis is that the word "versoaln" comes from an expression in the local dialect. In the past, because vineyards were often grown on steep slopes, at harvest time the men secured the grapes and transported them with ropes. So, the word "versoaln" could mean "tie with strings."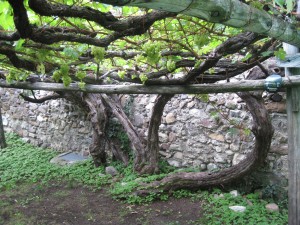 The main grape-growing area of this region was in fact Val Venosta, renowned for its steep vineyards, while versoaln is grown close to a wall, with a traditional pergola made of chestnut wood, in porphyry soil, in which alluvial sediment accumulated for centuries.
When I arrived at the castle late this summer, it was harvest time. The vine's small grape bunches had berries of a fine, pale yellow color, almost transparent. Hoping nobody was looking, I tasted some berries: they were sweet, slightly astringent. I chewed the seeds: they were woody, well lignified. The grapes were ready to harvest.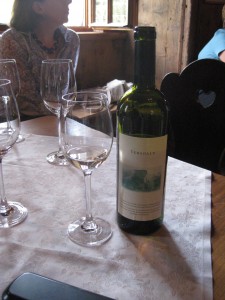 Experts from Laimburg, the provincial Research Center for Agricultural and Forestry, carried out the operation. However, since 2006, the general management of this vine is the responsibility of the Gardens of Trauttmansdorff in the nearby town of Meran. This is an amazing botanical garden, which in 2005 was named Italy's most beautiful garden. It covers an area of 12 hectares (about 30 acres), in the shape of a natural amphitheater in which more than 80 gardens from around the world are displayed. In these gardens, visitors also can learn about wine history. There is an exhibition of ancient seeds from 2,400 years ago, which were found in Alto Adige's Laimburg area, as well as a gold replica of a grapeseed donated by the National Museum in Tbilisi, Georgia, where they have been growing wine grapes for 7,000 years.
The versoaln grapes are vinified in the cellars at Laimburg, and the wine itself is sold there. My visit to Katzenzungen Castle ended with a tasting of Versoaln. In the glass, the Versoaln wine was very pale yellow, and bright, with shades of green. The nose was delicate, fruity, slightly aromatic: it reminded me of tropical fruits, pink grapefruit, mango, and pineapple. In the mouth it was more citric, with a lemony finish. A very interesting wine, inherited from a far distant past.
---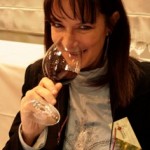 Elisabetta Tosi is a freelance wine journalist and wine blogger. She lives in Valpolicella, where the famous red wines Amarone, Ripasso, and Recioto are produced. Professionally, she serves as a web-consultant for wineries, and in her free time  writes books about Italian wines. She is also a contributor to Vino Pigro.