By now, the effect of "expert" opinion on runaway consumer spending has washed away in the flood waters of billion dollar Ponzi schemes and predatory lending.  Now, all of the lip service in the world from talking heads about "recovery" this and weak "holiday spending" that doesn't mask the fact that we're living in a new reality, in more ways than one.
This "new reality" is reflected in two ways – first, immediate, tangible sales.  And, second, the process through which people make their wine purchase decisions.
It seems as if the age of consumer excess that occurred over the last decade has given way to, dare I say it, a more quaint way of doing business.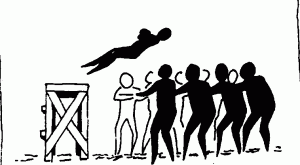 The glory days of stamping "92 points!" on a case stack and watching it fly it out the door have come and gone like house values.
Second, the opinion of an unfamiliar distant voice, an alleged wise voice, simply doesn't carry the weight that it used to.
In fact, I've heard a chorus of distant trumpets recently, their echoing wail acting as a clarion call for the fall of our industry's once revered palates, rendering them, at the very least, less relevant.
With these twin trends of more judicious spending and a lack of institutional trust, you could suggest that, as a wine retailer, I should be wallowing in misery.  Quite the opposite, however – I couldn't be happier.
Don't misunderstand me, the old boys do indeed have a depth of knowledge and experience that few will ever be able to claim, and some will always trust their word above all others. Many consumers, however, are simply soiled on the entire concept of accepting counsel from so-called experts.
The immediate by-product of this trend towards a more personal well of knowledge and advice is a much welcome return to the "shop keeper" approach to retail; an ode to the days of your trusted local merchant.
While, yes, your local guy may get beaten by a dollar on price from the national, mega-retailer down the street, he offers something that they cannot– he KNOWS you.
It sounds so simple.
Your retailer knows your palate (or wants to learn it). He knows you only like New Zealand Sauv Blanc with food. He understands your collecting habits and knows exactly what you want in your cellar. He knows that your boss prefers Highland single-malt whisky to Islay. He knows that you will probably enjoy this Washington cab more than that California cab because you like yours with a bit more minerality. He knows how to make a dynamite chocolate martini, just the way you like it. He makes it his business, nay, his personal MISSION to know what you like, your habits and idiosyncrasies.  He knows to have some extra bottles of that Cava you like in stock this year because it's your turn to host Thanksgiving. Simply put, aside from your family, accountant and Doctor, he may know more about you than anybody else, based on your consumption habits.
That's a job that nobody can replicate, not even a vaunted palate in Monkton, Maryland.
Recently, I had a frequent customer joke to her friend, "Is it weird that my wine guy knows me better than my husband?" While I'm good, I certainly can't replicate pillow talk.  But, more and more I am hearing "Well, what did you think?" Or, "Will I like this?" I am tickled every time these words are uttered. It shows that my clients not only respect my professional opinion, but also that they know I have taken the time to understand what THEY enjoy in a wine, regardless of whether or not it is something that I personally enjoy.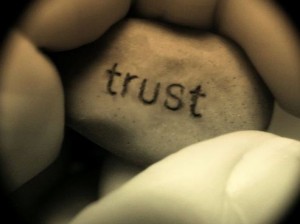 It is important that wine professionals, especially at retail, take this responsibility seriously, as trust is a rare and extremely valuable commodity these days.
Likewise, from a retailer's perspective it feels good to be able to look someone in the face and know that you wouldn't sacrifice your integrity or their professional faith in you just to make a buck, especially in a business such as ours that's predicated on one small sale after another.
No, the rewards are much richer than a quick sale.  We are the end of a long day. We are a romantic evening at home and a personal reward. We are a thank you and a happy birthday. We are good tidings and merriment.
Who would dare soil those things?
Every day it's all over the news. Somewhere someone is scamming somebody. Lives destroyed for financial gain at the cost of nothing less than one's very soul. It's a sad day when we can't trust people to do the right thing simply because it is the right things to do.  As someone charged with the noble duty of knowing each and every one of my clients on a personal level, I take great pride in being their spring of wine and spirits knowledge.  That in and of itself is worth its weight in gold, and is not something any retailer worth their salt would ever be willing to trade.
If you don't have your own trusted relationship with a wine shop, go start one today and take charge of your own "new reality."
–Louis Calli has been involved in the wine industry for over a decade in several capacities. He currently works as a Wine Director for 21st Amendment Wine and Spirits located in Indianapolis Indiana. When he's not enjoying vino he spends his time hiking with his pooch Frankie, and working on expanding his impressive collection of sweater vests.
Edited by Jeff Lefevere.