Having cut his winemaking teeth in Texas, Karl Weichold spent several vintages producing wines at different facilities in the Fredericksburg area. Although the siren song of Willamette Valley Pinot Noir lured him away from the great state of Texas, he still has a special place in his heart for the people, the grapes, and the sunsets of which that region alone can boast. Wines from Texas always take him back to a time and place where he fell in love with wine and winemaking. Here he recounts a recent return to attend the Texas Two-Sip Tasting.
---
How does a state that is not California, Washington, or Oregon establish itself as great place to make wine? According to Russ Kane of Vintage Texas, you simply let the wine speak for itself. Russ Kane and Steve Krueger (Sommelier at the Westin La Cantera) recently hosted the Culinaria Texas Two-Sip tasting at San Antonio's Hilton Palacios Del Rio. The tasting pitted carefully selected Texas wines against comparable wines from around the world. Six pairs of wines were tasted blind, with one wine in each pair hailing from a Texas producer. The audience and panel were then invited to vote on their favorites and to guess which wine was made in Texas. The results were, to say the least, eye-opening.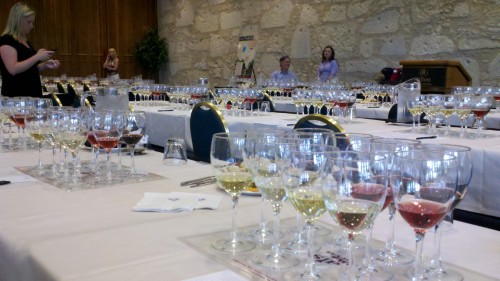 "It's amazing. When you taste these wines blind, people put them on a level playing field," said Kane. While there were some notable examples of disparity in quality, the majority of the field held its own against the world. The voting audience preferred four of the six Texas wines in the flight and were able to identify the Texas wines in five out of the six pairs. The audience consisted primarily of enthusiastic Texas wine consumers and the tasting panel was composed of Texas wine personalities: Dr. Richard Becker of Becker Vineyards, Bill Esley of Duchman Vineyards, and Robin Allen of Messina Hof. The results speak volumes about wine drinkers in this state. Most wine produced in Texas is consumed within Texas' borders. However, this isn't necessarily where the Texas wine industry intends to remain.
Texas wines have enjoyed a recent influx of talent, endowment, and favorable climatic conditions. Producers that a decade ago were often making unpalatable plonk are beginning to produce wines that could compete nationally. However, do not expect to see these wines outside of Texas any time soon. "We don't have enough grapes to fulfill our needs in Texas yet," says Kane. "We have about 4,000 acres under vine right now. If we had 10,000 acres, we could go national. That will probably happen in five to ten years."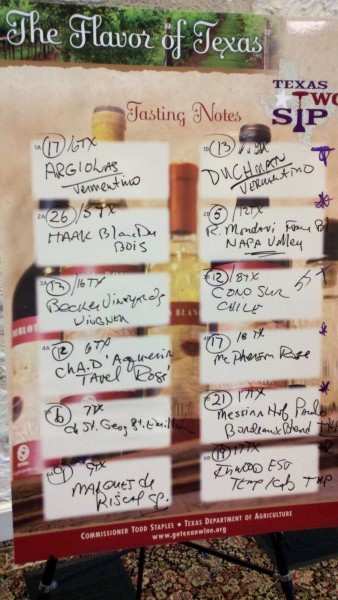 "It's not like California. Our conditions are much more like southern France, Spain, and Italy," Kane claims. If the wines presented in the tasting were any representation of Texas wine as a whole, he is spot on. Texas wines seem to be trending towards wines based on tempranillo, viognier, and other Mediterranean or Southern European varieties. But that does not mean that there are not other impressive examples of great grapes being grown in the Lone Star State. During one pairing, that surprisingly fooled this taster, a 2007 Château Saint-Georges (unclassed) was bested by Messina Hof's (Bryan, TX) 2006 Paulo Bordeaux Blend. While 2007 was one of the more variable vintages for Saint-Émilion in recent history, it truly is a testament to Texas wine that a Cabernet blend made entirely from fruit grown within its borders can compete with a wine from an internationally renowned region. The Haak Vineyard's dry Blanc du Bois was also stunning (and deceiving), was pitted against Robert Mondavi's Fumé Blanc. Not only was the non-vinifera varietal elegant, aromatic, and fantastically balanced, the panel and the audience overwhelmingly preferred it AND were fooled by the fact that it was from Texas.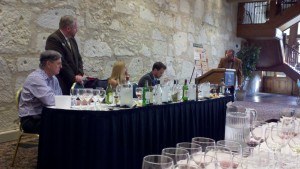 Blanc du bois and other non-vinifera hybrids are grown in Texas and other states where disease resistance is crucial. "If you want to look back ten years ago, everyone would say that Pierce's disease would be the limiting factor for vineyards in this state," says Kane. "We've made significant advances in the control of the glassy-winged sharpshooter such that if you were to ask now, the answer you would probably get would be the late spring freeze or hail." Aside from disease pressure, Texas faces other logistical hurdles. The lion's share of vines are planted in the High Plains AVA, eight hours by truck from the nucleus of wineries and resorts in the Hill Country west of Austin. This means that grapes must be crushed, chilled, and shipped down to their production facilities, a process that not only increases the cost of production but complicates the winemaking process. But this still hasn't stopped adamant winemakers from producing wine for a thirsty public.
According to a report given in 2009 by MKF Research, 188 Texas wineries employed almost 11,000 Texans, produced 1.2 million cases of wine, and brought in $68 million in revenue. While this may be relatively small compared to other well known winemaking states, Texas wine quality, investment, and renown are on the rise. "It's an exciting time for Texas wine," says Kane. Perhaps, by the end of the next decade, we'll enjoy another great new American wine region.
---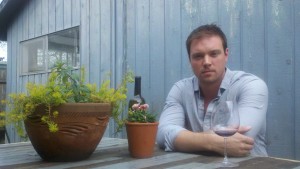 Karl manages the lab at 12th and Maple Wine Company in Dundee, Oregon. After earning a degree in Biochemistry at Texas A&M, he spent several vintages making wine in the Texas Hill Country. In search of scientific rigor, he left for the Willamette Valley in 2009. When he's not busy nerd bustin' or dork wranglin', Karl enjoys tending his homebrews, hiking the Cascades, and making enormous gastronomic messes in his kitchen.