If you've always thought Sylvaner was simply a junk grape used to ensure that bottles of cheap German and Alsatian white blends are never half-empty, take a trip to the little town of Mittelbergheim in the center of Alsace, where there are 25 wineries but only about 600 residents.  Then walk up the hillside into its grand cru vineyard that overlooks much of the village.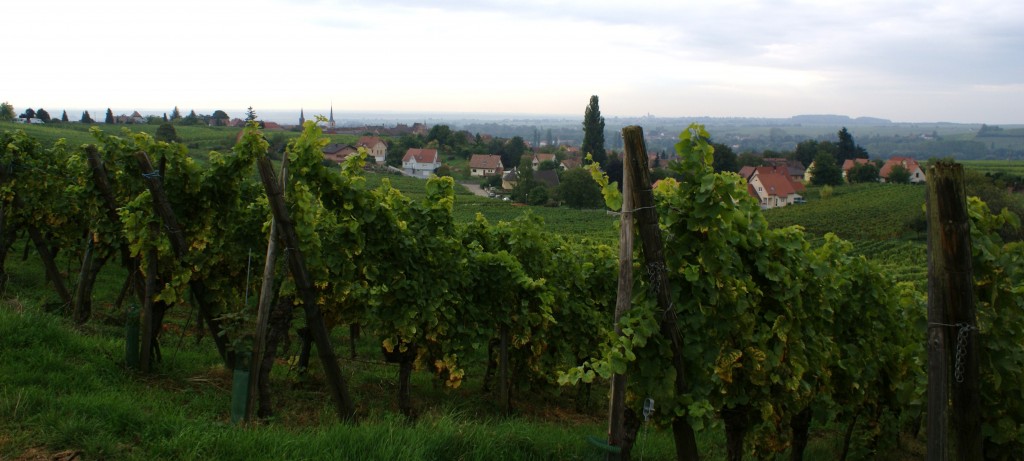 Zoztenberg Vineyard
The vineyard is called Zotzenberg, one of 51 prized terroirs in Alsace allowed to call their wines "grand cru," but only if they are made from four prized grapes – Riesling, Pinot Gris, Muscat and Gewürztraminer. However, Zotzenberg is the only one of the 51 permitted to also call a fifth grape – Sylvaner – "grand cru" by producing perhaps the greatest Sylvaner wines on earth.  That honor is a result of history and terroir, plus the determination of local growers to right what they thought was an appellation wrong.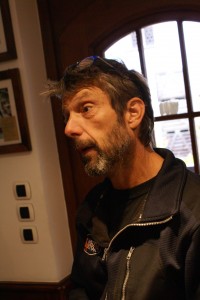 "Sylvaner is like a pretty girl from a poor family, only in Zotzenberg she never realized it," says winegrower Albert Seltz, who led the uphill, five-year fight to amend the Alsace grand cru classifications to include Zotzenberg Sylvaner as a grand cru.  That recognition came in 2005.
The Zotzenberg geography is classic terroir for making great Alsace wines.  Its 90 amphitheater-shaped acres of mostly marl and limestone gently curve to embrace Mittelbergheim, facing southwest to soak up the hot afternoon sun to fully ripen its grapes. (A small portion of the vineyard, on the far side of a local road, faces southeast.) The vineyard also provides a stunning view in the distance of Andlau castle, a partial ruin from the 13th century. The vines at the bottom are at about 700 feet in elevation, while those at the top rise to about 1,030 feet.  As elsewhere in Alsace, the Vosges mountains just to the west give the vineyards wind protection, but they also rob it of rain, making it a somewhat dry climate for vineyards this far north.
One of the family wineries which share Zoztenberg's terroir, Boeckel, has made wine in Mittelbergheim since 1853.  In early October, Jean-Daniel Boeckel, the fifth generation, took me on a walk through the upper portion of the vineyard where the Boeckels' Sylvaner is located.  He tasted a small, pale-skinned grape and handed another to me – small, with thin, pliable skin and a sweet, fragrant juice.  "The grapes are clean [of botrytis and other rot], so we can wait a few more days to pick," Boeckel said. "Sylvaner is a lot like Riesling – you can do a lot of different things with it."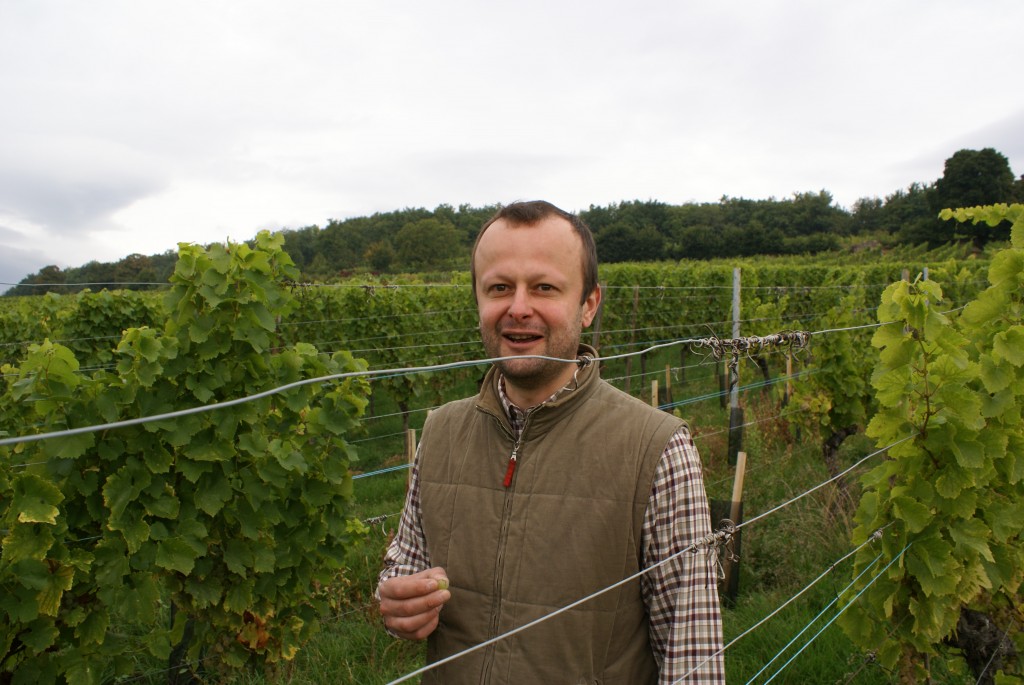 Jean-Daniel Boeckel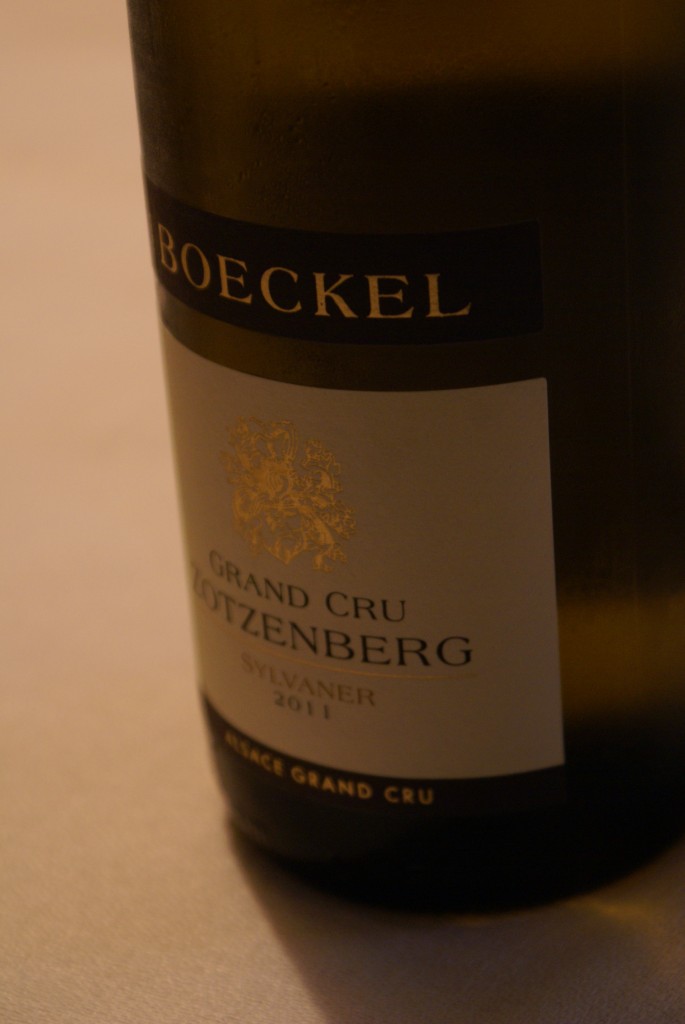 "Sylvaner is a good volume producer," Seltz had told me earlier on a visit to his cellar, "so we made a lot of low-quality wine from it in Alsace." He noted that since the 1980s, however, Mittelbergheim producers have concentrated on making better wines from their Sylvaner heritage.  Seltz is known for his assertive, yet elegant Sylvaners – four different ones in most years – which he lets age in tanks for extended periods before bottling.  He opened a spigot and took a sample of a 2010 late-harvest Sylvaner.
"What you have in your mouth is salivation," he said, "and salivation is minerality."  The wine was brilliant, fragrant, minerally, redolent of spicy apples and possessing some salinity.
The Boeckel wines are similar, yet different, from those of Seltz.  The 2011 Zotzenberg grand cru is pungent, nutty, yet quite clean with a Muscat-like finish – an excellent food wine as I later found out in the Boeckel family dining room.  Boeckel normally lets its Sylvaners rest 10 months in the barrel and bottles it just before the next harvest.  "The Sylvaner flower is very delicate," Boeckel said, "and we had a lot of rain in the spring.  So it will be a small harvest."
For his part, Seltz says he enjoys the challenges each vintage brings. "There are no bad vintages, just bad winemakers," he said with typical flair as he rushed off to collect a sample of late-harvest Zotzenberg Sylvaner grand cru from 2006 that is still in the tank. That year was considered a "bad vintage," Seltz noted, but we all agreed the tank sample was lovely. "Regardless of the harvest," Seltz says with a smile, "I am still pregnant every year."