It was a summer scene like any other – the sky had clouded over, the air had turned cool and towel-wrapped children waited with their parents for the ferry back to the mainland. Only this wasn't Sag Harbor or Block Island; instead, we were on Favignana in the Egadi Islands, 45 minutes from Trapani, Sicily – an island off the coast of an island.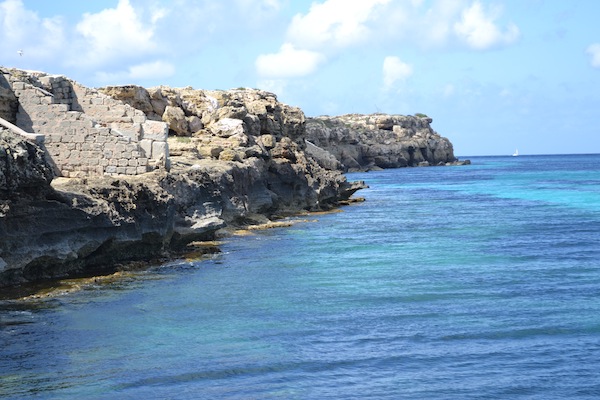 Alternately called La Farfalla (the butterfly) due its shape, Favignana is named for the Favonio, a local westerly wind, which made its presence known, as I was shown around Firriato's latest project. The Trapani-based winery was first established in the 1980s, but while Firriato's 320 hectares (790 acres) of vineyards are spread out over six Sicilian estates, it was the five hectares (12 acres) planted six years ago on Favignana that they were most excited about sharing with me. This selection of vines is the first and only vineyard to be planted on the island in over 50 years.
Although Favignana is known for tuna and tufa, today's islanders rely on tourism to make their livelihood. Yet while the island is hospitable to tourists, it is less so to vines. The tufa-sand soils provide their own challenges, while the namesake wind necessitates that vines are bush trained using the alberello (little tree) method. Similarly, bamboo fencing tempers the wind and reduces the effect of salt water, which would otherwise burn the vines' tender leaves.
Despite these obstacles, the island's climate also has a favorable impact. A high diurnal shift helps grapes develop good acidity and perfume. Meanwhile, the wind minimizes humidity, and subsequently, mildew, so much so that the operation is almost entirely organic.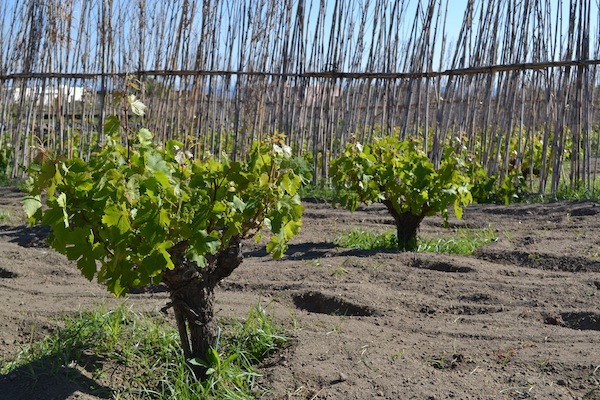 Focused on indigenous varieties, the vineyard is planted to cataratto, grillo, zibibbo, perricone, and nero d'Avola, with grapes shipped back to Trapani for production since its size doesn't warrant the construction of a winery on Favignana. But, while these wines are currently labeled as IGP Sicilia, Firriato hopes to create a new Favignana-based DOC for them and will submit an application after the third vintage (2013) in keeping with legal restrictions.
I next flew to Pantelleria, joined on my early morning flight by the daily newspapers. While the news may arrive a bit late, this sybaritic slice of paradise has long attracted the well-heeled with their well-endowed pocketbooks – including Giorgio Armani, who arrives each summer via private yacht – in stark contrast to Favignana's laid-back tourists.
Also unlike Favignana, Pantelleria has a more continuous vinous history. Here, vines commonly average 40-50 years old, with a few remaining ungrafted vines thought to be over 100 years old as I saw at Donnafugata's vineyards. The winery initially came to Pantelleria in 1989 and now owns vineyards in 12 districts on the island, totaling close to 70 hectares (170 acres).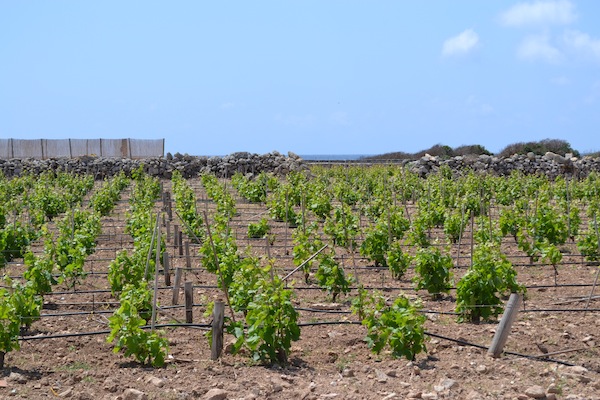 Home to even fiercer winds, Pantelleria's Arabic-derived name means "Daughter of the Wind," and its vines are also alberello trained. This practice has been adapted to olive and citrus trees on the island, with dwarf-like orchards dotting the landscape.
The landscape also features walls made from dark, volcanic stones that line the narrow roadways, define property borders and undoubtedly gave rise to the island's nickname as the "Black Pearl of the Mediterranean." The stacked stones revealed a patchwork of plots, stemming from very fragmented land ownership, and some seemed to have been abandoned given the overgrown vegetation, possibly due to their exceedingly small size.
But beyond their proprietary function, these walls protect the grapes from the whipping winds and reduce erosion while their composition of pumice and lava release much-needed humidity during the heat of the day. These same stones were used to build a Pantellerian Garden, the oldest evidence of which date to 3000 B.C.E. As they do in the vineyard, the stones of these circular enclosures give off sufficient moisture to sustain a centrally-planted orange tree despite the limited rainfall and lack of irrigation. Such gardens are a mark of wealth and prestige, but also hold the promise as to how such technology might be adapted in other rain-starved climates, which is why the winery has donated its garden to the National Trust for Italy (F.A.I.) and collaborated on a study with the University of Milan.
The garden is situated in Khamma where Donnafugata maintains a winery, necessary since production of its Ben Ryé, with its prestigious Passito di Pantelleria DOP, must be completed entirely on the island. The winery sends its other zibibbo grapes to Marsala for making Kabir, a Moscato di Pantelleria DOP, and Lighea, a dry and refreshing wine that carries the IGP Sicilia designation. Tasting this latter wine at Khamma, I fantasized about enjoying it on the deck of a dammuso, a Pantellerian traditional white-domed house, while on holiday, but alas, it was once again time to return to the mainland.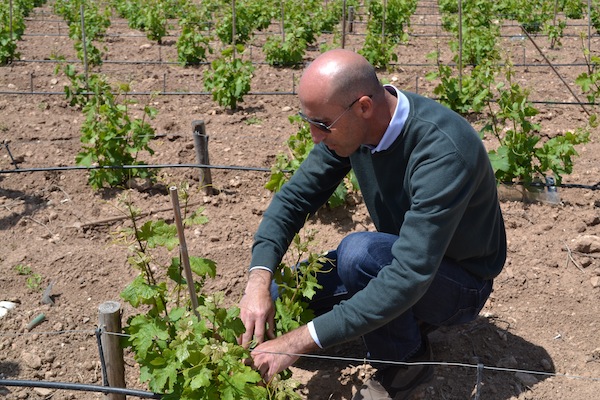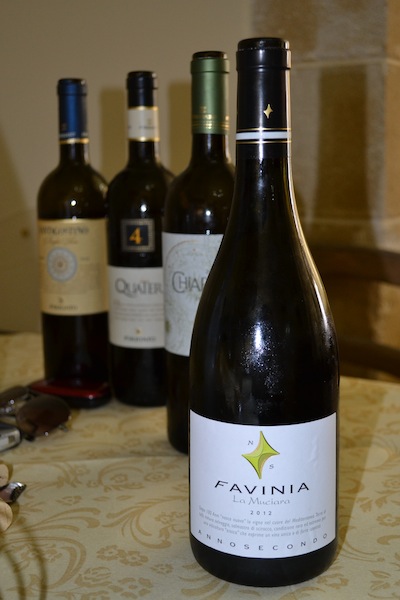 TASTING NOTES
2012 Casa Vinicola Firriato Favinia La Muciara
WHO: Casa Vinicola Firriato
WHAT: Zibbibo, Grillo and Cataratto
WHERE: Favignana, Sicily, Italy
WHEN: 2012
HOW MUCH: €25.00 (tasted at winery)
Light gold in color. The nose offers wet stone and citrus aromas along with some white flowers. On the medium- bodied palate, ripe citrus flavors stand out, accompanied by minerality and a hint of salinity, almost reminiscent of a Fino sherry. Enjoy with light pastas and fresh cheeses.
2011 Casa Vinicola Firriato Favinia Le Sciabiche
WHO: Casa Vinicola Firriato
WHAT: Nero d'Avola and Perricone
WHERE: Favignana, Sicily, Italy
WHEN: 2011
HOW MUCH: €25.00 (tasted at winery)
Medium deep ruby in color. Notes of red flowers and fresh berries greet the nose. The dry, medium-to-full-bodied palate has good acidity and shows flavors of berries, wood, herbs and a hint of minerality. Pair with meatier fishes such as tuna or swordfish or with pork.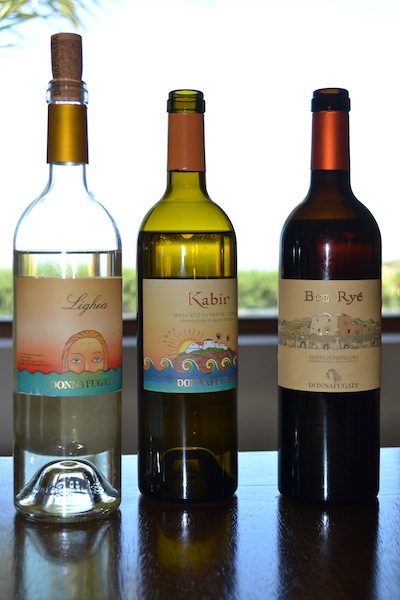 2012 Donnafugata Lighea
WHO: Donnafugata
WHAT: Zibibbo
WHERE: Pantelleria, Sicily, Italy
WHEN: 2012
HOW MUCH: $18.00 (tasted at winery)
Pale lemon in color. This wine offers up pronounced floral and citrus aromas on the nose. The fresh, medium-bodied palate joins floral, tangerine and pineapple flavors with high acidity and long length. Match with fresh fish and seafood as well as salads.
2011 Donnafugata Kabir
WHO: Donnafugata
WHAT: Zibibbo
WHERE: Pantelleria, Sicily, Italy
WHEN: 2011
HOW MUCH: $35.00 (tasted at winery)
Medium gold in color. Pronounced aromas of floral, grapes and pear greet the nose. The medium-sweet palate is beautifully balanced with vibrant acidity, with notes of peach, pear, apricot and floral; lighter and fresher than the Ben Ryé. Pair with cheeses or lighter desserts.
2010 Donnafugata Ben Ryé
WHO: Donnafugata
WHAT: Zibibbo
WHERE: Pantelleria, Sicily, Italy
WHEN: 2010
HOW MUCH: $74.00 (tasted at winery)
Deep gold in color. An intense nose of marmalade, orange peel, spice, caramel and apricot, are repeated on the equally intense, full-bodied palate. This wine has more richness and depth than the Kabir. Enjoy with foie gras, nuts, ripe cheeses and rich desserts.
[author] [author_image timthumb='on']http://palatepress.com/wp-content/uploads/2012/10/Kamens-Photo-e1350626621709.jpg[/author_image] [author_info]Tracy Ellen Kamens adores wine and loves to teach. So much so that when the idea to marry her passion for teaching with her love of wine presented itself, she jumped at the opportunity and founded Grand Cru Classes. In addition to teaching both consumer and trade classes through her company, Tracy is on faculty at the International Wine Center and New York University and is a frequent presenter at international conferences. She also serves as an education consultant for the Society of Wine Educators. Tracy holds a Doctor of Education degree from the University of Pennsylvania and a B.S. degree from Cornell University.[/author_info] [/author]