Santa Barbara County is one of the youngest wine growing regions in California, measured by both vine age and the age and experience of its winemakers.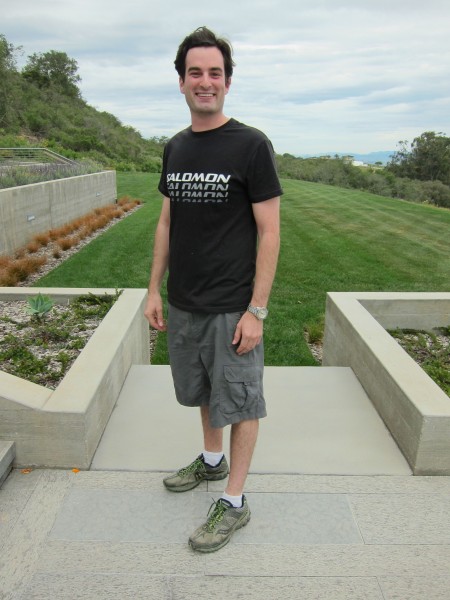 Thus it wasn't hard for me to sit around a table at the home of Presqu'ile winery owner Matt Murphy with eight winemakers and get a passionate discussion going about that perennial favorite topic in California, alcohol level.
While I can be a provocateur, I wasn't here; it just came up. The high-alcohol defenders have a chip on their shoulder, perhaps because one of the big men of the area, Jim Clendenen of Au Bon Climat, has been very aggressive at public forums in attacking the style.
I'll admit that I'm increasingly on Clendenen's side of the fence. While balance is key, I'd simply rather drink a wine at 13.5% alcohol by volume than 15.5%. But that's a problem for many vignerons in California because not all grapes in this state will ripen at sugar levels that low.
What made this discussion interesting is that while it was collegial, it brought together proponents of very different styles of wine. Two of the county's top names in particular are wonderboy Gavin Chanin, 26, named one of Forbes' top 30 food professionals under 30, and Greg Brewer, who isn't a senior citizen but was making some of Santa Barbara County's most exciting wines while Chanin was in elementary school.
Chanin, who runs his own Chanin Wine Company and also assists at Au Bon Climat and Qupe, made me swoon with his Chanin Bien Nacido Vineyard Santa Maria Valley Chardonnay 2009 ($35), one of the best Chardonnays I've had this year, and I spent a week in Burgundy. It's chalky initially and leesy with lime fruit and great texture, as it softens and gets comfortable on the tongue but never gets flabby. It's not at all lean, yet it's only 12.8% alcohol.
Chanin shares many philosophies with Brewer: both exalt terroir, treat their grapes gently, and prefer to do as little to the wine as possible. But the results are so different: Brewer's Chardonnays sometimes top 17% alcohol. I wrote last year about having a problem with that conceptually, which is why he brought a lean, juicy Diatom Hana Shinobu Sta. Rita Hills Chardonnay 2011 ($36) at 13.8% to the table. With its fine texture and strong salinity, this wine would fit in well with the low-alcohol In Pursuit of Balance movement, though the organizers might stop him at the door.
Other members of the roundtable included:
Dieter Cronje, winemaker for Presqu'ile, a new winery built by wealthy Hurricane Katrina escapees. Presqu'ile owner Murphy has given Cronje the proverbial unlimited budget but with an unusual-for-the-type mission to make balanced wines that go well with dinner.
Jenne Bonnacorsi, who came from the high-end restaurant world in Los Angeles to co-found her eponymous winery. She has been making the wines herself since her husband suddenly passed away eight years ago.
Ernst Storm, a South African (like Cronje) who makes Rhône-style wines for his own eponymous winery and for Curtis (his Curtis Santa Barbara County Mourvedre 2009 [$24] was delicious, fascinating and, at 14.3% alcohol, right in between the battle lines.)
Curt Schalchin of Sans Liege, representing a countercultural style in the Central Coast best epitomized by Sine Qua Non, but also done successfully by Justin Smith at Saxum: ripe fruit with disregard for "rules." Schalchin brought a non-vintage Rhône-style white ("Cotes du Coast," $26) at 14.9% alcohol that I loved despite its weight, and a multi-vintage Syrah-Mourvèdre blend ("The Prophetess" 2009/10) at 15.6% that tasted like roasted fruit.
Sonja Magdevski, a journalist from Macedonia who is doing all the work for her one-person wine company, Casa Dumetz, which specializes in Viognier. Magdevski lives in Malibu and hates it when people ask her about being married to Emilio Estevez. So I didn't.
Apologies to Kevin Law, who makes Pinot Noirs with wonderful texture at his new Luminesce winery that impressed all of us. But Law, whose degree is in meteorology, is soft-spoken and polite and didn't want to get into this particular discussion.
And now, without further ado, the roundtable: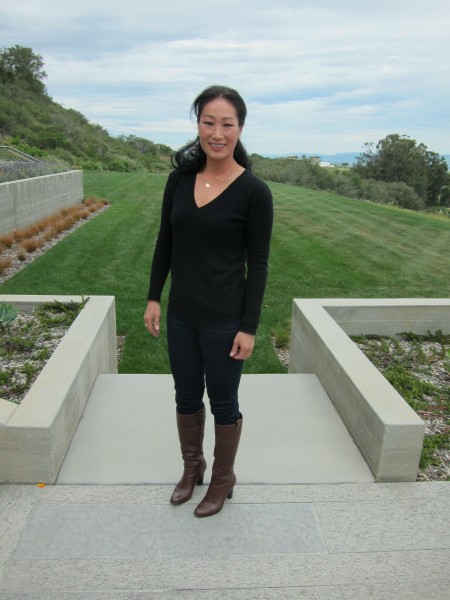 Cronje, Presqu'ile winemaker: The reason we end up with this low alcohol style is, it's easiest. Whatever we have to do to not have to touch the wine. If it's not high pH than I don't have to worry about it. It's definitely about low intervention.
Gray: What if you have a hot year in the estate vineyard?
Cronje: We're not going to water it back. If we have a bad vintage, I wouldn't mind it showing.
Murphy, Presqu'ile owner: We're not making Coca-Cola. We're not homogenizing wine to show no vintage effect at all. I don't know that there's a "bad vintage." 2011 was a difficult vintage, but I'm actually looking forward to the '11s because it will force people to make more reasonable wines. Reasonable for my palate, anyway.
Bonnacorsi: Nobody's aging California Pinot for 15 years.
Chanin: I think it represents the vineyard when you don't have a ton of sweetness. After a year of traveling I noticed ripe wines lose their sense of place anywhere.
Sometimes I think Chardonnay is more telling of terroir than Pinot Noir because you can remove yourself more.
The wines that excite me are high-end wines that don't cut any corners that are aiming for the very top we can do there.
Storm: I think you can have fruit-driven wines at lower alcohols. But it comes down to choosing your site correctly. My whole goal is to make Rhône varietals in a way that's balanced and represents Santa Ynez Valley. I don't think we have the vine age yet where we're going to make big structure Mourvèdres. Made in a more balanced style, we can see some of the southern Rhône style, where it's not just about fruit, but there's also an earthiness and a fungal component. I sometimes get a forest floor, mushroomy note in the Mourvèdre that I like to see.
Bonnacorsi: You learn that people have different palates. If people don't like my wine, I don't take it personally.
Chanin: If you try to make a wine to please everyone, you won't please anyone.
Gray: Kendall-Jackson Vintners Reserve Chardonnay pleases a lot of people.
Chorus: It doesn't please me.
Bonnacorsi: I like concentration in my wine. I look for it in everything: a combination of ripeness of the fruit and extended cold soak.
I've tried the Sandhi wines and the Evening Land wines. I don't think they're that different. I don't go out saying, "This is the more popular style." You'll taste wines from 30 years of Domaine Leroy and they first thing they'll say is, "This still has fruit left." You can't get that if you don't have fruit to begin with.
I don't have people turn the bottle around and look at the alcohol. Not in restaurants. Maybe in public tastings. There's no apologies about it. Our point of view on the wines is not the same as the public's.
I'm not trying to mimic other areas. When we started making wine in '99 our goal was to get to the Russian River. But we were in southern California and we had to get something closer. We tasted something from Greg Brewer and we thought, you can make this wine from the Central Coast.
Brewer: I'm not preoccupied with alcohol. I brought this (the Diatom Hana Shinobu Chard at 13.8% alcohol) because of what you wrote last time.
If you explore a territory with Chardonnay, some of that wine might end up at 17% alcohol. This couldn't be a more honest approach to Chardonnay. It's appropriate. (Our) 2010 (wines) ranged from 12.7 to 16.8 and I loved it.
Schalchin: I'm into pushing the limits. People who are in the camp of making riper flavors are always having to defend ourselves. I don't think people who make lower alcohol wines have to defend themselves.
Bonnacorsi: I make a Syrah from a very warm climate. It goes from green to ripe in a day. I don't like green flavors in wine.
Brewer: I never pick on Sundays. I respect our crews. I never have them pick more than eight hours. I would rather pick at 30 brix than keep the crew on a Sunday.
Brewer-Clifton made 100% stem inclusion in the '90s. We made some really bad wine sometimes. Now I wouldn't be that cocky. We've had divorces, had kids. We have to be more modest. Melville's a lot more responsible. It's bigger. For me to make 100,000 cases of whole-cluster (wine) for Melville is edgier than for me to make 100 cases of Brewer-Clifton.
Magdevski: I heard this story at a restaurant I was pouring at. The restaurant called Curt (Schalchin) and said, "I can't drink your wines on the first day, but they're beautiful on the second day. What should I do?" Curt said, "Drink them on the second day" (and hung up). Click!
Schalchin: It seems to me that the rock throwing comes from the other side. It seems like the alcohol debate is a one-sided fight and those of us on this side are just taking it. I appreciate all kinds of wines. It's just a style. Nobody should ever need to put anybody else down to give their own movement more credit.
[author] [author_image timthumb='on']http://palatepress.com/wp-content/uploads/2010/03/blake2.jpg[/author_image] [author_info]Wine writer W. Blake Gray is Chairman of the Electoral College of the Vintners Hall of Fame. Previously wine writer/editor for the San Francisco Chronicle, he has contributed articles on wine and sake to the Los Angeles Times, Food & Wine, Wine & Spirits, Wine Review Online, and a variety of other publications. He travels frequently to wine regions and enjoys coming home to San Francisco.[/author_info] [/author]