If you've never put your nose inside a few well-wrought barrels, it may be hard to understand just how excited winemakers can become about oak – and also, just how varied the contribution of oak to the profile of a wine can be. The range of smells, the different characters that jump at you, as you compare individual barrels, is simply astonishing.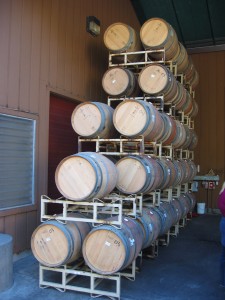 These thoughts about oak diversity came back to me while sipping a 2006 Platinum Meritage "Colbert Edition" from Cedar Creek, a respected winery from the Okanagan valley. The winery sent it out with obvious pride in achieving to snag four "impossible-to-get" barrels from of a total production of forty made from 350 year-old oak: French oak trees planted at the time when Jean-Baptiste Colbert was the ambitious architect of Louis XIV's glory. Barrels with a sense of history.
Obviously, this blend of Bordeaux varieties harvested late, at the end of a warm vintage, shows significant oak character – it was, after all, aged 21 months in those brand new, unique barrels. But the grapes were clearly well chosen, and had the stuffing to stand the oak treatment. Besides, that oak is very elegant and refined, with a nice dose of spiciness and fine tannins. Even though I rarely enjoy the vanilla-spice-coffee/cocoa continuum so prevalent in modern, oaky reds, this was something I could enjoy. If you're going to make such an oak-forward wine, it should be with that kind of elegant oak. But that doesn't happen all the time.
Different oaks for different folks
My first clear realization concerning oak diversity came in the summer of 2009, when I had the chance of doing several barrel tastings within a couple of weeks at some top Ontario wineries, both in Niagara and Prince Edward County, including Hidden Bench, Creekside, Closson Chase, Long Dog, Tawse, Lailey and Le Clos Jordanne,. I had done barrel tastings before, but the concentration of such tastings in time and the opportunity to discuss the subject in detail with winemakers like Jean-Martin Bouchard (then at Hidden Bench, now at Road 13, in the Okanagan) gave me a whole new perspective on the use of barrels and their influence on the personality of wines.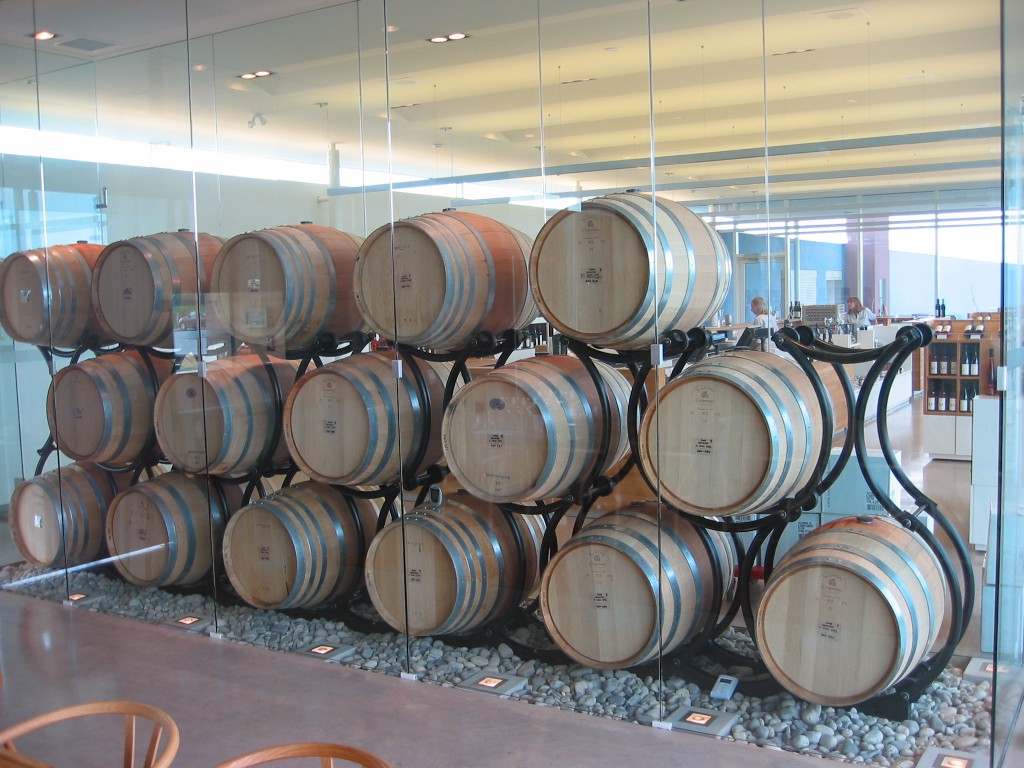 I was particularly struck by the behavior of barrels by Sirugue, a relatively small Burgundy cooperage. In a way, Sirugue's oak character, when new or in its first two or three years, can almost seem overwhelming. It strongly marks the character of the wine, yet as opposed to some other new or young barrels that seem to permeate the wine completely, Sirugues seem to cradle the wine, surrounding and supporting it without smothering it or hiding its character. I've tasted wines in Sirugue barrels several times, since then, and I've constantly been struck by that particular expression, found in no other barrel family.
Up to that run of cellar visits, I must admit that I had given little thought to the contribution of individual barrel makers to the profile of a wine: the parameters I used in thinking of oak were old vs new, French vs American, maybe light vs heavy toast, but not much more. Yet there is clearly much more.
As I went through cellars like that summer, I was constantly struck by just how different wines felt when coming out of barrels made by Damy, François Frères, Barthomieu, Dargaud & Jaeglé, Taransaud or, of course, Sirugue. To be clear: I mean the very same wine, from the same vineyard, harvested and processed the same way, at the same time. This wasn't just a question of oak flavoring from new barrels, either: older barrels also seemed to have distinct personalities.
I saw that again when I selected an older oak barrel for a winemaking experiment I did at Closson Chase, using some 2009 chardonnay from the estate vineyards. This time, I was smelling empty barrels, to choose one where those grapes would be barrel fermented. Not only did barrels from different barrel makers smell different, but barrels from the same cooperage, roughly the same age, also smelled different.
These variations are something that winemakers can use to their advantage: combining barrels from a number of different cooperages can potentially provide extra complexity to the wines, as different aromas and tannin structures emerge from the various barrels. Rarely does a winery concentrate on a single cooperage: the only exception I've seen is Hearts and Hands, in the Finger Lakes, where winemaker Tom Higgins is focused on François Frères barrels for his delicious pinot noirs.
A study in contrast
Oak use can be excessive, of course, whether for a high-end Cahors or for Okanagan Bordeaux blends for cool vintages – much cooler than the Colbert Edition's 2006 vintage. When judging at the Canadian Wine Awards, last August, several of the Bordeaux reds flights weren't tasting too well. Coming from two cool vintages, both in Ontario and British Columbia, they were marred, in many cases, by a rather damning combination: herbaceous if not downright vegetal character from grapes at the lower end of ripeness and the roasted, caramelized aromas drawn from higher toast levels (the amount of burning done by the coopers to finish and mark the inside surface of their barrels). Green and grilled isn't an awesome combination for producing a pleasant, balanced wine.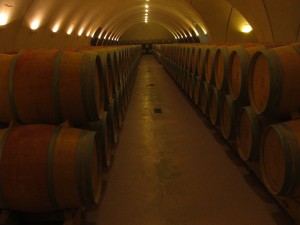 In the case of the Okanagan, that region had benefited from several warm vintages with long, pleasant autumn seasons allowing harvesting up to November and producing rich, ripe flavors that fit relatively well (or at least, not in an unpleasant fashion)  with a generous amount of well-toasted oak. In 2008 and 2009, however, frost had come early in October, leaving winegrowers in trouble, if they had not obtained sufficient maturity levels before those meteorological events. Using the same toasty vessels in a leaner year was not likely to produce the same balance.
As Christopher Tracy, winemaker at Channing Daughters, in Long Island, quipped as we were discussing oak regimens: "the problem often isn't too much oak, it's too little wine". There are many examples of wines that have seen lots of new oak, yet show little oak character. And long aging in barrel doesn't necessarily create wines where that factor becomes overwhelming: reds from Rioja like the very classic wines from Lopez de Heredia certainly come to mind as cases where the match seems to become seamless.
Meeting your match
Oak and barrels, like any other element of winemaking, have to be matched to the particular wine you have in your hands, in other to achieve a harmonious balance. White or red, grape variety, ripeness, acidity levels, concentration and extraction, even the soil the grapes grew on will affect the interaction between the wine and the barrel.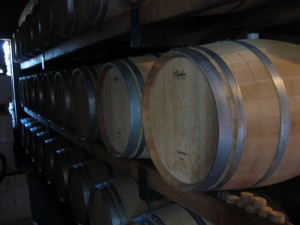 Several winemakers I've talked to in the last two years have pointed out, for instance, how higher acid whites seem to take on oak – and in particular, new oak – quite differently from, say, richer reds. The reasons why may not be entirely clear, in a biochemical sense (at least, I haven't heard or read anything specific on the subject), but the winemakers often notice it. For instance, Deborah Paskus, at Closson Chase, has noted how the oak regimen she used with Niagara chardonnay couldn't just be transposed to chardonnays from Prince Edward County, the new Ontario region where she was now working. Over the years, this has led her, notably, to reduce the amount of new oak used on County grapes. Paskus has also been experimenting with Canadian oak barrels produced by cooper Peter Bradford at Carriage House Cooperage, in Prince Edward County, barrels that bring another, distinctive character to the table.
Another variable is the interaction between the barrel and the grape variety. Some cooperages' barrels seem to agree more with cabernet sauvignon than with pinot noir, with chardonnay rather than with syrah. Aromatic similarities or compatibilities seem to emerge, as you explore the countless variations in these barrel-to-wine pairings.
Add factors like vintage variation to these considerations, and you can see that oak regimens shouldn't be uniformly managed, but rather adjusted to specific conditions – something that represents a considerable amount of difficulty, as barrels must obviously be ordered before the grapes are in the winery, let alone ripe. Choosing which barrels will be used for the upcoming vintage requires a certain amount of guesswork.
In other words, managing oak use and barrel aging isn't a question of adding a measurable amount of flavoring to a wine. It is a much more complex, interactive process that can lead the wine in many different directions. It may not be enough to ask "how much oak?". Indeed, it may be necessary to ask "what kind of oak?", and keep digging at the details, to know exactly how the barrels helped to shape a particular wine.
---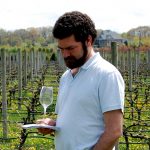 Rémy Charest is a Quebec City based journalist, writer, and translator. He has been writing about wine and food for over 12 years in various magazines and newspapers. He writes two wine blogs (The Wine Case, in English, and À chacun sa bouteille, in French) and, as if he didn't have enough things to do, he also started a food blog in English, The Food Case, and one in French, À chacun sa fourchette.