I was recently the guest of the Portland Indie Wine Festival, a very interesting event you will read more about later this month. It was my first trip to Portland and I was absolutely dumbfounded at the quality and variety of food in the city. These were a few of the amazing places that made me start to fall for the place, made me think "a little rain isn't so bad, not if I can eat at places like this."
Nostrana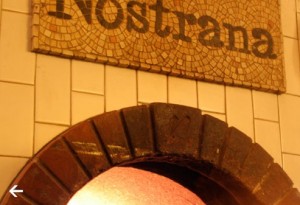 Dinner the first night was at Nostrana, by James Beard Foundation Best Chef: Northwest Finalist, Cathy Whims. Cathy is a charming southerner cooking up original twists on Northern Italian cooking in the Pacific Northwest. It is also possible that she has an identical twin, because I seemed to run into her wherever I went, always around wonderful food and happy people. Cathy's salad of cannellini beans and Albacore tuna conserva  was fascinating, an antipasti to linger over, the tuna offering an understated counterpoint to the perfectly cooked beans. The house charcuterie included testa, a pork and pistachio terrine, ciccioli braciole, rhubarb mostarda, and pepper jelly marinated cremini mushrooms. It only made one lap around the table and silence followed the tray until not a crumb could be seen. The most interesting dish of the night, and there were several more, was the Pizze La dolce vita, a thin naturally leavened crust under gorgonzola, anchovy, carmelized onion, and walnut sherry pesto. Imagine the best onion soup you ever tasted, make it twice as good, put it on a great pizza crust, then drizzle it with sherry and add an anchovy, and you will get just a glimpse out of the corner of your eye of how good this was.
The wine list matched the food, in quality and for pairing. It won the Leccio d'Oro 2011 from the Consorzio del Vino Brunello di Montalcino for its range of Montalcino wines, as well as their service, and it was clearly well-earned. Bottles, all reasonably priceed for the product, ranged from $27 for several choices to $295 for historic vintages of Col d'Orcia Brunella di Montalcino. It also included a good selection of wine by the glass and an unusually broad choice of sparkling wines, from Champagne to Prosecco and Moscato d'Asti.
Nostrana
1401 SE Morrison
Portland, OR
503.234.2427
Olympic Provisions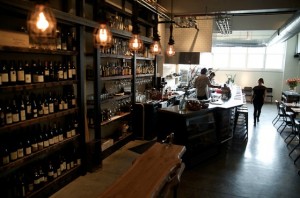 Olympic Provisions will turn the Vegetarian Pope into the High Priest of Pork. Oregon's first USDA certified meat curing facility, they take a pig, apply old-world training and techniques, and produce a myriad of marvelous things. In the back is a hospital-clean facility for making amazing salamis with local pork and freshly ground (really, they grind it as they make the sausage) spices. Out front, enjoy the fruits of their labors.
Start with the salamis, from French Saucissons, D'Alsace, D'Arles, and Sec, Italian Sopressata, Cacciatore, Finocciona, and Salami Nola, Spanish Salchichon, Chorizo Navare, Chorizo Andaluz, and Chorizo Riojo, and Greek Loukanika. Each is unique, with flavors ranging from a blast of chile and black pepper to intriguing cloves and orange zest. Different salamis are offered in the housemade charceuterie plate, along with pickles, mustard, and bread.
Other offerings include the house porchetta with balsamic onions and aioli on a ciabatta roll, a sandwich that combines sweet onions with perfectly cooked pork reminiscent of the sandwiches you can only find with the help of a Spanish-speaking friend hidden in the blocks off Calle Ocho in Miami. The house frankfurter and their own sweetheart ham  also make wonderful sandwiches, and if you still feel the need to take the gastronomic debauchery up a notch, have a side of schmaltz potatoes.
The wine list is broad and carefully selected to complement the food. It includes a long list of sparkling wines from France, Spain, and Italy, bubbles to balance out the garlic livepage.apple.comand spices, as well as a large selection of rosés. The by-the-glass list is well-considered and reasonably priced, and includes a surprisingly good selection of sherries (with a flight of three for just $9).
Olympic Provisions
1632 NW Thurman St.
Portland, OR 97209
503.894.8136
107 SE Washington St.
Portland, OR 97214
503.954.3663
Steven Smith Teamaker
Every wine lover within a hundred miles of Portland should work their way to Steven Smith Teamaker for a tasting with Steven Smith. Whatever you think of tea on your way there, on your way home your mind will be buzzing with how similar teas are to wine in their complexity, the changes great tea makes from attack, to mid-palate, to finish, and how different teas are like different grapes, making drinks that can loosely be called "tea," but having character as varied as you will find between Cabernet Sauvignon and Croation Pošip.
Chardonnay lovers should be sure to try the White Petal, a white tea, made from the top leaf and bud of the plant, hand-crushed and blended with chamomile from an oasis south of Cairo, and osmanthus flowers from China. Aromas of white peaches waft up from the tasting bowl, with toast and white peaces on the palate.
Fez, a green tea, was described by Steven's son Jack (Jack is the single coolest, most self-possessed, impressive twelve-year old I ever met – if you get to meet Jack  during your tasting, consider that a bonus) as "a real show of flavors." Jack was right. This Moroccan style tea gets its lemon flavor from Australian lemon myrtle and its spearmint from Oregon. The spearmint & lemon stand out, more spearmint on the nose than on the palate, where it offers up delicate spearmint flavors with a very light lemon background, as well as tannins from the tea.
The black teas were also amazing, offering flavors as varied as clover honey and pecan shells. My favorite was the Lord Bergamot, a twist on Earl Gray that added bergamot to traditional black tea. The nose was incredibly fruity. On the palate, the tannins are very light, the fruit flavors lovely. It shows white-floral flavored citrus and a blend of very light lemon and valencia orange, all with a gently tannic black tea background. Delicious.
Herbal teas were tasted, too. The two best were Red Nectar, a blend of african Rooibos offering up flavors of apricot with hints of a woody background, and Big Hibiscus, an intriguing combination of tart red fruits and enormous florals, like roses and rose-scented talc. This will be wonderful as a hot or cold tea.
We also tasted some bottled cold teas, but they were truly gilding the lilly, stomping on the delicate and complex tea flavors with a hobnailed sugar boot. You are far better getting the teas and making your own cold variations without the sweetener.
Be sure to tell him Palate Press sent you. It won't make the slightest bit of difference to him, but we'd like the credit because we know you will love it.
Steven Smith Teamaker
1626 NW Thurman Street
Portland, Oregon
800.624.9531
Lucky Strike
Ken Collura, the Sommelier at Andina (please see below) said "eat at Lucky Strike, it's the best Szechuan I ever had." One bite at Lucky Strike led to what we will now call the Collura Rule. The Collura Rule goes like this- "if Ken Collura tells you to eat somewhere, go there immediately."
Lucky Strike is hard to find, one door down from the corner of the street, with a small ground-level sign. It is small, seating just twenty-five, plus perhaps eight seats around the bar. It is a treasure.
Start with a Passion Pit, a cocktail made with house-infused thai chili vodka and passion fruit puree, rimmed with cane sugar. The remarkable sweet and hot combination, with a smoky background, set the palate for the meal to follow. Ken said "get the Kung Pao," so I got the Kung Pao. Thank you, Ken. After a couple of days of meat (see Olympic Provisions, above), I was ready to give m body a break, so I went with the King Pao Tofu, along with another of Ken's recommendations, the Beans and Beans. The tofu was crisp on the outside, exploding with flavor on every bite. It was smoky, vinegar-tart and dried chili-hot, the peanuts and scallions adding richness over jasmine rice. The Beans and Beans were string beans with fermented black soy beans, with plenty of garlic and rich umami flavors. For the record, Ken also recommended the Guiness pork ribs, but I was eating alone and could not handle a third dish. But if you can, I would love to hear how they were.
My only mistake at Lucky Strike was with the wine list. I was hoping for an off-dry Riesling to act as counter-point to the heat, but probably should have gone with the Torre Oria Cava Brut.
Lucky Strike
3862 SE Hawthorne Blvd.
Portland, OR
503.206.8292
EaT: An OysterBar
Ken also recommended EaT: An OysterBar, so off we went when next dinner called. Don't go looking for something pretentious. EaT is a Creole hangout with a Pacific Northwest oyster board. The "E" is for Ethan and the "T" for Tobias, the owners of the joint. We met Ethan, who could hardly wait to share his own list of great restaurants for the next trip. I won't tell you what they are, but keep an eye open for the "Ethan Rule" after my next visit to PDX.
We started with a bowl of fried pickles. I've had them before as spears, usually heavily battered and thick-cut. These were different. They were thin, the batter light and crisp, and liberally sprinkled with pepper. I would not hesitate to make these crispy hot delights the centerpiece of a simple meal.
The pickles were followed by a mixed plate of oysters that ranged from sweet to salty, tiny to fat. We slurped them from the half-shells and paired them with two different oyster beers from the tap. These are small-production beers made with oyster shells, adding just a bit of oyster umami, and matching perfectly with the food.
Ken said "get the Étouffée." I got the Étouffée. The sweet shrimp and cajun spices transported me back to Bourbon Street. The Po' Boy had plenty of fried oysters, remarkably crisp and fresh, over cabbage and a delicious sauce. Ethan suggested the Duck Gumbo, a blend of duck confit legs, smoked breast, and veggies in a dark sauce. It was slightly sweet, and intriguing blend of New Orleans cajun and North Carolina barbecue.
They have some wine, but try a beer from the four rotating taps, or one of eight different choices of Absinthe or forty different whiskies.
EaT: An Oyster Bar
3808 N. Williams
Portland, OR 97227
503.281.1222
Andina Restaurant
This is an amazing restaurant in an amazing space. The dining room is always full, but there are tables in the bar and in the courtyard downstairs, as well as several private dining rooms and an entire banquet room with its own kitchen and bar. The decor is upscale and inviting, every seat taken, but designed well enough you could hear your table-mate without raising your voice.
The food was Peruvian, and delicious. Choices ranged from vegetarian quinoa to Peruvian tartare with quail egg. We started with Pimento Piquillo Relleno, peppers stuffed with cheese, quinoa, and Serrano ham. The peppers were mild, the ham salty, with quinoa adding a nutty flavor and mild cheese filling out the dish.
We also had a tiny tappas plate, a single bite of roasted salmon over sweet potato puree. The salmon was delicate and perfectly cooked, moist and tender all the way through, the puree just slightly sweet and nutty, all served with a tiny spear of yucca.
De Pescado "5 Elementos" was the next course, a traditional Peruvian cebiche of fresh fish. It was served with a slice of corn on the cob. Our server recommended cutting the kernels from the cob and adding them to the fish, and he was right. The sweet corn paired perfectly with the lime, onion, and perfect fish. Wonderful.
We drank 2010 Txakoli Gurra Txaga with the first courses. Imagine, if you can, summer in a glass, and you will capture the sense of the wine perfectly. On the nose it offers ginger and lime pith, on the palate it shows Meyer lemon and a touch of ginger with white pepper. Flavors are very mild, alcohol just 10.5%, offering more freshness than flavor, a bright accompaniment to the food, particularly the cebiche.
Andina offered several vegetarian choices for the main course. Choosing between  Locro Serano con Granos Andinos, a vegetarian stew of squash with Andean tubers and cheese, and Quinota de Hongas de la Montaña, a golden beet and local mushroom quionoa rissoto with truffle oil, was difficult, at least until Ken came to the table. "Go with the quinoa," he said, so I did. It was delicious, tasting nutty, sweet from the beets and rich and earthy from the mushrooms and truffle oil.
Ken Collura
The wine list was put together by Ken Collura, formerly the head sommelier at Bern's Steak House in Tampa, home of one of the world's greatest wine cellars. At Andina, Ken put together a remarkable list that ranges from Basque Gurrutxaga Txakoli to Cristal, with a wide selection of wines from South America and local Oregon favorites, as well as traditional choices from Spain, France, and Italy. The Wine of the Month while we were there was 2008 Durigutti Bonarda, from Mondoza, Argentina. It paired well with my quinoa and my table-mate's salmon, offering bright, fresh dark and red fruit flavors and bright acids.
Andina Restaurant
1314 NW Glisan
Portland, OR
503.228.9535
Bar Avignon
Think casual comfort food with a gourmet twist and a killer wine list, and you will have Bar Avignon. From simple and delicious fried chicken to  crostini with albacore conserva, white bean and olivada, the restaurant delivers. Your server will start you with warm house marinated olives, then offer the crostini, paprika spiced local hazelnuts, and wild boar ribs with tomato chutney. They also offer a broad selection of cheese and charcuterie. The duck rilette with caperberries and the chicken liver mousse with red onion jam were favorites. For entrée choose from the constantly rotating menu of fresh selections.
The wine list is special, as is the mix of old and new in cocktails. I went with the Vieux Carré, a creative twist on the Manhattan, with rye whiskey, Dolin sweet vermouth, Benedictine, angostura and peychaud bitters, and lemon. Perfect. The wine list is well planned, broad enough to offer a choice for every dish and palate, but compact enough to fit on a single page. That takes attention and talent. Try the Eyrie Vineyards Pinot Meunier from Dundee Hills for something a little different, or the Charly Thévenet Régnié "Grain & Granit," for well refined juiciness. I don't remember everything we ordered, but when sitting at a table with Ken Collura and Talia Baiocchi, it's best to just sit back and let other people make the decisions.
Bar Avignon
2138 SE Division Street
Portland, OR
503.517.0808
---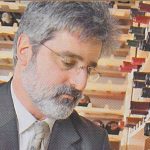 David Honig, the Publisher, looked at the thousands of quality wine blogs and realized there was a ready-made staff for the best wine magazine in the world. David has been running 2 Days per Bottle for two years now, and started up The 89 Project, focusing on that most unfortunate of scores, "89." He is a self-educated oenophile, and defers to the tremendous experience and wisdom of the amazing staff at PALATE PRESS: The Online Wine Magazine.