There's a secret menu at Hop Woo BBQ in downtown Los Angeles, and it's well worth sharing.
Eddie Lin, of Deep End Dining and NPR's "Good Food," recently asked a group of food bloggers to join him for a special off-the-menu "romantic dinner" hosted by Chef Lupe Liang. Each dish—prepared with love—is based on an ingredient that stimulates a certain spot on the map of human sexuality. Be it animal, vegetable, or mineral, the intention of the ingestion is to get one's motor running.
Because I'm romantic, I asked some of LA's top wine professionals/sommeliers to recommend wines to pair with each dish.
Ladies and gentlemen, get ready to have your corks popped.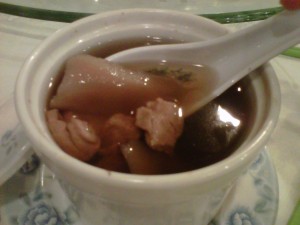 First, a bit of bull
According to Chinese medicine, bull penis is something like Viagra … if that little blue pill was plugged into a freight train roaring downhill. Chef Lupe prepares his penis in a beef broth, flavored with bark and goji berries and a host of secret nutritional/medicinal ingredients said to refresh the system. There are two cuts of meat in the soup, and they both have different consistencies; one tastes like stew meat, the other is like a slippery cross between flan and tendon. The soup, overall, is actually very pleasant. And warming.
To get the party started, I chose to pair this course myself. An oxidized wine like the Hidalgo La Gitana Manzanilla (a bone-dry non-vintage sherry), provides a layered and earthy compliment to the soup's richness and spices. Unlike sweet dessert sherry, Manzanilla is supple and fresh. Intermingled with the characteristic oxidized nuttiness is a certain tanginess, along with notes of sea spray. It's a wine that's light on its feet. It's charming. It's a great way to get things started.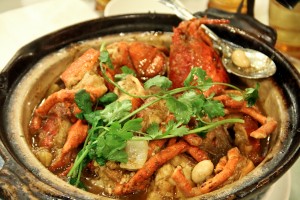 Getting a rooster going
The next course, naturally, was ballsy. Rooster testicles. A succulent, sectioned whole lobster and rice vermicelli noodles, served in a light brown sauce. The dish was salty, with just a tinge of sweetness. But the pièce de résistance—or pièces, rather—were the small, white, quasi-lima-bean shaped pods, approximately one-inch in size. The testicles tasted a little like scallops. For better or worse, they sort of exploded when bitten.
For the pairing, Sommelier Extraordinaire Mark Mendoza—of the David Myers Group of restaurants, currently opening Comme Ça Las Vegas—suggests a stony Chablis like the Montmains 1er Cru by Domaine Willam Fèvre 2007. "This stunning wine is laden with minerality and honeyed white fruits", he crows. "The body is rich, the acidity clean, and the finish is long." It's a wine you can feel cocky … proud to pour for loved ones.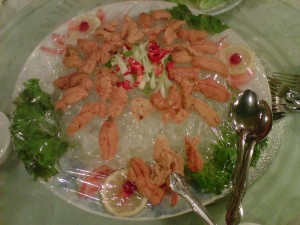 A more prickly choice
Sea urchin is soft, moist, velvety, and also prized in Chinese medicine to treat the kidneys – the organs thought to rule one's sexual essence and energy. Maybe that's because the delectable orange roe that's so popular in sushi restaurants—and what we ate in simple, unadorned slices for our third course—isn't roe at all. In fact, it's the part of the animal that produces the roe: Uni is the animal's gonads. No wonder the flesh tastes so provocative and wild.
Who better to pair this course than Michael Shearin, sommelier and beverage director for Celestino Drago's restaurants and overlord of the imbibe-able?  He suggests Domaine des Baumard, Clos du Papillon, Savennières 2006. Shearin says: "The wine is named after the butterfly-shaped vineyard that it comes from and it beautifully expresses the unique complexity of the chenin blanc grape. The wine has a purity of chalky and earthy minerality that frames flavors of honeysuckle and white flowers and then gives way to the subtle fruit flavors of quince, lime and lemon pith.  The wine always has bright acidity and the subtle earthy flavors that help to showcase the slightly gamey flavors of the uni while cutting through its rich texture, leaving you wanting more – and what's sexier than wanting more?!  Baumard is one if the masters of savennières and his greatest expression of the grape has an amazingly long finish that always satisfies."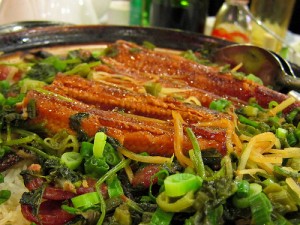 A hot pot of eel
A traditional hot pot of grilled eel came next. It was served over sticky rice with pork sausage and greens. It can hardly come as a surprise that eel, in its long, muscular suppleness, would be good for the sexy bits. Practitioners of Chinese medicine say it builds energy and vitality and stamina. Apparently it also cures hemorrhoids. So there's that…
With the eel course – and to turn up the heat on the aphrodisiac aspect – Jim Knight, winemaker, wine buyer and part owner of LA's The Wine House, recommends "Rosé champagne all the way. And I would go with one of my favorites: NV H. Billiot Brut Rosé Grand Cru. Since it is all about [my fiancée] and rosé champagne is her favorite beverage of all time—I would score big points with it. But, just as important, the pairing works very well. The acid in rosé champagne, balanced with the slight sweetness of the dosage, creates a perfect match with the sweetness of the eel."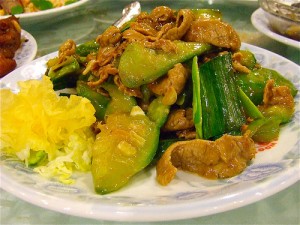 Get your venison
Venison is considered a "hot food." It contains properties that allegedly fortify the blood and organs. It also strengthens the soft parts—if you know what I'm sayin'. The deer in our fifth course was stir-fried with cucumber-like star melon and fresh, pungent leeks. The preparation felt clean and simple, and it was totally satisfying.
Knowing that fruit goes with game, Marilyn Snee, the brilliant sommelier behind Los Angeles restaurant/wine bar Upstairs2 (upstairs from The Wine House), recommends 2007 Mas Martinet Menut Priorat. This Priorat—a big, sleek, fruit/coffee/tobacco powerhouse—is actually smoother than one might expect, due to winemaker Sara Perez's talent, and her choice of neutral oak. Compared to many overbearing, burly Priorat wines, this one is feminine and soft. It's warm and inviting.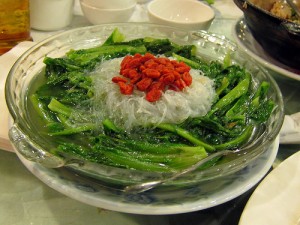 A blush and a happy ending
What goes up must come down, and what gets hot must also cool off. For our happy ending, Chef Lupe prepared a dish of Chinese vegetables and goji berries over rice vermicelli—an appealing cool-down after a hot meal. It's hardly surprising that we'd be finished off with bok choy, as it aids digestion. It also strengthens the reproductive organs, while goji berries improve sexual function and fertility. So … anyone ready for round two?
To help relax and bask in the glow of so much deliciousness, Jared Hooper, sommelier at the brand-new The Royce in Pasadena and winner of the 2010 Southern California Restaurant Writers Association's Sommelier of the Year award, recommends a 2009 Robert Sinskey Vin Gris (available only on auction, at this point). Jared explains that this wine is "a rosé of 100% pinot noir. The beauty here is of a wine that is not a saignée – a bleed off of already fermenting wine – but rather a wine in its own right, a lighter style of pinot noir for its own sake. An elegant riff on an elegant grape, in its virginal form, if you will. Because really, what do you pair with goji berries anyway?" It's worth reading how the producer emotes about his wine: "aromas of wild strawberry and lime mingle with just a hint of sweet herbs. Those berries burst on the palate joined by notes of cranberry and the part of a watermelon just beneath the pink fruit." And you thought my writing was racy…

---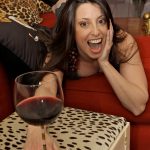 Arianna snacks, sups, sips and swallows – and lives to write about it. Always hungry for food adventures, she stays thirsty for wine and the occasional quality cocktail, as well. When she isn't buried in her laptop or chasing after a food truck, she's taking her son on adventures across Los Angeles and opening his mind to the amazing beauty of the world, its people, and the universality of coming together over a good meal. You can read more about her delicious escapades at GrapeSmart.net, MutineerMagazine.com, FoodTruckTimes.com and other assorted fine websites.