In a roomful of powerhouse producers, in a region full of icons, it's always nice to find a hidden gem – and a great story more than 40 years in the making.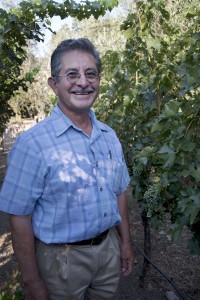 I first met Mario Bazán at Premier Napa Valley last February.  The annual event, which takes place at The Culinary Institute of America at Greystone, draws hundreds of professionals to a tasting and auction of one-of-a-kind wines from over 200 Napa Vintners.  I arrived early in anticipation of large crowds and power tasters.  The crowds quickly gathered and it soon became loud and difficult to maneuver or carry on a conversation.  Many of the wines were indeed fantastic, but I wasn't there to buy, I was there to learn.
In a sea of the most prestigious names in Napa Valley one unlikely producer stood out to me.  His name was Mario Bazán, a quiet immigrant from Mexico.  I was intrigued by how this man came to produce his own wine, and couldn't stop thinking about his story even months after returning home.
This past August, I returned to meet with Mario and his wife Gloria at their home in Napa. I wanted to learn more.
I arrived midmorning, the sun was already blazing down on the vineyard, and we sat in the shade just outside their home.   I was greeted with a small glass of his 2011 Sauvignon Blanc with fresh and lively aromas of grapefruit and sweet passion fruit, a refreshing compliment to that warm summer day. As the family roosters roamed the grounds and called out on occasion Mario started at the beginning.
Humble beginnings
Growing up in Oaxaca, Mexico, Mario Bazán never imagined he'd end up with a wine label in Napa Valley.
When he immigrated to the US in 1973, the intent was to make some money then head back to Oaxaca.  "I was told you could save as much as $2,000-$3,000 during harvest, so I stayed one season as a laborer".  When he discovered that there was work year round he decided to stay permanently.   But he would need to learn new skills.  He began working for Joseph Phelps Vineyards and then found his first mentor, Alex Vyborny, who owned a vineyard management company.  Vyborny took Bazán under his wings and taught him to drive a tractor.  "He was a model for me," said Bazán.  "I thought: if he is successful, I want to be successful like him.  But I'll need to work hard."
"Growing up in Mexico, you did just what you needed to do.  It was here (in Napa) where I learned real hard work".
After five years Bazán ended up at Robert Mondavi Winery, where he would spend the next sixteen years of his life, first as a general laborer, then tractor driver, and eventually foreman.  At the time, Mondavi was very experimental and encouraged growth and creativity in his employees, something Bazán appreciated.
Challenges and opportunities
I asked Bazán what his biggest challenge was at the time?  "The language barrier.  I went my first ten years in Napa speaking no English.  I realized if I wanted to grow in this business I needed to learn the language."
"At Mondavi, they used to give us goals." Bazán soon realized one of his goals was to learn English.  So he did, by taking night classes.
After more than a decade and a half at Mondavi, Bazán eventually grew dissatisfied.
"I started thinking, the only way to become satisfied is to have your own company," and made the decision to leave.  "It was scary because there (Mondavi), I had security and good pay," but realized that working for any company you can only go so far, especially without a formal education.
He ended up working with Stag's Leap Wine Cellars under the condition that the first year would focus on just Stag's Leap, and in the second he could start his own vineyard management company.
It was there that he found another mentor, Warren Winiarski, founder of Stag's Leap.  Winiarski took a special liking to Bazán and encouraged him in his business ventures.
Mario's interest in learning and growing has never ended.  Mario's wife and business partner Gloria, adds, "Part of his success is that he doesn't assume that he knows everything.  He's always open to learning."
A wine of their own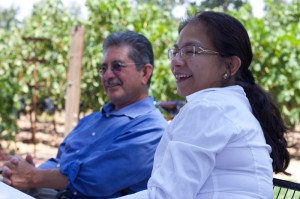 Bazán started his vineyard management company in 1997, but in the back of his mind he wanted to see his name on a label.
Fast-forward to 2003 Mario met Gloria, his soon to be wife and a pediatric dentist living in Mexico.  "Since I met Mario he always talked about making his own wine."
"After two years of long distance dating we were married in 2005, I moved to Napa, we bought this property, and started making wine.  It was a busy year!" Gloria jokes.
"Living in Mexico I didn't know anything about the wine business.  So when Mario said he wanted to make wine, I thought it sounded like a 'fun' project.  And leaving dentistry I didn't have anything to do at the time. So I was in."
After a sigh and a long pause, she continues, "We didn't have any idea of the regulations and challenges of putting a wine on the market!"
By the time they released their first wine, a Cabernet Sauvignon, Gloria had given birth to twin boys, the economy came to a halt, and nobody wanted to try the wines.  They were in survival mode.   "We realized 2008 was not the best time to put a new wine on the market".
Their luck would change when Robert Parker happened to taste their wine at an event and awarded it 92 points.  "It wasn't an 'official' review since he tasted it at an event, but it was very encouraging for us to keep going".
"I began to understand that it's important for Mario to have something tangible to express his years of hard work.  So we will keep making wine."
For Mario his wines represent all the people that have helped him along the way. "Without that help I wouldn't be who I am today.  Each bottle expresses all the relationships along the way that helped me to get where I am."
Not only does Mario consider the wine inside homage to those who have helped him, but also the label is a reflection of Mario's heritage.  The image of birds' wings on his label was inspired by the traditional embroidery work of the native Oaxacan women.  The birds represent those that flocked–or immigrated–to the region.  The wings on each side are different shapes.  Imperfect.  In embroidery, or any handmade product, nothing is ever perfectly symmetrical.  The Bazáns relate this to wine.  Each vintage will always be different from the next.
What about Gloria?
I asked Gloria if she ever had thoughts of going back into dentistry.  "In the beginning I thought I would", but after having children her priorities changed.  She explained, "I soon realized I had no idea what Mario was doing, and thought 'what if something were to happened to Mario, what would I do'?  We have a business together, and I would have to sell it because I know nothing about it.  I felt powerless.  I've always believed in education and had been a professional all my life.  I like to know how things work and wanted to understand this side of our lives."
So, when the twins were two years old she enrolled in enology and viticulture classes at Napa Valley College so that she could learn the business.
Gloria also has a great teacher in her husband. "When the babies were small, we'd go out to the vineyard and I'd watch Mario prune.  He'd be holding one baby, and I the other. Pruning is an important step; you are designing the plant, and determining how the fruit will grow.  Mario does this in an amazing way. It's as if he's sketching the plant".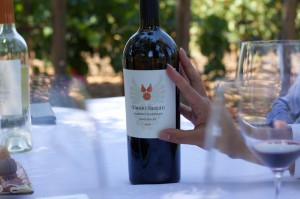 They also have talented help.  Their first few vintages were made with the help of Victoria Coleman who Bazán met through Stag's Leap.  In April of 2013 David DeSante joined as their Consulting Enologist, bringing over two decades of experience.  "Although we are very proud of everything we had under Victoria's stewardship, moving to David will take us to a new level."  The 2008 Cabernet Sauvignon we tasted that afternoon had a striking elegance to it.  It wasn't a powerhouse wine full of oak and tannins, but it was focused and structured with complex aromas of spice, tobacco, forest floor, and elegant dark berry fruit in the background.
Though their production is small, only about 200-300 cases per year of Cabernet Sauvignon and Sauvignon Blanc, they still find it challenging to sell in a competitive marketplace.  "We are small, so many distributors don't want to talk to us.  We just have to believe in our story and our wines, " Gloria explains.  "When consumers hear our story they want to support us.  People like to hear a successful immigrant story".   Mario adds, "It's one thing to have a good story, but you also need to have a good product.  We believe we have a good product, and with David's help we are looking forward to having an even better one."
Giving back
When I first tasted Bazán's wines at Premier Napa Valley I was struck to learn that he is also involved in the Napa Sonoma Mexican-American Vintners Association (NSMAVA), an organization I hadn't known about until that day.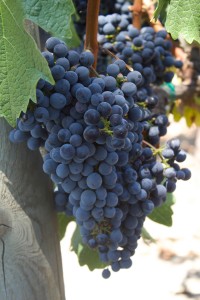 I asked Mario about the importance of being involved with NSMAVA.    I was surprised to hear that in the beginning Mario was hesitant to join the small association that currently has fourteen members.  "I didn't want to be seen as special or different," he shared.  "I am a part of Napa as a whole.  And the people who helped me along that away weren't just Mexican.  It was everyone.  I don't want to feel special; I just want to create good wine.  I feel different now."
Mario realized part of the goal of NSMAVA is to raise awareness of the Mexican Americans and immigrants who have contributed to the valley's success, and also to be a model for the next generation.  In addition to raising awareness, the organization raises scholarship money for high school immigrants, or children of immigrants.  This is something the Bazán's are particularly passionate about — supporting youth who have stories akin to Mario's and being a model for future generations.
This is also something I can appreciate and respect, coming from a Mexican American background and attending college on a Hispanic Scholarship.  I admire the people, like the Bazán's, who believe in and actively support future generations.
Mario Bazán's journey has been a lifelong one, full of challenges and successes.  Leaving his home that sunny afternoon, with the roosters still running about the vineyard, I couldn't stop thinking about his journey ahead with his new family and wine business.
I'm so happy I met him, in the middle of the large sea of Napa vintners last February.  It's easy to forget, in an area of prestigious names in Napa, that there are also many, like Bazán, who have pursued their dreams, slowly, one step at a time.