"Smile!" I felt the vineyard stones crunch under my feet as I backed up for the photo, squinting and grinning in the clean midday light. Head-trained vines stood in stiff regiments behind me, the scenery yielding to craggy mountains against a backdrop of crystalline sky.
It was my fourth and final day of winery visits in Murcia, Spain, a guest of the local development agency, Instituto de Fomento de la Región de Murcia. They had invited a small group of American wine, food, and travel writers to sample the region's wine and see what it can do.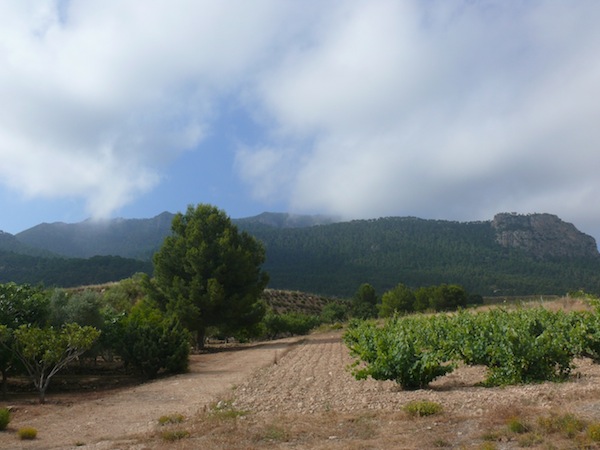 That wine is Monastrell, and Murcia is its native home. In its best expression, it exhibits great concentration, muscular tannins, earthy red fruits, juicy acidity, and a meaty, almost smoky undercurrent.
Our tasting tour canvased the Jumilla, Yecla, and Bullas DOs. While these names are less familiar to wine lovers than Spain's Rioja, Ribera del Duero, or Jerez, Murcia's star is rising. The region is shedding its bulk-wine reputation and focusing on quality wines with international appeal.
By the end of the trip I'd formally catalogued nearly seventy-five wines from a dozen wineries. I'd be leaving with a smile.
Monastrell: An Old Vine With Roots in Spain
Monastrell originated in Spain, and while records show it was in cultivation during the 1300s, it's likely centuries older. The vine made its way into France in the 16th century, taking root in Provence and Roussillon and acquiring the name mourvèdre. Much later, it crossed the shores to California, Australia, and a smattering of other regions.
But Spain is its heartland, and the country still produces about 85% of the world's Monastrell. Over half of that is grown in this southern province of Murcia, where vines now stripe over 80,000 acres of high inland valleys.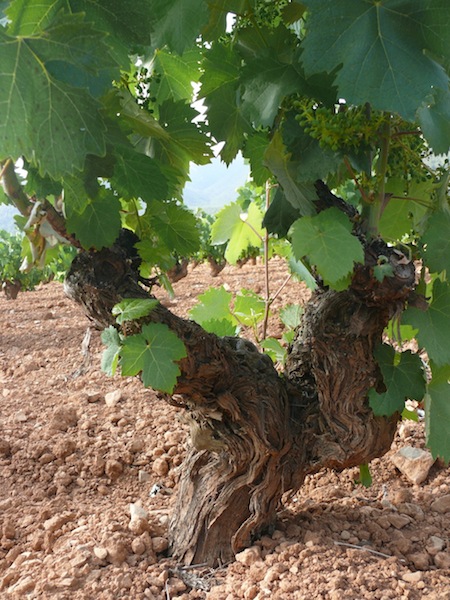 The province hugs the Mediterranean coast, situated at about the same latitude as Greece. It receives 3,000 hours of sunshine each year, but many vineyards lie at elevations of 1,500 to 2,000 feet or more; this tempers the mesoclimate and makes growing zones more continental.
Still, it's a climate of extremes. Although the average annual temperature is about 65°F, winter weather dips below freezing for weeks at a time, and in summer the mercury routinely tops 100°F. It's also arid, receiving only about a foot of rain per year.
But the long history of monastrell cultivation here has produced a grape well suited to the territory. It tolerates drought, sending its roots deep into limestone and dense sedimentary soils in search of water. Its stiff vertical shoots take readily to bush training—in Spanish, en vaso—no trellis required, but hand harvesting is a must, as is hand cultivation.
If the blast-furnace heat, parched landscape, and occasional hailstorms conspire to make the vines struggle, the conditions make rot and bugs struggle, too. That means vineyards can be farmed organically, or at least with minimal chemical intervention. Plus, phylloxera, a vine pest that laid waste to European vineyards but needs moisture to survive, never got a firm toehold in these parched and thirsty soils.
The upshot is that Murcia is now carpeted with mostly organically farmed, own-rooted, very old-vine monastrell with its feet deep in limestone. It's a recipe for premium wines.
"Que pegan a la cabeza."
For decades, though, these wines were far from premium. Throughout most of the 20th century, the region was awash in clumsy, tannic Monastrell that was low in acidity and high in alcohol. Most of the production was held in vast, epoxy-coated concrete cisterns before being shipped off in bulk to other countries, where it was either bottled or blended into local wines to boost body. The wines that stuck around were so coarse the locals shunned them.
"They called them 'vinos cabezónes'—pigheaded wines," recalls winemaker Daniel Jimenez, a Frenchman who's been making wine in the Yecla DO for the last decade. And not only that: Pigheaded wines "que pegan a la cabeza"—that kick you in the head.
The Jump to Quality
Not anymore. Over the last two decades, many producers have made a leap from bulk to bottle, modifying vineyard practices to amp fruit quality, introducing stainless steel tanks and temperature-controlled fermentation, and choosing to age wines in oak to add polish. They've also begun holding the best wines at least two years before release to earn Crianza status, or three for Reserva. Even the joven or young wines often see wood for a few months before release.
Many wineries are using 225-liter French and American oak barrels. Monastrell, like Rioja's Tempranillo, has enough native structure to handle this quantity of oak and oxygen exposure during élevage, and in nearly every wine I tasted, the oak felt correct, used to add shine rather than notable oak character. A few are using larger vessels, and even, in an ironic twist, experimenting with concrete aging.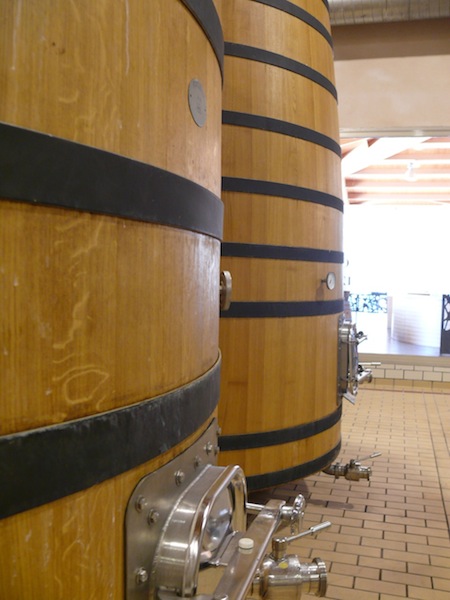 Bodega Señorio de Barahonda, in Yecla, chose larger cooperage—500-liter French oak—when they started producing bottled wines in 1999. "We've done it from the beginning, and now more wineries are following it," says Alfredo Candela, adding that this vessel size lets the fruit stand forward. "It's more elegant, more fresh," he says.
Elena Selva Olivares agrees. Bodegas Olivares is currently phasing out small barrels in favor of 6,000- and 10,000-liter wood tanks. The larger size is common in southern France, where it's used for monastrell's dopplegänger, mourvèdre. It exposes the wine to less oak and oxygen during élevage, letting it knit together without adding perceptible oak flavors. The tanks are expensive, but worth it, says Olivares, "as a way of trying to preserve the character of the grape."
International Appeal—And Success
Producers here have also introduced international varieties like cabernet sauvignon, merlot, petit verdot, and syrah into the region, plus Spain's own tempranillo and garnacha. While these require drip irrigation to perform well in this region, the fruit can be used in blends to smooth monastrell's sometimes rough edges.
"Monastrell has a strong personality for beginners," says Daniel Jimenez. "It's not a Merlot." True, but careful aging, plus an occasional dash of blending grapes, have boosted the wine's approachability to those more accustomed to international styles. Many wineries have built extremely successful export programs for the fine wine markets in Europe, North America, and Asia (particularly China and Japan).
The wine's affordability helps too. Despite production expenses—oak barrels don't come cheap, to say nothing of hand cultivation, freight, taxes, distribution—high quality Monastrell and Monastrell blends from Murcia are readily available in the United States for as little as $9. And while some prices rise to the premium range, I tasted many terrific wines that retail between $12 and $15.
"We're quality winemakers, but at a very affordable level," says Daniel Castaño of Bodegas Castaño, in Yecla, summing up the approach of many of his peers.
With wine this good, I worry that low prices could telegraph low quality to consumers unfamiliar with them. At Bodegas La Purísima, for example, I tasted a delicious rosado that will soon be available in the U.S. for about $10. It's bottled with an elegant package and drinks like a wine costing much more—I've paid $18 or $20 for rosés I've enjoyed far less. Since many consumers use price to gauge quality, some might pass this over, assuming it's confected or simplistic.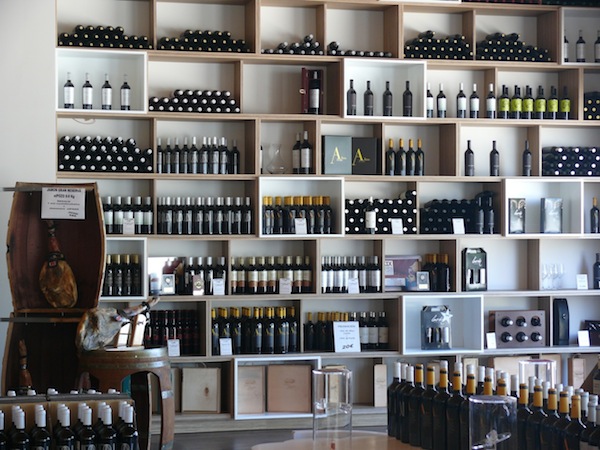 That would be a pity. The wines from Murcia I tasted were almost uniformly impressive. Some have lovely herbal top-notes above delicate red fruits; others have an almost feral, rare meat wildness, and underneath a kernel of smoldering earth. The unifying factor is a vibrancy that comes from the balance of fruit, tannin, and refreshing acidity.
These qualities also make this wine terrific with food, especially (of course) Mediterranean cuisine: grilled or cured meats, roasted vegetables, tomato-braised seafood, fried squid, anchovies, paella, bean croquettes, goat cheese, as well as the regional specialties—Jamón, Manchego, olives, and Marcona almonds—that seemed to provision the table at every meal.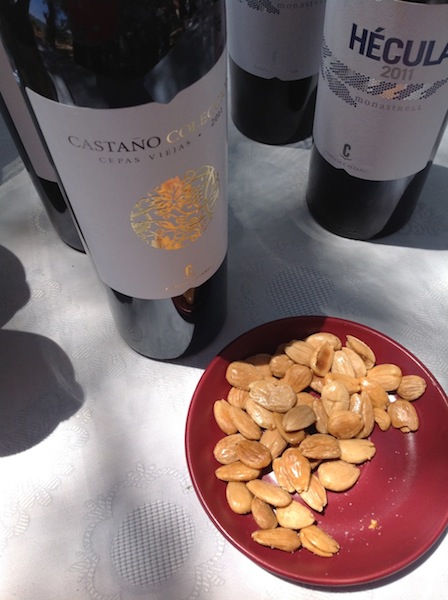 The best news to me is that the region's winemakers seem to have devised a way to honor Monastrell's identity, its essential qualities, without dumbing it down by excessive oak or heavy-handed blending. Monastrell has real character. It would be a shame to hide it.
"Monastrell is our star, and we have to focus on it," concludes Alfredo Candela, of Barahonda. "It's the only reason we're selling around the world. It's what makes us different. One hundred percent Monastrell—it's from Murcia."
 • • •
Wines To Seek Out
A recommended list, by no means exhaustive, of red, rosado, and dessert Monastrell and Monastrell blends from Murcia:
Bodegas La Purísima Rosado 2012 ($10): A blend of monastrell, syrah, and merlot, this wine is deep pink and redolent of the scent of fresh strawberries and mint. Light-boded but with great acidity and pleasing grip from the tannin, it drinks like a rosé costing much more.
Bodegas La Purísima Enescencia Monastrell Dulce 2011 ($22, 750ml): A delicious 100% monastrell dessert wine, harvested from dried old-vine grapes. It's opaque black cherry in color with notes of fig, mint, and chocolate. Sweet but not too sweet, with good acidity, and it clocks in at only 13% alcohol. It reads a little like Tawny Port, but is lighter and more refreshing. It would be terrific with a cheese course.
Bodegas Juan Gil "12 Meses" 2011 ($12): This 100% monastrell is a really big wine with lots going on: fruit, spice, meat, earth, tannin, oak. Rambunctious and fun, it's also got that smoky quality so prevalent here, which would make it a terrific barbecue wine. If you're in the mood to splash out, try Juan Gil's exceptional higher-end Monastrell wines, "Clio," "Corteo," and "El Nido," which range in price from $45 to $140.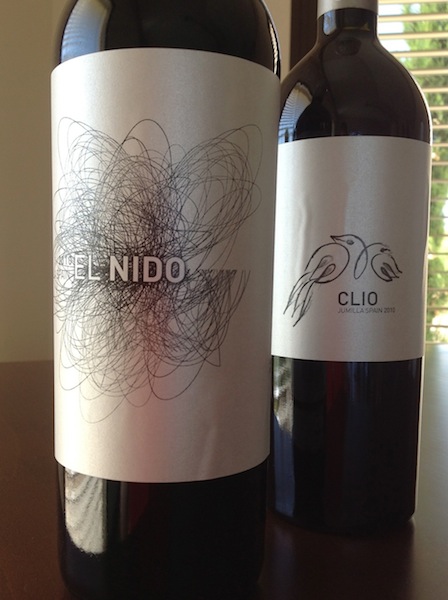 Bodegas Luzón Altos de Luzón 2009 ($13): Monastrell is blended here with cabernet sauvignon and tempranillo to produce a wine with lovely dark, earthy fruit aromas and a hint of green herbs. The wine has great structure and savoryness, but stays light on its feet. It would be a good introduction for those new to the category.
Hacienda del Carche Tinto Joven "Tavs" 2012 ($12): A joven wine with vivid raspberry fruits and terrific freshness. Winemaker Valerie Durand has blended a bit of syrah and garnacha into the monastrell, which add peppery, spicy notes. Fresh and lovely, it would be a great picnic wine. (Durand's wines were some of my favorites: vivid, spirited, elegant, and almost absurdly affordable.)
Bodega Señorio de Barahonda Heredad de Candela Monastrell 2010 ($29): This 100% monastrell was harvested from 95-year-old vines, and the fruit was foot-stomped and fermented in open tanks in the manner of the producer's forebears (heredad means heritage, and Candela is a family name). The wine is elegant and supple, with lively red fruits and a long, deep finish. I loved many of the Barahonda wines, especially their "Zona Zepa" and "Elo," both 100% monastrell. They're expensive and hard to find, but worth seeking out.
Bodegas Olivares Rosado 2012 ($8): Snappy, and fresh, this pink blend of 70% monastrell and 30% syrah has notes of strawberry and watermelon. Refreshing and clean, with medium body and terrific texture. Eight dollars!
Bodegas Olivares Altos de la Hoya 2011 ($12): This wine's perfume mingles with flavors of baking spice, black earth, and rare meat, and rowdy tannins give it a big, chewy texture. But all of this blackness is balanced by a lovely juiciness and a long, minty-herbal finish. My notes say "tastes like earth." As Monastrell should.
[author] [author_image timthumb='on']http://palatepress.com/wp-content/uploads/2012/02/MHMaker.jpg[/author_image] [author_info]Meg Houston Maker, MA, CSW, is a writer curious about nature, culture, food, wine, and place. Find her creative writing at Megmaker.com and essays on food and wine at Maker's Table. Follow her on Twitter @megmaker.[/author_info] [/author]