The history of enology in Italy is rich in fairy-tale-like stories like this one. Once upon a time, there was a young Italian nobleman who loved two things: racehorses and French wines. His name was Marquis Mario Incisa della Rocchetta. In 1929 he was finishing his degree in agriculture at Pisa University when he met a famous racehorse breeder, Federico Tesio, who a few years later asked him to become his business partner. In the following years, the two men's horses won many legendary races, including the most famous, the Prix de l'Arc de Triomphe, in 1955. Their racehorse, Ribot, was widely considered to be the finest horse of all time, winning all 16 races it entered from 1955 to 1958.
By 1930, the Marquis Incisa della Rocchetta had married noblewoman Clarice della Gherardesca, who brought him a dowry of over 600 hectares (nearly 1,500 acres) of land, with ten estates in the Bolgheri area of Tuscany. Mario was a wine lover like his grandfather, Leopold Incisa della Rocchetta, a distinguished scholar of viticulture and enology, and for some years Mario pondered turning to wine production. He knew the wines of France very well, and especially loved cabernet sauvignon. So in 1942 Mario planted a vineyard of cabernet sauvignon in Castiglioncello, above the town of Bolgheri. Some people think the vines came from the vineyards owned by another noble family, the Salviatis, who were close friends of the Incisa della Rocchetta family. Others believe that the vines came directly from the French vineyards owned by Rothschild family — who were also the owners of the most formidable opponent of Mario's racehorse Ribot.
Any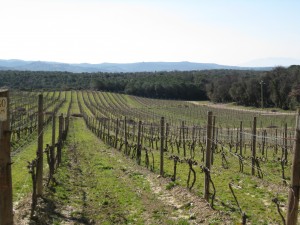 way, this cabernet sauvignon vineyard, alongside the Mediterranean, has a northeastern exposition like Cote d'Or vineyards in Burgundy and Medoc vineyards in Bordeaux. The pruning was goblet, with very low yields (just 300 grams [10 ounces] per plant, compared with 2 kilos [4.4 pounds] of Trebbiano). Mario continually struggled with the protests of his workers. "All this goodness wasted!" the farmers complained when the Marquis forced them to throw grape clusters on the ground. The first years were difficult, but the Marquis Incisa della Rocchetta would not give up. He also planted more cabernet on stony soil in an estate that was 50 meters (about 165 feet) above sea level: Sassicaia.
In 1967, the first bottle of this wine went on sale. Because Mario Incisa della Rocchetta preferred to deal only with the actual winemaking, he made an agreement with his cousins who were also renowned wine producers — and above all very skilled in business: the Counts Antinori. Their winemaker was Giacomo Tachis, the famous consultant. According the agreement, Tachis began to oversee the winemaking at Sassicaia. Tachis and the Marquis had frequent, very energetic discussions — both were from Piedmont and both were very stubborn. But the wine improved from year to year, until one day it received the international seal of approval. This happened in 1985, when both Robert Parker and The Wine Spectator awarded Sassicaia 100 points. The wine was like the racehorse Ribot: a unbeatable champion.
The birth of the myth of Sassicaia marked an important turning point for the world of Italian wine. With this wine — made with cabernet sauvignon (85%) and cabernet franc (15%) — Incisa della Rocchetta created a new category of wine, the SuperTuscans: structured and elegant red wines, very different from the traditional Tuscan wines.
This tale illustrates the great adaptability of French varieties such as cabernet sauvignon and cabernet franc: they can grow well anywhere "under any sky" — though some places are better than others, of course.
In Italy, merlot, cabernet sauvignon, cabernet franc and carmenere arrived at different times. At the end of the 1700s some landowners in Northern Italy, inspired by the success of Bordeaux's wines, began to introduce vine varieties from popular areas of France and Germany including pinot noir, chardonnay, gamay, cabernet sauvignon, merlot, syrah, riesling and traminer. In 1820, Count Manfredo Bertone Sambuy planted the first vineyard of cabernet sauvignon on the plain of Marengo in the province of Alba. And in 1870, a group of growers from Tuscany and the Veneto began importing a large amount of plant material from France to establish new vineyards, just before the spread of phylloxera in Europe would put severe restrictions on the transfer of vine propagating material between countries.
Leonardo Raspini, agronomist and general manager of Tenuta Ornellaia
"Merlot is a beautiful war machine. You can use it to make simple wines and amazing wines as well," explains Leonardo Raspini, agronomist and general manager of Tenuta Ornellaia. At this property, in a single seven-hectare (17 acre) vineyard, one of the most renowned pure merlot wines in Italy, "Masseto," was born. He continues, "For us, merlot represents the capacity to interpret terroir. You know Sassicaia is made with cabernet, so when Tenuta Ornellaia was created by Marquis Lodovico Antinori in 1981, we planted merlot to express this estate's terroir."
Thanks to their flexibility, merlot and cabernet are still the most widespread vines in Italy; almost 30,000 ha (74,000 acres) are planted with merlot (France has 117,000 ha, or 290,000 acres), and about 20,000 ha are cabernet (about 50,000 acres, including cabernet sauvignon and franc). The best merlot is typically located in the north (Veneto, Trentino), in the northeast (Friuli, especially Collio and Buttrio), and in Tuscany (Bolgheri). Cabernet is planted in many other regions, both in the north (including Veneto, Trentino, South Tyrol, Lombardia), and in the south (including Sicily and Sardinia). In many cases, these vines have flourished so well in the local landscape that the growers have forgotten their foreign origin, and consider them indigenous. One example is the area called Colli Euganei (the hills around the city of Padua, in Veneto) with its cabernet — especially cabernet franc — and carmenere.
What do consumers around the world think about these Italian wines made with "international" grapes? Though nowadays the focus is often on local and indigenous grapes, many of the Italian Bordeaux blend wines remain extremely fashionable, like Sassicaia (Tenuta San Guido, Tuscany), San Leonardo (Tenuta San Leonardo, Trentino), Montevetrano (Montevetrano winery, Campania), Friuli Grave Merlot Vistorta (Vistorta winery). And every year, wine reviews and the results of international wine competitions show that Italian wines made with these varieties more than hold their own against the French.