Becky Sue Epstein is back in Bordeaux, for the annual en primeur tastings. She continues her live coverage from France here.
---
On the second day of the quest for 2010 bordeaux, we all headed over to taste the wines of Graves. This is an area south of the city of Bordeaux where they produce very nice dry white wines (made from sauvignon blanc and sémillon) which are not all that well known outside of France. And dry red wines (mainly from merlot and cabernet franc) that are even less well known—except of course, for Château Haut-Brion whose reds have had a following since the time of Samuel Pepys.
Here, with in the 2010 vintage, in general the red wines are very good, and the white wines are even better. It looks like 2009 and 2010 will be successively good vintages. Bordeaux is no stranger to this double-good-vintage phenomenon; among other times it has happened most famously 1928, 1929 and in 1988, 1989.
Professor Denis Dubourdieu
Every year, the journalists are invited to a presentation summarizing the climactic influences on the vintage. This is given by the most well-known professor of enology at the University of Bordeaux, Denis Dubourdieu—who also advises winemakers and owns a few small châteaux of his own. This year, he told us that the climate was practically perfect, as it had been for the 2009 vintage. A few tweaks in 2010: for the red wine, there were weather problems during the flowering of the merlot vines which resulted in a smaller crop. This in turn also made the merlot wine more concentrated, so the result ended up being positive. For the white grapes, the late summer was even better in 2010 (than 2009) so the 2010 whites should be better.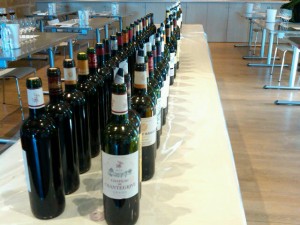 The wines themselves showed a range of styles.
In the whites, Château Pape-Clément and Château Malartic-Lagravière seemed more geared to the American market, with plenty of fruit showing. Some of my favorites were Château Olivier, with its fresh sweet grass aromas, and Château Carbonnieux and Château Ferrande which were also nicely balanced with aromatics, fruit and acidity.
In the reds, Château Chantegrive, Château Haut-Bergey and Château Carbonnieux were standouts. Château Pape-Clément, Château La Louvière and Château les Carmes Haut-Brion were very pleasing, easy to drink. Again Château Malartic-Lagravière was a modern, fruit-forward wine.
The Larrivet Haut-Brion wines would make fantastic, aperitifs, practically just they are—both red and white.
---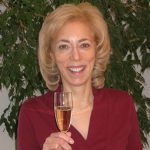 Becky Sue Epstein is Palate Press's International Editor. An experienced writer, editor, broadcaster, and consultant in the fields of wine, spirits, food, and travel, her work appears in many national publications including Art & Antiques, Luxury Golf & Travel, Food + Wine, and Wine Spectator. She began her career as a restaurant reviewer for the Los Angeles Times while working in film and television.