A restaurant without Merlot or Pinot Grigio. What are they thinking?
"They" turns out to be Sandy Block, MW (Master of Wine) an experienced restaurant wine director for a classic eating establishment in Boston. I sat down for dinner with Block recently at the new Harborside location of the Legal Sea Food restaurants. Legal Sea Food is a family-owned group of about three dozen restaurants whose long-time commitment to their wine program has flown under the radar for many years.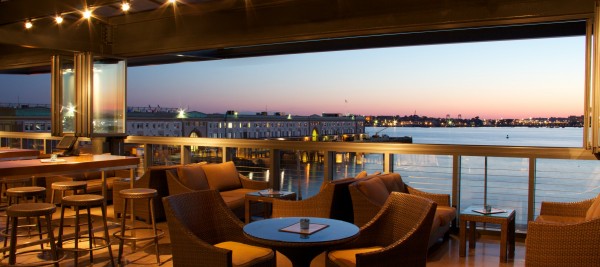 Many customers know "Legal's" as a casual seafood place, some also associate it with fine dining and with a reputation for very fresh, high-quality fish and seafood. But most people do not consider the wine list when they decide to eat there.
The second floor dining room at Legal Harborside restaurant may change this. Or it may not—which could be a good thing. After all, if someone decides to go out to eat and is guided effortlessly to a wine pairing, no problem. No need to think about it that much.
But those who look closely at the wine list will be surprised. Every one of the 50 wines on the menu is exclusive; this dining room is the only site in Massachusetts where these particular wines can be ordered. Some wines have even been bottled or blended especially for this establishment. Block has been sourcing the wines from around the world, finding odd lots and small batches of wines that he can bring in. Each wine is produced by a family-owned winery, is estate bottled, and shows a terroir-driven profile—the wine expresses the land where the grapes are grown. Most bottles fall in the $39-$125 range. Block has also put together a small booklet with information on each wine, with photos of the winery owners or winemakers, and pictures of the terroir too.
There are two exceptions to the rules, and these are both Champagnes that are not family-owned properties, because Block was not able to get the quality late-disgorged wines he wanted from anyone but Veuve Clicquot (the Rare Rosé 1985) and Dom Pérignon (the Oenothèque 1993). I am inclined to forgive him, because he also offers Dom Pérignon Champagne on the rooftop bar level of Legal Harborside for $30 a glass, which gives many more people the opportunity to try this famous fizz. Block told me they have a special Perlage machine (on loan from the producers) that keeps the DP fresh for a few weeks.
OK, so what happens if someone does not want to peruse the winelist—they just want to order a Pinot Grigio or a Merlot? Block tells me that the staff is trained to suggest alternatives. Of course I want to know what the alternatives are. For Merlot, customers are often steered toward Malbec. For Pinot Grigio, the first option is usually Pinot Blanc. These are both excellent pairings with some of the stunning dishes I had that evening.
There is one more innovation that Block offers, because he would like people to be able to try more of the wines. Any wines priced under $75 can be ordered as either full or half-bottles. Half-bottles are literally decanted from the full-size bottles, and charged at roughly half the cost of a full bottle. Staff vacuum-close the bottles and the remainder is always sold very quickly. "Because we're so busy," Block tells me, "We haven't had any issues with spoilage or waste." Despite the crowds, wait staff are fairly formal, presenting each bottle to the table before pouring or decanting it—and making sure the customers has time to read the label if they want to.
The current—and still under-appreciated—Legal's wine program dates back several decades to when present owner Roger Berkowitz, wine-obsessed even in his 20s, started a companion wine distribution company for Legal Sea Food. (It has since been sold to local distributor.) Early on, Legal pioneered the distribution for Jorge Ordoñez' selection of Spanish wines, and they offered groundbreaking wines from California's Central Coast in the 1980s. Berkowitz has maintained his "commitment to value," Block tells me.
After so many years in the wine business, Block has a preferred style to pair with the seafood-starring menus here. He looks for firm flavors with acidity and a lot of minerality. His main wine collection is housed at Legal's Park Square location in Boston, where many wine events take place. But the second floor of Legal Harborside is the only dining room that carries Block's list of unique wines, and he says they plan to keep it this way.
---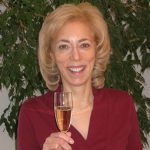 Becky Sue Epstein is Palate Press's International Editor. An experienced writer, editor, broadcaster, and consultant in the fields of wine, spirits, food, and travel, her work appears in many national publications including Art & Antiques, Luxury Golf & Travel, Food + Wine, and Wine Spectator. She began her career as a restaurant reviewer for the Los Angeles Times while working in film and television.