Though the weather near me has been flirting with fall, I have faith that we've got at least one more good summer weekend left. We've got one last chance to visit the farmer's market (or a roadside stand) for cobs of corn, and then to sit outside shucking them, with a glass of something cool and crisp by our side. We can sit there all afternoon—it's always five o'clock somewhere—especially since our last-ditch summer wine is light on the alcohol.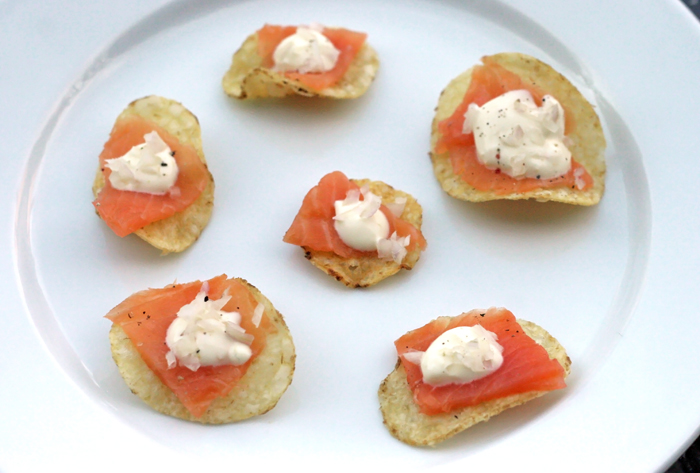 Last-summer-weekend cooking shouldn't be stressful. I like to keep the stove off awhile and linger over an easy appetizer. It goes like this: top a plate of potato chips with silky smoked salmon and little dollops of zesty lemon-infused crème fraîche and minced shallots. Serve and devour. It's sexed-up junk food: each bite is salty and rich, crispy and creamy. It screams for a glass (or two) of spritzy Ameztoi Txakolina. This guzzleable wine is made on the coast of Spain (near San Sebastian) from 90% light-berried hondarribi zuri and 10% dark-berried hondarribi beltza. It's not a contemplative sipper, just a lovely light afternoon companion, reminiscent of salty sea air, with hints of tart green apple and lime, and a little fizz on the tongue. As I poured one of my guests another glass, she exclaimed, "This is like the Fresca of wine!" It's refreshing and citrusy, complementing the floral lemon notes of the crème fraîche and cleansing the palate after each bite of fish.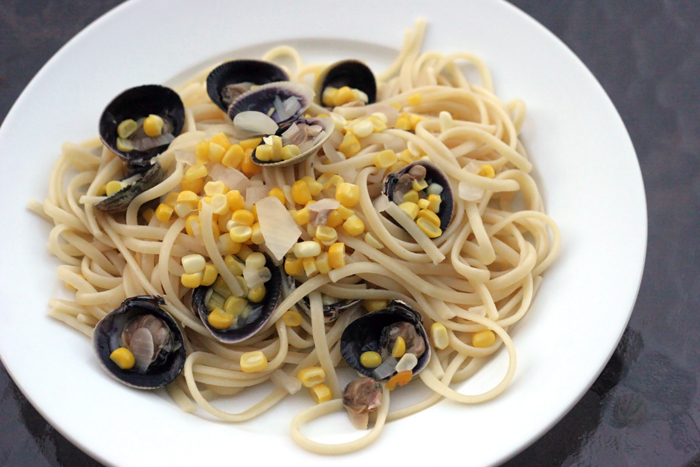 When your appetite and thirst are whetted, open a liter bottle of barely off-dry Mosel Riesling from Weingut Günther Steinmetz. It's laced with creamy minerality, and fermented with wild yeasts on the lees. It's not a gripping, puckery trocken, but it doesn't swing all the way to fruity peach notes either—I tasted slate and flowers, delicate herbs, Anjou pears, honeydew with lime, and seashells wrapped in seaweed. It's briny and fresh, beautiful with linguine in a late-summer clam sauce. If you can spare a cup of wine, add it to the pot to steam the clams (or cockles) and warm up the kernels of corn cut fresh from the cob. Each strand of pasta soaks up a little Riesling and the natural juices from the clams; it's a mineral-rich plateful. If you can't go to the seashore for one more summer weekend, this dish will bring you there in spirit.
Both of these wines are just 11% alcohol by volume. You can have a few glasses and not wake up with a headache. They're not wines that will leave you speechless, but they're wines that sing quietly, harmonizing with the salty salmon and the calcium-rich clams, bringing a bit of the sea to your table.
It seems like everywhere I look, alcohol levels are climbing higher and higher—I've been sampling Sauvignon blancs that go up to 14% ABV, not to mention reds that inch toward 15%. They're not for me. You can blame global warming, or alcohol bombs that overpower other wines at tastings and score highly on the critics' circuit, but you can vote with your dollar and your wine-shop requests. It is time to praise charming wines, wines that don't hit you over the head with booze. It's a question of balance—if a wine can carry a little more alcohol without getting jagged and hot, then I'll happily drink it. But for the last weekend of summer, it's lovely to go light.
Potato Chips with Salmon and Lemon Crème Fraîche
makes about 30 pieces
8 ounces crème fraîche
1 lemon, preferably organic
1 orange, preferably organic
8 ounces sliced Nova lox
2 small shallots
1 10-12 oz bag kettle-cooked potato chips (you'll want to pick out the flattest chips)
Spoon the crème fraîche into a small bowl. Using a microplane or fine grater, zest the lemon into the crème fraîche. Cut the lemon and squeeze 1 tablespoon of juice from it, add the juice to the crème fraîche mixture. Zest half the orange and add to the mixture as well. Stir well. The crème fraîche mixture can be made a few hours ahead and refrigerated until serving.
Slice lox into 2-inch pieces. Dice shallots. When ready to serve, set out potato chips in a single layer on a platter. Top each with a piece of salmon, a small dollop of crème fraîche, and a sprinkling of chopped shallots. Serve immediately.

Pairing: 2009 Ameztoi Txakolina, imported by De Maison Selections.
Linguine with Late-Summer Clam Sauce
Serves four
3 shallots
1 small red chili pepper
olive oil
1 lb dried linguine
2 1/2 lbs small clams or cockles
5 ears corn, shucked
1 cup Riesling
Bring a large pot of water to boil. Meanwhile, clean the clams well. (I like to put in a big bowl of salty water in my fridge for an hour with a little cornmeal; supposedly this gets the clams to spit out any dirt. Finish by rinsing them in several changes of water.) Dice shallots. Dice chili pepper, removing seeds, and add to a dutch oven with shallots and a splash of olive oil. Cut corn kernels from the cob and set aside. Cook shallots and chili over low heat until the shallots are starting to turn transparent.
When water is boiling, cook pasta to just al dente according to package directions. When the pasta has five minutes to go, add clams and Riesling to the dutch oven with the shallots and bring to a simmer, covering and cooking just until clams open. Turn off the heat. Stir in corn kernels and add the drained, cooked pasta. Stir to let the flavors mingle for one minute and serve immediately with salt and pepper to taste.
Pairing: 2008 Mosel Riesling Weingut Günther Steinmetz, imported by Mosel Wine Merchant.
---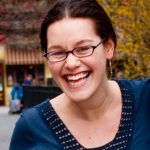 Maggie Hoffman hails from Oregon, but lives in Manhattan. She writes about wine, craft beer, and food for the website Serious Eats. She also blogs about cooking (with occasional wine pairings) at Pithy and Cleaver.