I like to joke that some really hot Red Zin broke up my marriage with beer. But in the next breath I tell people that now, as a free man, I am having an affair with an aristocratic Italian beauty: Barbera.
Who can blame me for falling for a supple, soft-tannin, deep red darling with balance, a juicy wine that, young or old, enhances almost any dish from protein to produce? Why not keep coming back to a varietal that gets along with spice and knows how to play nice as a slow swirling cocktail?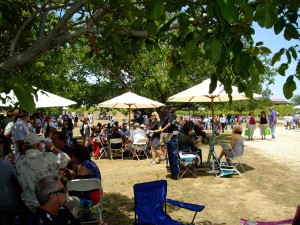 There may be no better region to carry on a dalliance with Barbera than the Sierra Foothills of California, and no better place to get a (Tasting) room with her than Cooper Ranch along Shenandoah School Road in Amador County, located just outside Plymouth, Calif.
It is no accident Cooper Vineyards hosted the first ever Barbera Festival in California Saturday, June 11. Dick Cooper, owner of Cooper Vineyards, is the man credited with establishing a foothold for Barbera in the Sierra Foothills. Many of the 80 participating wineries—hailing from Ventura to Mendocino, Sonoma to the Sierra—source their grapes from Cooper and other Amador growers.
At the Barbera Festival there were sweet and jammy expressions, a chilled rosato from an urban winery in Oakland, the more typical dry and balanced offerings—and even a few Italian Barberas from Piemonte shipped in to complete the spectrum. Though most of the Barberas were made and then aged in oak, a few used a combination of oak and oak chips—finishing off the wine in stainless steel. Such was the case with the 2008 Guglielmo (Santa Clara Valley) offering.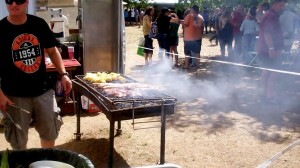 Not lost on the crowd of 2,000 on the grounds or the wineries was that G.M. "Pooch" Pucilowski, the Chief Judge of the prestigious annual California State Fair Commercial Wine Competition was making the rounds. Though he was not judging wines Saturday, he was quietly informing some of winemakers and winery owners that their Barberas had been medal winners in the California State Fair Competition.
Elated at the news was the team from Borjon Winery, a Plymouth neighbor of Dick Cooper, whose 2008 Barbera Reposado won Double Gold and tied for Best of Class. "My mother cried when I told her," said a jubilant Iscander Borjon, the 21-year-old owner of the winery established in 2009. "This is our first gold medal. This is amazing!"
The Borjon family traces its roots from France to Mexico, and then Mexico to the United States a generation ago. Iscander's father, Jesus, made a name for himself caring for the vineyards of Amador County. Growing up around so many vintners it was only natural that Iscander "Issy" Borjon wanted do someday run his own winery. That day came, and now Issy is said to be the youngest winery owner in California, and one of only a dozen California wineries owned and operated by Latinos.
A mutual wine expert friend of Dunne and the Cooper clan, renown Sacramento grocer/international wine authority Darrell Corti (who was seen sampling the Barberas Saturday) was the person who recommended Barbera and Dolcetto to Dick Cooper's father, Hank, decades ago. The Coopers wanted to try something different than the dominant Zinfandel and they went with Barbera in a big way. The Sacramento region has been benefiting from that decision ever since. Cooper Barbera grapes – and the cuttings and advice that Dick Cooper has shared throughout the valley—have been key to winning many a gold medal in recent California wine competitions. Wineries proudly state on many bottles that the grapes were sourced from Cooper.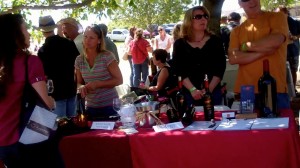 Thousands made their way to Cooper Ranch to taste the wonderful styles of this varietal that has so captivated wine lovers for centuries around the world. While enthusiasts paired their wines with food offerings from local restaurants under the shade of those walnut trees, Dick Cooper could be seen from time to time patrolling the grounds in a 4-wheeler—a look of satisfaction and contentment on his face. Barbera has indeed come and made an impact on Amador County—and now throughout the state.
And, in the process, stolen me away from my first love Zinfandel.
---
Robert Ehlert is the former Food & Wine Editor of the Sacramento Bee and the developer of a new smart phone app called Wine Tasting Tab (Apple | Android | Twitter) that searches Northern California wineries based on their tasting room fee, menus and amenities.