Derek Brown was once mixing drinks at a White House holiday function, where he was introduced to the President of the United States as "the mixologist."   President Obama said, "Isn't that just a bartender?"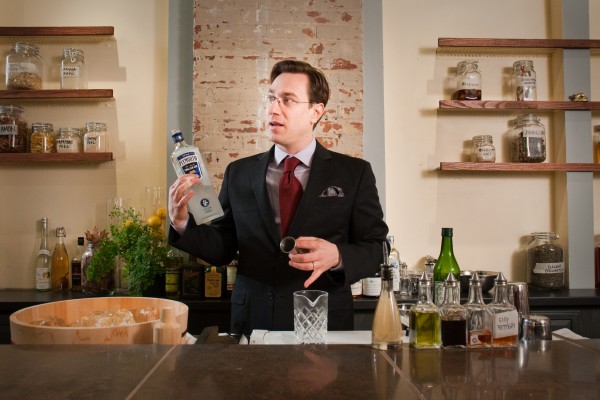 Brown wears the label of bartender proudly, saying that "bartenders are kind of the special forces of the restaurant world."  But he is no mere slinger of gin-and-tonics.  Riding the craft cocktail wave, Derek and brother Tom own The Passenger in Washington, D.C., and its bar-within-a-bar, the Columbia Room.  Food and Wine Magazine named the Passenger and Columbia Room as one of the 50 best bars in America.   In 2010 Brown was a James Beard Award semi-finalist as "Wine and Spirits Professional."
But ask Brown what he calls himself, he says he does not know.  "Professional drinker, perhaps," he replies hesitantly.  He might also describe himself as an anthropologist of alcohol.
Brown, 38, straddled the bridge between wine and spirits before coming to rest firmly on the side of the hard stuff.  He has been working in restaurants since he was 16. Working his way up, he took courses and  immersed himself in wine.
But with his easygoing and sociable nature, Brown felt more suited to being behind the bar than down in the wine cellar.   He says that in many ways the wine world was too formal.
"I honestly think, with all due respect to those people who mentored (me), that being a sommelier is kind of like being a glorified librarian," Brown says over a glass of fine bourbon.  "I started getting frustrated with the whole thing…I realized that being a bartender was a little more casual, a little more fun for me.  I got to make things, I got to teach things, I got to learn things, and it just opened up more worlds to me."
In 2009 the Brown brothers opened The Passenger.  The décor is minimalist, but the drinks are thoughtfully crafted.  The bar stocks 60 types of bitters, many of them made in-house.  It's the kind of place where you can put yourself in the hands of the bartender,, give a hint of the flavors you like and be prepared to be pleasantly surprised.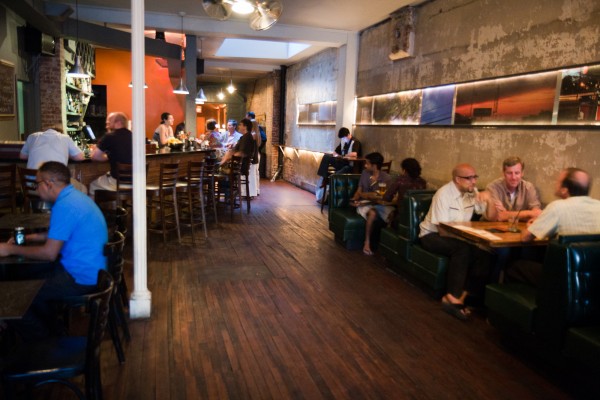 Brown says, "Bars are … a place where real life happens – we mourn together, we rejoice together, whereas a restaurant, a fancy restaurant with very special bottles of wine – they're more like specific moments.  They're a little more exclusive.  I love the community that comes around a bar.  I love the regulars that come in.  I met my wife in a bar."
But the real buzz is about the Columbia Room; this unmarked reservations-only speakeasy within The Passenger is one of the toughest reservations in town.  Tuesday through Saturday nights, Derek and one of his well-trained colleagues work magic behind the tiny 10-seat bar.  There are seatings, like the captain's table on a cruise.  After two hours, you vacate your spot for the next group to come up and imbibe.
There is no menu.  For a fixed price ($69) you get three cocktails – a light sort of opener, perhaps made with sparking wine, a second of whatever strikes Brown's fancy, and a third based on what he has discerned, through conversation, are your tastes.  There is also a light snack of some type.  (A side note: a close friend and colleague of mine from England died shortly before my first visit to the Columbia Room.  His name, as it happened, was also Derek Brown.  The English Brown had a passion for the gin-and-bitters drink called a Pink Gin.  When I mentioned this to the Columbia Room Derek, he set out a fine Pink Gin for me, one for my companion that night, and a third for the missing Derek Brown.  It was deeply touching.)
But doesn't the exclusivity of the Columbia Room clash with Brown's philosophy of the bar as a place of community?  Brown admits that to a certain extent, it does.  But he has made a decision to go for a personal connection not possible in a noisy tavern.
"It's a very intimate place," Brown says.   "It's like inviting people into my home and saying, 'this is what I love. I love this bottle here on the wall, I love this cocktail book.'  That's hard to do in a crowded bar." And all sorts of interesting people have discovered this – people like artisanal whiskey-maker Charles Nelso, who I met there. [read the interview here]
Despite the complicated mixology, Brown embraces the unfussy.  His personal favorite cocktail is the classic dry martini.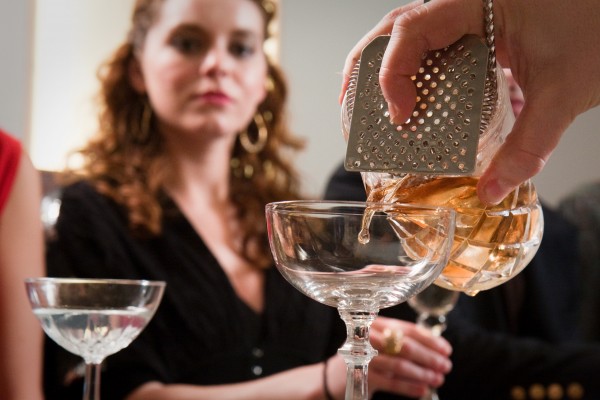 "I like very simple, straightforward, well made cocktails," Brown says.  "You can take three ingredients and you can turn it into the best the best thing in the world.  You don't need five ingredients, you don't need 10 ingredients."
Even the President of the United States realized that there is no such thing as being "just a bartender."  After making his comment to Brown at the White House, Obama hastened to add, "Being a bartender is a lot like being the president: everyone thinks they can do it, but they can't, can they?"
But when asked, Derek Brown will not divulge what the President drinks.  That is a state secret.   And good bartenders are like priests, never revealing what is said in the sanctity of the bar.
[author] [author_image timthumb='on']http://palatepress.com/wp-content/uploads/2010/06/gary-studio.jpg[/author_image] [author_info]Gary Thomas is also a longtime professional journalist, and former senior correspondent at the Voice of America. He was the wine columnist for the Austin American-Statesman in Austin, TX, and has freelanced wine articles for other publications, including the Wine Spectator. He has spent much of his long journalistic career working overseas, managing to cadge needed wine in the hardiest of circumstances and unlikliest of locales, even in places like Pakistan and Iran.[/author_info] [/author]