When it comes to 21st century microbrewers, I have a certain image in my head, probably heavily based around the world's most famous "Gypsy brewer" Mikkel Borg Bjergsø. Hailing from Scandinavia and sporting a resplendent fisherman's beard, Bjergsø is a defining figure in today's dynamic microbrewing world.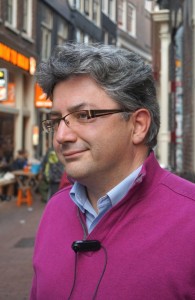 Sophocles Panagiotou, master brewer and co-founder of Septem brewery in Evia, Greece, doesn't quite conform to the post-hipster norm, nor was his path to becoming a master brewer standard. Starting out as a chemist, Sophocles then worked for many years as a successful winemaker and consultant enologist. I ask how he got into making beer: "People said I was making some good wines, so I thought, I like to drink beer, maybe I can make good beer too."
There's more to that bashful statement than meets the eye – Panagiotou didn't start a kitchen table brewing operation, nor did he borrow an established brewery's premises for a one-off experiment (both established methods for brewers who are starting out). Instead, a serious business plan and a custom built brewery were conceived from the off in 2009, together with business partner Georgios Panagiotou.
Every day is beer day
Septem's initial concept – a different beer for every day of the week – is a clever, fun piece of marketing that encourages customers to try something new. There's currently no Tuesday or Wednesday beer though – perhaps Septem's subtle way of encouraging responsible drinking?
As Sophocles takes us through a tasting of the different beers in the range, his detailed approach is clearly that of a scientist and a flavour obsessive: Take Friday's Pale Ale ("the standard by which any brewery is judged these days" as Sophocles remarks) – Two hop varieties, the fairly common Czech Saaz and the much rarer – but currently very fashionable – New Zealand Nelson Sauvin are combined, but at different stages of the brewing process and with different treatments (the latter dry-hopped, the former late hopped) .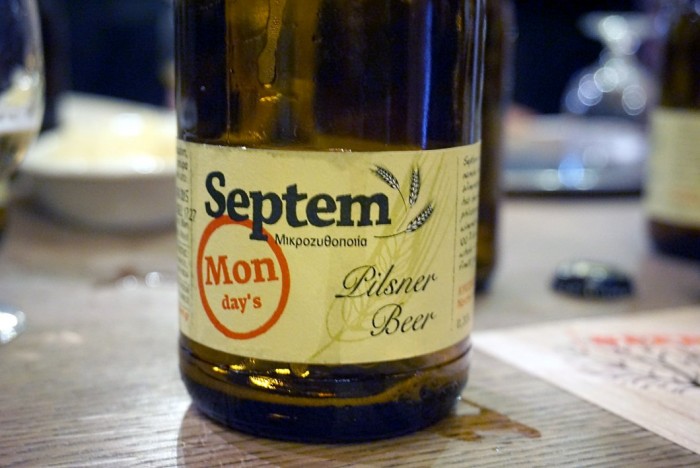 The goal is to preserve all the delicate aromatics of Nelson Sauvin, while stabilizing the more robust components of Saaz. The end result is a supremely well balanced beer that has plenty of complexity and just the right amount of bitterness to make you want another sip.
Of course Panagiotou isn't the only brewer combining hop varieties or techniques in this fashion, however tasting his beers, you feel that every flavor is perfectly defined and in balance. There's a subtle, layered approach to flavor that feels like the winemaker's hand.
Hops as a hobby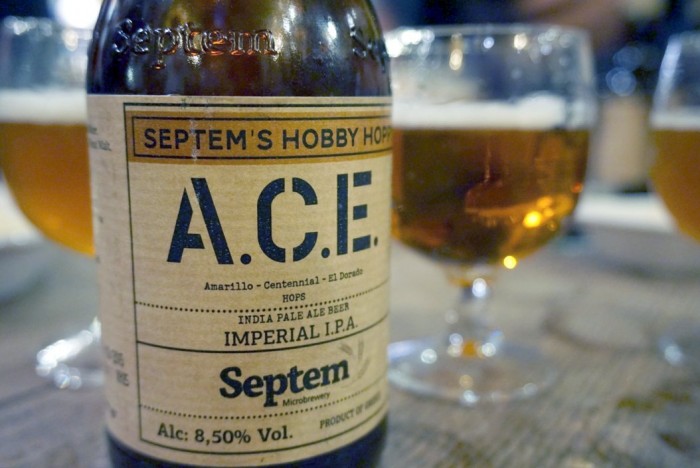 Panagiotou is obsessed by hops, for him "the grape of beer". This lead to the "hobby hoppy" limited run beers. I've been loving the Citra IPA, a gloriously tangy, citrusy brew, but this has now been retired in favor of a new imperial IPA, "ACE" (Standing for the three hop varieties – Amarillo, Centennial & El Dorado). I say this with a note of sadness, because although ACE is a brewer's triumph, packing in a huge amount of flavour and hoppy aromatics, for me it's just a bit too big. It is still perfectly balanced, despite an 8.9% kick and a phenomenal IBU level of 100. Perhaps parallels could be drawn to heavy, oaky 15% red wines – seldom but occasionally to my taste.
Sophocles echos many other craft brewers when he mentions the increasing scarcity of the more fashionable hop varieties – producers just can't seem to grow enough for the demand. Septem's innovative response to this was to start growing their own. In 2014, on the day the hops were first harvested they made "Wet hop", another of the hobby series. This is long sold out, but the home produced hops will continue to go into other beers.
I wonder if there's anything that Sophocles regrets about his move from the wine world to beer. He smiles and initially says no, before a slight correction: "When I started brewing, It made me sad that most Greek drinkers regarded beer as nothing more than an industrial product – but that is changing now, the craft beer scene here is taking off." Of that I have no doubt. Greek beer drinkers consume more than 80% of Septem's 700,000 bottle a year output. Luckily there are a precious few bottles remaining for international customers, including the US.
All photos courtesy Elisabeth Gstarz.