In every wine region there is at least one wine that manages capture one's personal impressions of that region—its colors, smells, and the energy of the place. Sometimes, as I touched on a couple months ago on this website, the most visceral wines can be the most unlikely.
In Friuli-Venezia-Giulia, white wine is king; but here in Italy's most northeastern province it's the red wines, in my humble opinion, that are often the best translators of this glorious intersection of the Alps and the Adriatic Sea. Here the alpine and oceanic air compete for precedence—and even the flora appears conflicted—but the red wines reveal a peaceful merger of alpine and Mediterranean climates, combining the salinity we often associate with wines grown near the ocean with the Apollonian vivacity of alpine fruit and aromatics. But most Americans have had very little, if any, exposure to these wines, despite the fact that they've played a pivotal role in Friulian wine history.
Because of its geographical position, Friuli-Venezia-Giulia has long been a meeting point of Italian, Austrian and Slavic cultures, as well as a Roman, Byzantine, Venetian and Hapsburg stomping ground; they all, at one time, ruled the area. Its battleground status stretched through both World Wars and left the region, up until the 1960s, perpetually poor and war-torn. Which is why, as Cristian Specogna, second-generation winemaker at Specogna in the Colli Orientali explains it, before the economic revival of the 1960s the Friulian people drank mostly red wine.
"We were poor and had so little we drank red wine because it is more like food," says Specogna. "Now we consume wine for pleasure and not just to complete the meal but the emotion of the moment, and white wine has become more popular with the new generation because of that."
Rebirth in White and Orange…
But the move toward white wine was not just a product of changing fortunes and the advent of a new generation of Italian drinkers. It was also a political decision. As the indigenous grape movement and revolution for quality swept through Italy in the 1960s, vineyards were being planted in rapid pace. It was clear at the time that Friuli could produce both quality red and white wines, but instead of competing with Italy's two premiere red winemaking regions—Tuscany and Piemonte—the Friulian Consorzio (one of the first to be established in 1970) realized that in order for Friuli to become an equally important region, it had to focus on white wine.
The modern success of Friulian white wine really began with Mario Schioppetto, one of the first winemakers in Italy to use temperature-controlled steel vats. By removing the juice from the skins earlier and ageing in steel to prevent oxidation his wines represented varietal character in a way most Friulian producers had never experienced before.
As interest grew, so did stylistic diversity. In the '80s and early '90s producers like Gravner and Jermann began to make wines that were more in line with the Burgundian paradigm, ageing for longer periods of time  in small barrels. Gravner – and his legion of followers like Radikon and Damijan – took the wines in yet another direction in the early aughts by returning the old style of oxidative, skin-contact white wine (also referred to as orange wine) production with longer ageing in neutral wood or clay amphorae, à la ancient Roman style. Friuli became known not only for both barrel-fermented "Super Whites" (the white wine equivalents of Super Tuscans) and crisp, stainless steel fermented whites, but as the epicenter of the orange wine movement.
Room for Reds?
As demand for white wine grew much of the red production became increasingly marginal, or was relegated to the Grave plain, where grapes like refosco and merlot were used to produce large quantities of innocuous juice that was either sold in bulk or bottled for the bottom shelf.
"The big problem with red wine in Friuli is that the allowed yield for the appellation is far too high for quality," says Serena Palazzolo, owner of Ronco del Gnemiz, one of the Colli Orientali's best producers. "But since the '80s we have begun to improve the quality of red wine because of great competition in the world."
But, paradoxically, competition has also kept producers from re-investing in red wine.
"Now the south of Italy is coming out with great red wines at a low price and it's becoming harder for us to sell our red wines," says Specogna. "People either choose wine based on a brands or places they've heard of, like Barolo or Chianti, or based on price. We do not have the recognition, and based on price, southern Italy will win."
Specogna says that for those who actually have a chance to taste the red wines of Friuli, the response is overwhelmingly positive but, for now, most of the wine is sold in the region, with the balance lurking here and there around eastern Italy, Austria, and Germany. In the US, the percentage of Friulian red wine imports is barely mentionable.
The Indigenous Reds
The irony in all this is that Friuli's reds are some of the most distinctive wines coming out of the region. The grape with the most raw potential is schioppettino, also called ribolla nera, a thick-skinned variety that's a bit of a chore to cultivate. Because the vigorous variety produces large clusters, these must be severed in half (literally, the bottom half of the cluster is cut off) in order to achieve ripeness. When that ripeness is achieved, schiopettino yields a wine that drinks something like a love child of northern Rhone syrah and gamay. It's peppery and floral with good structure, high acid, and a raw, wild quality to the fruit that feels at home in a region that, despite hundreds of years of winemaking history, is still refreshingly untamed and improvisational. The real wonder of schiopettino, though, is its ability to be as magnetic in its youth as it is in old age. The grape can make wines fresh and buoyant, worthy of being chilled down and pounded in a summer flurry, but it is also capable of producing profoundly elegant, age-worthy wines that can, in the right hands, rival some of Italy's more lauded reds.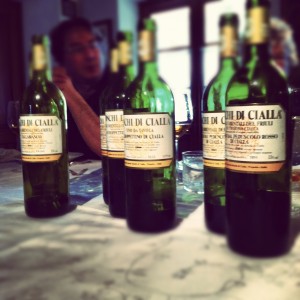 Some of those hands can be found at Ronchi di Cialla in Cialla, a province within the Colli Orientali. In my opinion, this producer bottles the benchmark for schioppettino. Considering the grape wouldn't exist today if it weren't for the efforts of Paolo Rapuzzi, Ronchi di Cialla's founder and winemaker, it comes as no surprise. When Rapuzzi founded his vineyard in the 1960s, less than 100 schioppettino vines remained in Friuli. In fact, cultivation was banned and schioppettino, which Rapuzzi calls, "the most indigenous of the indigenous Friulian grapes," was classified as an illegal variety.
Rapuzzi pressed on and eventually, in 1978, European authorities allowed its cultivation in the Province of Udine. Since then the grape has also emerged around the Colli Orientali subzone of Prepotto, where the soil is comprised of clay and limestone, instead of "punca"—the classic Fruilian calcium-rich marl—and the wines are slightly more brawny. While Prepotto has become something of a home base for the grape, and is the only subzone in the Colli Orientali that focuses exclusively on red wine, the grape can be found in prime vineyard sites throughout the region.
The other two main indigenous red Friulian grape varieties—pignolo and refosco—acts as a more powerful brooding foil to the brightness of schioppettino.
Pignolo is perhaps the only grape in Friuli that can make cultivating schioppettino a breeze. Yields are so low and uneven (pignolo actually translates to "fussy") that its continued cultivation is driven not by practicality, but by love and tradition. When the grape does actually yield, it has a lot going for it. It's dark-fruited and intense with both high acid and tannins and with aromatics that swing between spices and herbs. Though the structure of the wine doesn't lend itself to immediate consumption, producers like Specogna and Le Vigne di Zamò make wines that are well worth waiting a few years for.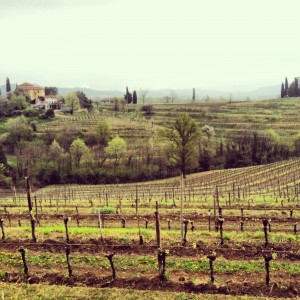 While schioppettino and pignolo have established a recognizable identity, refosco (also called teran or terrano in other parts of Friuli and Croatia) has struggled to find its path, struggling with a long drawn out identity crisis. While there are great examples of the variety all over Friuli and Croatia (see Zidarich Terrano, for one), the grape is produced in bulk in the Grave plain where it is responsible for more grapey everyday drinking wine (see, unfortunately, Trader Joe's Petit Reserve Refosco). The market is split between structured, tannic refosco and forgettable table wine. At its best, it recalls some of the aromatics of cabernet franc, with a country grip.
For now Specogna believes that the future lies with pignolo and schioppettino. Both are only cultivated in high quality vineyard sites and, in the case of pignolo, yields are small. Together they form a yin and yang—pignolo with its brawn and schioppettino with its lacy aromatics and juicy acidity—that together characterize the tenacious, but gentle spirit of the Friulian people and this unique intersection between the Alps and the sea.
Producers of note:
Ronchi di Cialla (pignolo and schiopettino)
Ronco del Gnemiz (schioppettino)
Specogna (pignolo and schioppettino)
Le Due Terre (schioppettino, refosco)
Le Vigne di Zamò (schioppettino, pignolo, refosco)
La Viarte (schioppettino)
[author] [author_image timthumb='on']http://palatepress.com/wp-content/uploads/2011/07/talia_baiocchi_bw_small.jpg[/author_image] [author_info]Talia Baiocchi is a wine writer living in New York City. She's the current wine columnist at Eater.com National and New York, the former editor of WineChap.com in the United States, and a frequent contributor to The San Francisco Chronicle, among others. Before she started writing about wine she had a brief stint as a dressage trainer for unicorns and her mother still thinks she'd make a great lawyer. Find her on Twitter at @TaliaBaiocchi.[/author_info] [/author]